« Not Quite The White House Correspondents Dinner
|
Main
|
Weekend Gun Thread »
May 06, 2018
Food Thread: The Perfect Kitchen: What's In It, And What Isn't?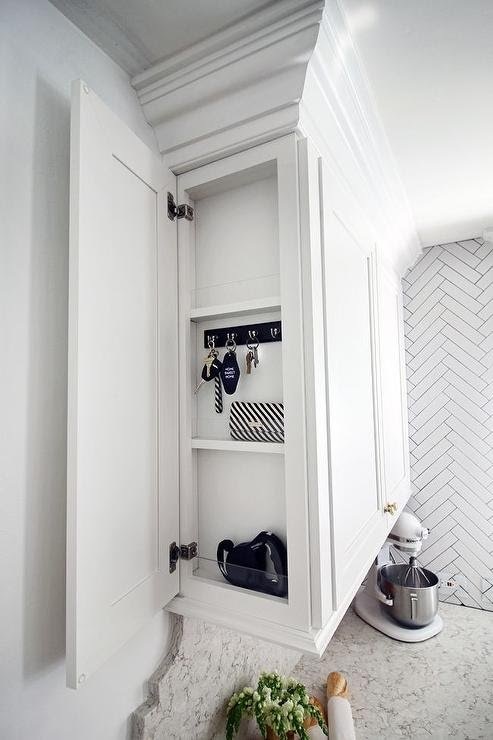 Commenter "Golfman" had a plumbing mishap, and as a result he and his wife are redoing their kitchen. He asked about kitchen must-haves and dos and donts, and that seems like a fun topic. The only thing on his list so far is that neat cabinet above for "stuff." Good idea!
I'm starting with a few of my own....
Double ovens! If you entertain more than a few people at a time, I think that is a must-have. I don't have 'em, and at least several times each year I have to shuffle and plan and improvise to get the food out on time. Passover, Rosh Hashanah, Thanksgiving, Easter, Christmas, New Years...all of these are food heavy-hitters, and nothing helps like two ovens.
An island. For extra counter space and a casual eating surface, nothing beats an island in the middle of the kitchen. Plus, it gives guests a place to put their drinks while you cook, because no matter what, people congregate in the kitchen!
******
There is nothing magical about locally sourced food. The quality of the ingredients is the only thing that matters, and with the incredible efficiency and speed of our transportation networks, most foods can be moved from producer to consumer well within their optimum freshness windows.
So what are we left with? Why yes...it's our old friend, "virtue signalling!"
At Tampa Bay farm-to-table restaurants, you're being fed fiction
This is a great article. Well researched and damning. It confirms everything I suspected about the hipster restaurants that act like the cocks of the walk with their chalkboards and hand printed menus proclaiming how virtuous they are, and how hip and man-bunned their chefs are, and how much of their profit is dependent on belief and image rather than what shows up on the plate.
[Hat Tip: KDBaBear]

******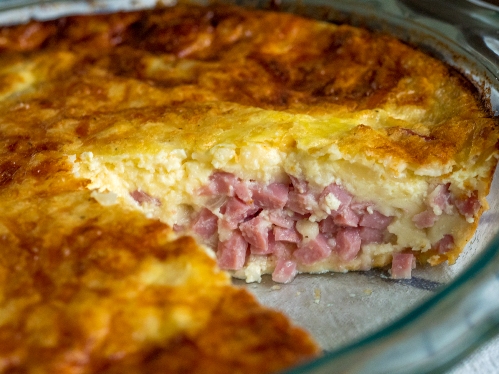 Yeah, that looks great. Although...I have never heard the phrase "impossible pie" to describe the end result of a layered pie. Regardless, it sounds good, and easy as hell.
Impossible Ham And Swiss Pie
******
The always reliable and amusing "BarfBlog" brings us this doozy.
Poop and food don't mix- KFC edition
. I have a had a few sewage back-ups in my home, luckily only in the basement, and I was fanatical about cleanliness during and after clean up. So the idea that a restaurant would continue to serve customers is a bit baffling. I' not surprised, but still, that is some weapons-grade stupid on display.
******
I have been playing around with a few different pizza dough recipes, and I always return to this one. It's easy to make, easy to form, and when allowed to cold ferment for a day or two gets a nice little tang to the dough.
Pizza Dough
1½ teaspoons active dry yeast
2 tablespoons extra virgin olive oil, more for coating dough
1½ tablespoons salt
1 tablespoon sugar
5 cups bread flour.
1. Put 1¾ cups warm water in a mixing bowl, add yeast and stir until it dissolves. Add oil, salt and sugar, and mix well. Stir in flour. Knead either in mixer using dough hook or by hand on a floured surface, until dough comes together. Cover, and let rest 20 minutes.
2. Knead dough until it is springy, about 5 minutes in mixer or 10 minutes by hand. Add a small sprinkle of flour if it is sticky. Cut into four equal portions, form into tight balls and place into oiled plastic containers. Cover and let sit for three-four hours, or refrigerate for one-three days before using. Remove from refrigerator a few hours before using.

******
Food and cooking tips, good mustard, Oakland style BBQ sauce, gefilte fish replacements, thick and fluffy pita and other goodies with impressive girth:
cbd dot aoshq at gmail dot com
. Recipes for low-carb Pop-Tarts will be deleted with extreme prejudice.
&topic=world_news">

posted by CBD at
04:00 PM
|
Access Comments