« Food Thread: The Perfect Kitchen: What's In It, And What Isn't?
|
Main
|
Sunday Overnight Open Thread (5/6/18 ) »
May 06, 2018
Weekend Gun Thread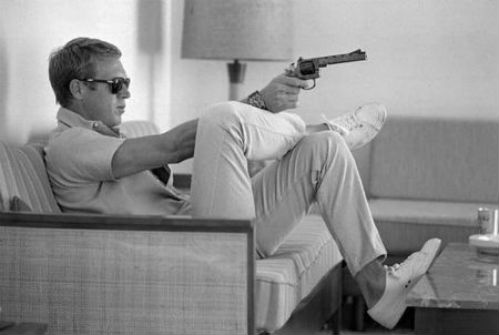 (Not the preferred way to handle a revolver)
***

The Gun Thread is a forum of firearm enthusiasts. Some of us have been involved with guns for many years. Some of us are just entering into the world of guns.
***

"When someone gets shot by a gun with a silencer, it's quiet. Witnesses might not hear. Police will be less likely to track down the shooter."
— Sen. Kirsten Gillibrand (D-N.Y.), in a tweet, March 14

Obviously the juniorette chubby Senator from New York never saw this video.
So what is a "silencer"? People interchange the term "silencer" and "suppressor". From my research there is no "correct" answer. Silencer or suppressor is acceptable.
Basically the suppressor suppress the gases from a cartridge that is fired from a gun. The gases are what produce the loud noise.
A little background about the suppressor. The suppressor was invented in 1903. They were legal from the time of invention until 1934 when the US government implemented National Firearms Act.
Oh you could buy one. But you needed to fork over $200 stamp ($3,500 in today's money) to have one. The $200 tax still remains to this day. In order to purchase a suppressor you need to find a gun shop that is a Class 3 dealer. They have to be authorized by the ATF to do so. Then you need to fill out a an ATF form and be fingerprinted. So after that, submit that form along with your passport photo and your $200. Oh and you get to wait and wait and wait. The wait is somewhere in the range of 9-12 months.
There are two types of suppressors. One screws directly onto the muzzle of your firearm which requires it to be threaded. The other is a specific brand quick attachment.
Now, for our experienced arms owners a couple of questions for you:
Do you have any firearm suppressors?
If you do, what kind do you have?
What type of firearm do you have it on? Pistol? Riffle? Shotgun?
***

Hey Chubby, check this out.
***
***

Have some spare range time? Extra ammo or Hoppe's No. 9 can be sent to petmorons at gmail dot com or My Twitter thingy if I'm not in a time out or banned.

posted by Misanthropic Humanitarian at
07:15 PM
|
Access Comments