« Thread before the Gardening Thread: New Identities [KT]
|
Main
|
Ace of Spades Pet Thread »
April 28, 2018
Saturday Gardening Thread: Fanciful Tree Names [KT]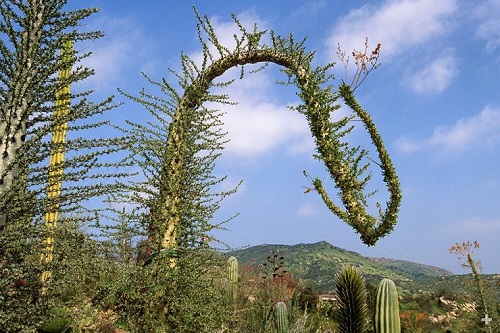 Boojum Tree at the San Diego Zoo
Botanical explorer Godfrey Sykes whimsically bestowed the name "boojum" on this species. He took the name from Lewis Carroll's poem "The Hunting of the Snark." In the poem, a boojum is a mysterious form the snark takes, and anyone who looks at the boojum disappears.
Dramatic. And to show you how people think in Phoenix, there is a wedding venue there named after this tree. In the wild, its range is more restricted than that of its relative, the Ocotillo, which you have probably seen if you have been to the low desert.
I started thinking about tree names this week because Blake sent in some information and photos on a tree that's new to me. People have been imaginative in giving it names. More on that later.
Something to look forward to in the North
Sherpa_K2 has been off in the Southwest somewhere. I think that when he gets back to Washington State, his lupines will be snow-free.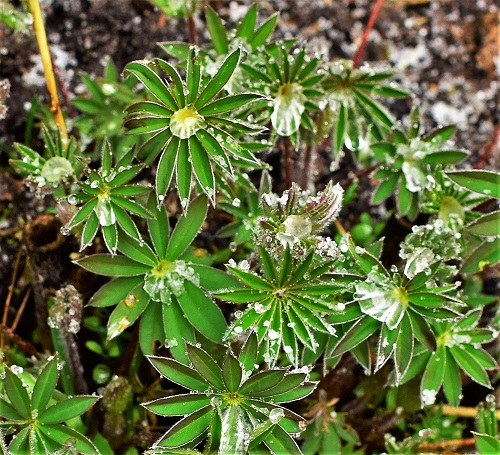 There are wild lupines in moste regions of the USA. I seem to have missed out on the Texas Bluebonnets this year. Did you see any?
They have a Lupine Festival in Maine, though.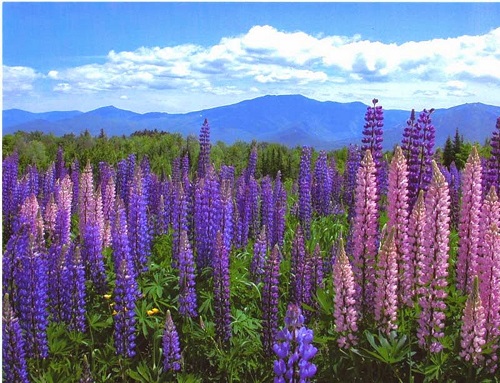 I thought of lupines this week because the flowers remind me of those on the tree below. They are related.
Tree Report: Locust Purple Robe
Blake send in some detailed information and photos on a tree he has planted:
On the advice of my local nurserywoman, I purchased the Locust Purple Robe. (One of the nice things about going to a good nursery is the people probably have a pretty good idea of the soil conditions around town) I didn't think much of it, put it in the ground, watered it as instructed for the first few months and let it go. It bloomed a bit shortly after being planted but nothing that really stood out. Once the tree dropped its leaves and went dormant, I trimmed the top back a bit, as I didn't want the center cane (I know trees are supposed to have branches but the Locust seems more cane like) to get too tall right away. I also was trying to get it to spread a bit more. Along with trimming back the top, I also took off some small branches lower down the trunk.

After the tree started leafing out this year I noticed some spectacular purple flowers on the tree. That's when I got interested and started really looking into the tree.

According to what I read, the Locust Purple Robe is ideal for the Central Valley.

Bad soil conditions? Tree thrives.
Drought? Tree still thrives. (drought tolerant)
Bad air quality? The tree really thrives.
High heat? The tree shrugs it off.

On top of that, the Locust Purple Robe is a fast growing tree, growing to 40+ feet high and up to a 30' spread. Our tree is a good 8' to 10' tall and it was maybe 5' tall when planted last year.

The purple blossoms are amazing, but, alas, the tree only blooms for roughly two weeks. (the article said 10 days, but our tree bloomed for about two weeks. The blooms might have lasted longer, but we had a wind storm that battered the flowers to the point they gave up).
From what I have read, the bloom can be variable from year to year, as the production of coveted Acacia Honey can be. Some years the blossoms produce a good flow, some years they don't. More on this honey in the tree nomenclature section below.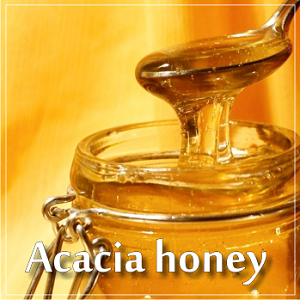 The only real knocks against the tree are the flowers, which may be poisonous to pets (which is why ours is in the front yard away from the dogs) and the tree, once it get larger, starts putting out suckers which can grow into another tree. However, our Liquid Amber does the same and all I do is cut off the suckers after they appear)

I do not know if the Locust Purple Robe will put out roots that tear up concrete or pavement. However, I planted ours well away from any concrete so we wouldn't have to concern ourselves about that problem.
I happened to notice a detail in one of Blake's photos that I thought people in other parts of the country might be interested in -- a typical California cedar fence with water art.

Names of this tree
This tree is generally called by the scientific name, Robinia pseudoacacia, though it may be a hybrid between R. pseudoacacia and R. ambigua. Robinia is a small genus with just a few North American species, named after father-and son French royal gardeners.
"Pseudoacacia" comes from the similarity of the tree and the leaves to some types of Acacia. When Pseudoacacia trees were introduced to Europe, the name "Acacia" was given to the honey. Because who wants to eat "locust honey"? The Acacia Honey link above has some nice photo comparisons and plant facts about these trees. The honey has a light color and flavor and does not crystallize very fast because of its high fructose content. The flowers are said to smell like orange blossoms, which may give you a clue to the taste of the honey.
The name "locust" came from monks who thought of the Carob tree (thought to have sustained John the Baptist in the wilderness) when they first saw Robinia trees. Though if you thought of locust, the insect, I will forgive you. Carob pods are edible. Robinia pods are toxic. Wiki says that Robinia flowers are edible, though.
To add to the confusion, there is also a Honey Locust. This tree does not produce honey. But the pith inside the pod is sweet and edible. That's where the "honey name comes from.
Owl Update
CaliGirl has a couple more videos of our favorite little owls. Thanks to CBD for rormatting them for us:
I think the one on the left has the movie star eyes. The one on the right is my predicted "first to leave the nest".
Some fancy head-swiveling toward Mom on a chilly morning:

Camellias
CaliGirl has sent in some photos of her camellias, which are under lovely high-branching trees on the east side of her house. The trees and camellias look like they have been there for a while. Hers are late camellias, but in the West, I think under an East overhang is ideal for early camellias that may be caught by rain or frost.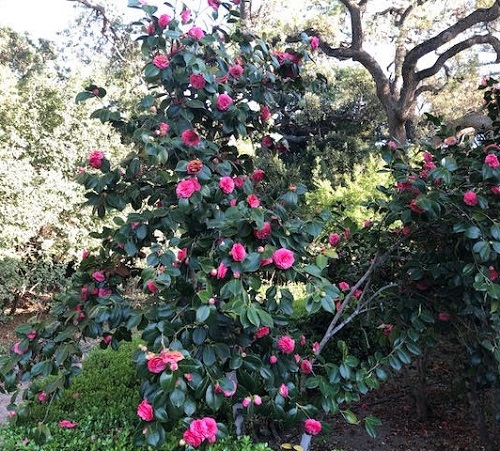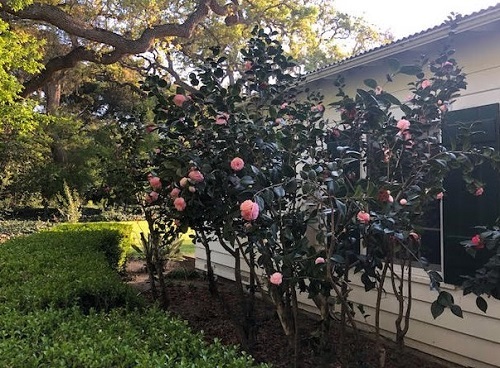 Southern Living's Complete Guide to Camellias features a video by their Grumpy Gardener. Basic information. Good information. Some fun details about camellia shows. And nice photos.
Camellias are better adapted to the Southeast than to the arid Southwest. Not that you can't grow them in the Southwest in certain microclimates, but it takes some extra work. Which makes CaliGirl's late camellias really impressive . There are a few cultivars which have a reputation for doing better in more desert-like conditions than the average camellia. Let me know in the comments if you are interested. And of course, some are more cold-hardy than others, too.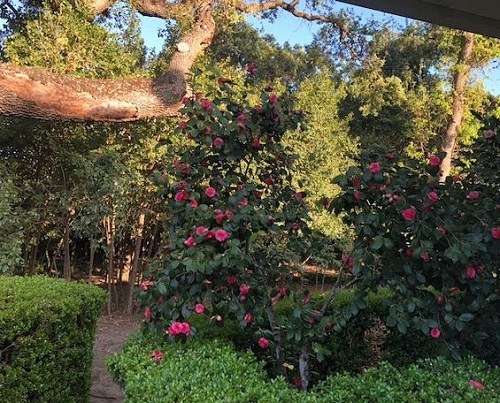 Today's Homeowner has a nice summary on how to grow camellias. It mentions tea scale, a pest I had not heard of before. And some other pests and diseases. There were 71 comments the first time I checke the piece. Mostly questions to the author (and maybe staff). Answers to the questions are not always with the questions, unfortunatiely. It hasn't been long since we saw some of the beautiful flowers from Mumbe's century-old camellia. Hope rescue operations are going well.
Our Heritage
Illiniwek sent in the following:
they called it "applebutter". I think it was thicker than "applesauce", and darker.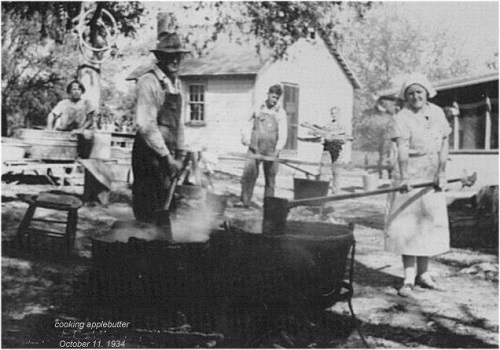 Why, yes, Illiniwek, that's what apple butter is like. I've never made it, but people have made it for me. Bet some members of The Horde have made it. It strikes me as being analogous to cooking down my grandma's wonderful chili sauce. Without cheating by adding tomato paste to save time. I can imagine why they did it outdoors. Today's preppers might want to consider a screened canning porch.
And besides that, ScoggDog said in the Food Thread on Sunday,
I can confirm ... Green Beans from the garden canned in 2014 are just fine.
Pressure canners can put out some heat, too. Naybe not as much steam.
Gardens of The Horde
In the Food Thread on Sunday, Polliwog the 'Ette reported that:
I've been making mulberry-all-the-things since our tree is having a great crop this year. Both sweet bao and savory with chopped smoked brisket as well as mixed into an Indian "milk cake" called kalakand and a fairly straightforward crumble with an oatmeal topping.
She confirmed that they are black mulberries, sometimes called one of the tastiest fruits on the planet.
The juice can stain but isn't light-fast or wash-fast enough to actually count as a dye for cloth. I've heard it suggested as a dye for eggs though.

The mulberries this year are plentiful and are almost an inch long when ripe (much larger than in the past). I suspect either the hurricane water or the cold (hey, it *snowed* here) encouraged the output.
We may need to do a little mulberry review. I've read something on some new hybrids, too.
NaughtyPine sent us some fun information and photos:
Owing to the rhubarb report (heh) in the garden thread, I checked my backyard where the last remaining rhubarb grows. It's coming up but what surprised me were the "volunteer" hyacinths on one side. I spread out a compost pile a couple of years ago, and a discarded store-bought arrangement managed to make a comeback. I didn't see it at all last year, but evidently it multiplied under cover of rhubarb.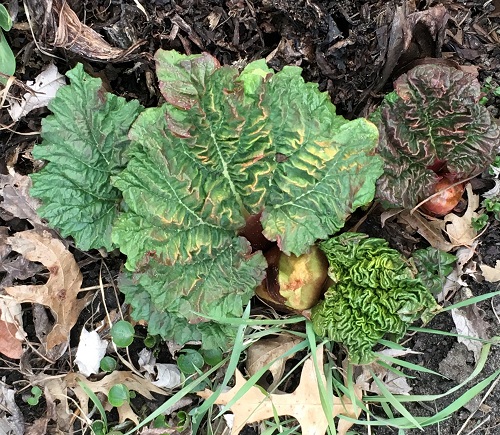 Those rhubarb leaves haven't even un-crinkled yet. Wonder if you could exclude light to replicate tender, forced rhubarb without digging it up and all? Maybe Kindltot's grandma was on the right track. Maybe you could even rig up a cover with a tall cardboard box or something . . .
Last week we talked about the typical rhubarb/strawberry combination. But rhubarb apple crisp was mentioned in the comments. Sounded good. Here's a recipe that brings together several past gardening threads:
rhubarb apple crisp with maple and ginger. Written by a foodie for foodies. You can substitute brown sugar, but not fake maple syrup.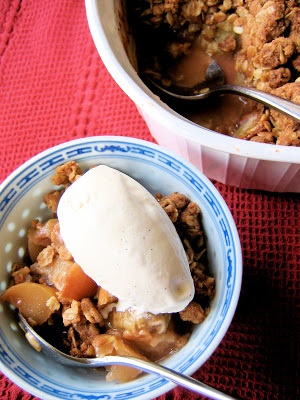 But most rhubarb apple crisps seem to be flavored with cinnamon and nutmeg. Or just cinnamon, like this Blueberry Rhubarb Crisp. Only 2,967 calories per 8 inch square serving! I think that some members of The Horde are planting blueberries this year. For more classic Morons, Betty Crocker has a version that calls for cold breakfast cereal. Not Kaboom, fortunately.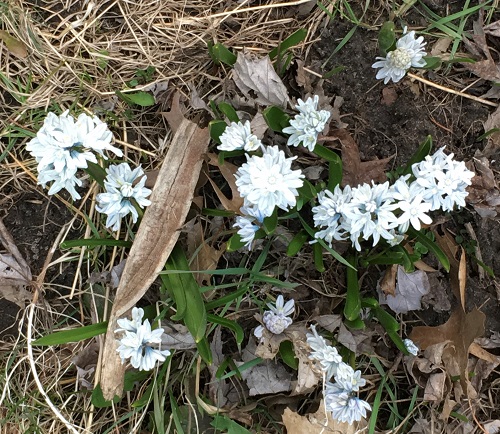 Those hyacinths are a nice surprise, NaughtyPine. They look more informal the the typical Dutch hyacinths - more like those harder-to-find Roman hyacinths.
Here in the San Joaquin Valley, one of our neighbors seems to have acquired a pet peacock. Have heard it. Haven't seen it. Wish it were the other way around. The bees calmed down enough for Mr. Bar-the-Door to add new supers to the hives without a veil. Haven't seen any locust trees blooming around here, but there are weeds and a few nearby crops keeping them going. Still have a little rosemary blooming for them. Apples are blooming, too.
A friend in Utah has some early Tulips up, and hopes that spring is really here this time.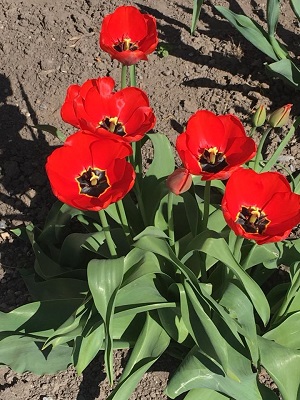 Hope you have a great week and get to spend a little time in the garden.
If you would like to send information and/or photos for the Saturday Gardening Thread, the address is:
ktinthegarden
at g mail dot com
Include your nic unless you want to be a lurker.


posted by Open Blogger at
12:24 PM
|
Access Comments