« Growing up to be a man [KT]
|
Main
|
Ace of Spades Pet Thread »
April 21, 2018
Saturday Gardening Thread: [KT]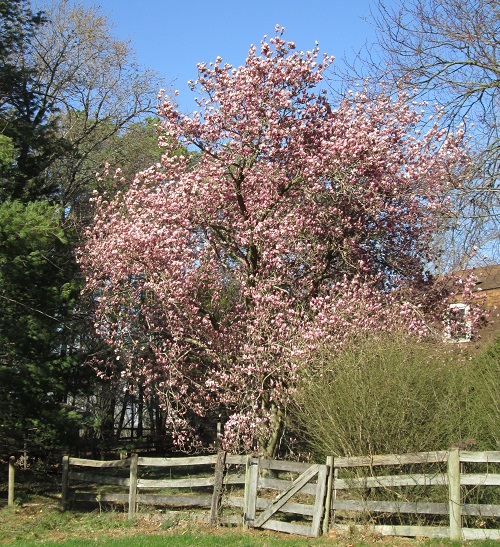 Happy weekend, gardeners and friends of gardeners! The photo above is from a special person.
I read but have never commented on the garden threads, but I thought this might be a good time to start.

I have a rather large tulip magnolia that is quite magnificent (until the April winds destroy the blooms) and thought I'd share this with the horde!

I do enjoy the pictures of flowers but I have pretty much given up active gardening myself.

Regards
Hrothgar
That tree is impressive. And it is next to an impressive evergreen, too.

Update: I really wanted to show how the evergreen next to Hrothgar's magnolia sets it off, so I decided to pan out a little, from his original photo: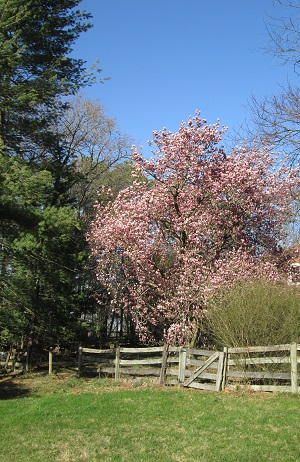 Owl Updates
They grow up so fast! CaliGirl's update from this week:
The owls are getting big. The mom stays in the nest with them when it's cold. It was in the low 40s. It sprinkled a bit too in the morning.
And she sent videos! Some wing-flapping with Mom:
And mouse-eating:
Wow. Meanwhile, a neighbor friend gave me an owl. Surprised to find it in front of a snapdragon.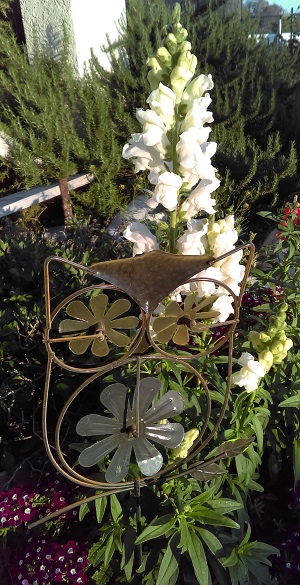 CaliGirl has also sent some lovely camellia photos, which we will be featuring with photos from other members of The Horde. If you have any trees or shrubs you think are interesting, send in a photo!
Spring Kitchen Gardening and Farming
Special Rhubarb
A good friend sent along this piece on Growing Rhubarb in the Dark. Sounds like it produces superior rhubarb. Would take some space and patience. Not as much constant attention as some crops, I would imagine.
We have mentioned regular rhubarb before. You might recall that it grows on the banks of the Volga River. And that dried rhubarb was once more expensive than cinnamon. Note that the stalks contain malic acid, like apples. Not "malice acid". Don't comment on old threads. Keep the acid jokes on this one. Heh.
Forced rhubarb, which is made to mature in near total darkness, grows at such an alarming rate -- as much as an inch a day -- that it actually makes squeaks, creaks, and pops as it gets bigger. It makes for sweeter rhubarb, growers say, and sick beats.

"I'm not patient enough to sit in the building, but I have heard the noise before. Growing against each other. You really have to listen for it," says Brian French, a fifth-generation rhubarb grower and co-owner of the Lennox Farm in Melancthon, Ontario. . . .

The method of growing forced rhubarb dates back to the early 1800s, and continues in much the same way today. Farmers let the rhubarb grow out in the open for two years, as the roots collect and store calories. Then the plants are transplanted to lightless growing sheds around November, where they continue to grow -- warm, but out of season and in the dark. The rhubarb grows without photosynthesis, which normally makes the plant tough and fibrous. . . . The process also results in deep, red stalks, without the normal green shading.
I have never bee a big fan of rhubarb pie, but I like rhubarb stewed, with a little heavy cream, with or without fresh strawberries. I have noticed that the ends of the stalks near the base have superior texture. Perhaps where the stalks were protected from the sun, as in forced rhubarb?
Do you like rhubarb? How do you like to prepare it?
More on Strawberries
Here's a recipe and light-hearted video showing how to make Easy, Classic Strawberry Shortcake. The new detail here is browned butter.
I'm gonna try it. I would serve the biscuits warm. I would slightly crush the sliced or quartered berries. Maybe spread the warm biscuits with butter. And add more cream. Don't know about ice cream.
From the Spinach Tiger, a crumblier, more traditional shortcake dough. Says you can re-heat the biscuits in a microwave before assembling the shortcakes. This recipe calls for sweetened, whole berries, so I expect that it would be a good one to try with alpine or musk strawberries, which we have discussed recently. Don't comment on old treads.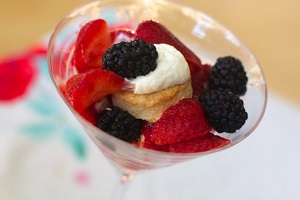 Or maybe with another type of small, pale strawberry, the pineberry. About the size of a nickel. Different from white or yellow alpine strawberries. Not self-pollinating. This one is planted with a red strawberry for pollination. Could be striking on shortcake in combination with blackberries.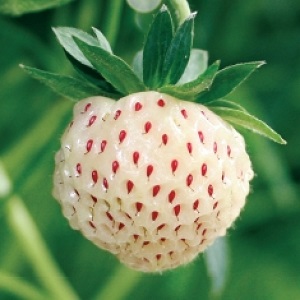 The Spinach Tiger link above also includes recipes for Strawberries and Cream Biscuits (fresh basil from your windowsill garden optional), Strawberry Blueberry Pie and Gluten-Free Strawberry Scones.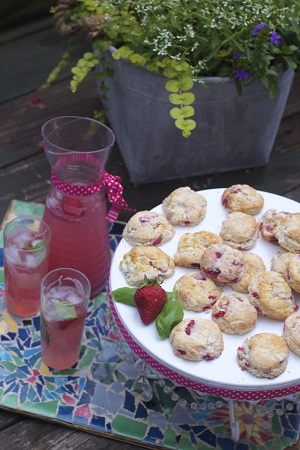 Strawberry-Basil Biscuits at a Garden Party
Strawberry-cream biscuits with basil sounds a little odd to me, but if you're growing it, why not try it? I remember a salad with strawberries and mild diakon radishes, which also sounds odd, which was very good. You got any radishes growing?
Timely Tips
Gordon sent along a piece on the Curse of the Bradford Pear. I guess you really shouldn't plant this class of trees where there is enough water for them to grow on their own. They need to be pruned to a central leader. Some cultivars are better than others, if you are in the West.
Doesn't mean you can't plant fruiting pears, though.
It is rose-planting season for some and rose-pruning season for others. Hank Curmudgeon sends a warning that rose thorn punctures are dangerous. Gardening - not for the faint of heart!
Gardens of The Horde
We have had some pretty warm weather this week, some cold nights, high winds, hail in parts of the Valley, and a day of glory yesterday. How has the weather been treating you and your garden? Anything new going on?
If you would like to send information and/or photos for the Saturday Gardening Thread, the address is:
ktinthegarden
at g mail dot com
Include your nic unless you want to be a lurker.


posted by Open Blogger at
12:59 PM
|
Access Comments