« Saturday Gardening Thread: [KT]
|
Main
|
Chess Thread 04-21-2018 »
April 21, 2018
Ace of Spades Pet Thread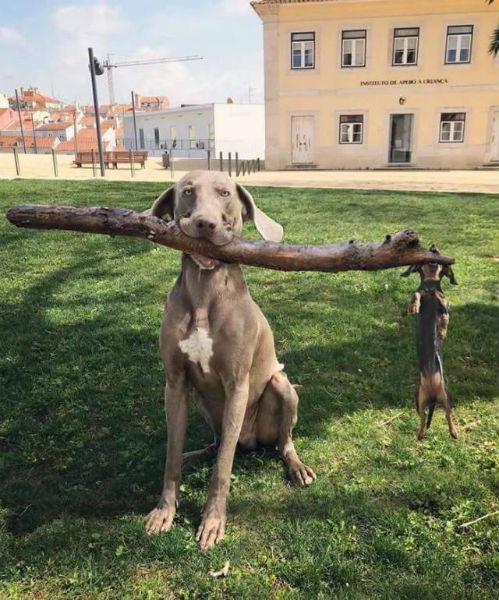 ***
Welcome to the almost world famous AoS Pet Thread. I'm not sure if today's opening photo is real or not. Hey, it's the internet after all. But, it's cute and so are pets. So let's enjoy today's pet thread. Kick back for awhile and leave the politics and current events out in the fenced in yard.

***
A Little of This. A Little of That.
Another reason not to have a doggy door.
They must have brought a big box of snacks.

What happens when you praise your pet? Their expressions are wonderful!
***
Rich animals. Pets that inherited a boat load of money.
***
Lions and tigers and bears. Oh my. An interesting story about unlikely pals. h/t de Bertram Cabot, Jr.
Rabies? I don't want to be anywhere near this.
You might not be able to herd cats. But you can train them to deliver contraband.
I wouldn't want to eat a pet. Proposed laws to outlaw dogs & cats from being slaughtered for food.
***
Meet The PetMorons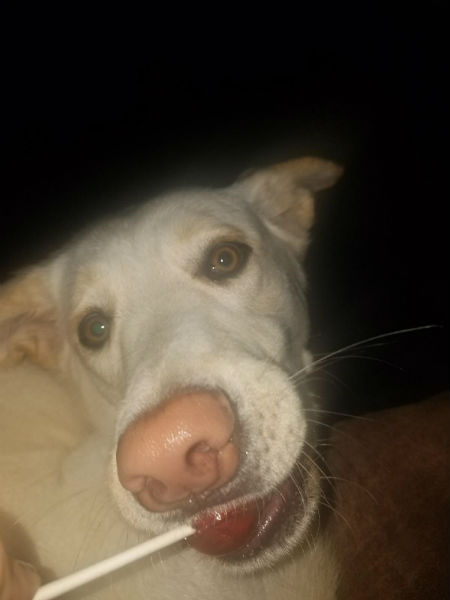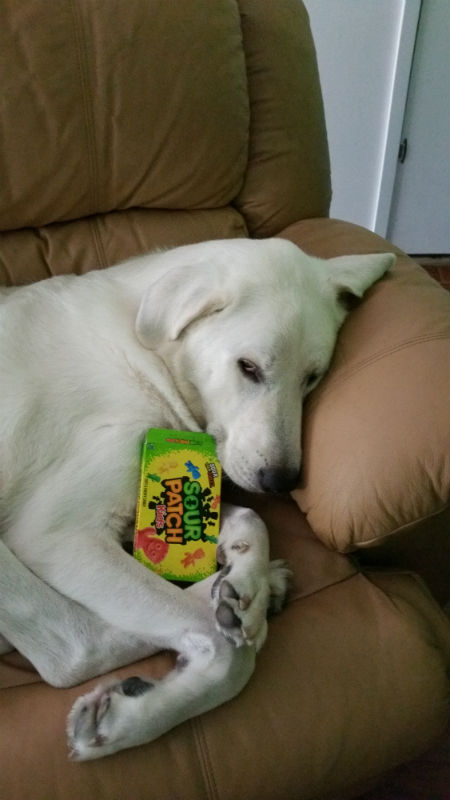 The first photo is Daisy (18 months) - our backup dog – a mixed retriever Craigslist find from Johnson County, TX. The photo was a late night, Ambien-induced Tootsie-Pop sharing moment. Her hobbies include hole-digging and staring off into space.

The second is our primary dog Jasper ( 3yrs) , a registered Akbash. He was adopted from a working farm in Oklahoma, and at nearly 150 pounds, he makes for an unusual city dog. In his free time, Jasper enjoys eating remote controls and howling at anything that moves. When he has the chance, he also sheds like a cheap rug.

Both enjoy breakfast at McDonalds on the weekend, long walks, raiding the cat's food bowl, and taking up 84% of the bed at night. Sometimes, life is just perfect.

Love the blog. Wish that Ace would host a weekly kick-around podcast where he rants profanely and randomly, while the CB's try to keep him on topic. That would be a hoot. - Robert
Wonderful photos of these characters Robert. They sound like a blast to live with. As far as the podcast will pass along to The Boss.
***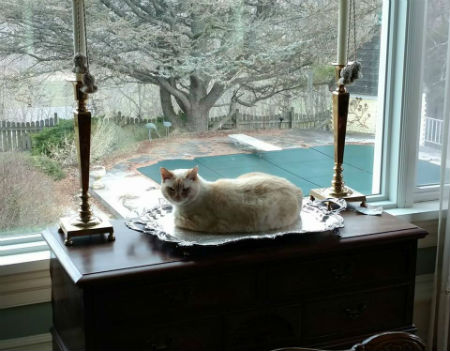 This is Pinkerton, my brother-in-law's cat. He reigns supreme in the 23-room Victorian mansion, except for a couple of dogs he lets live there but barely
tolerates. As his human servant observes, "Pinkerton will be served up as
"puss burgenion" on a hot silver tray." A silver tray made warm by the
sunshine no doubt. - Safewrite
Talk about living high off the hog. Quite the boss. Thanks for the submission Safewrite.
***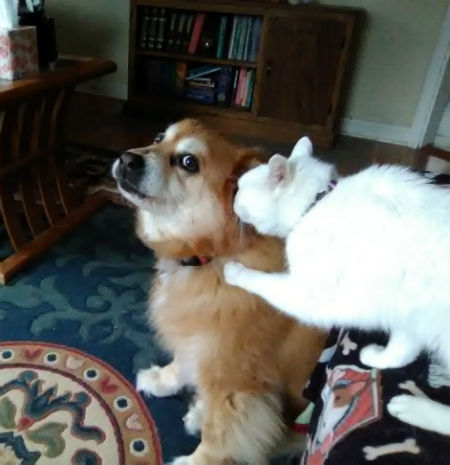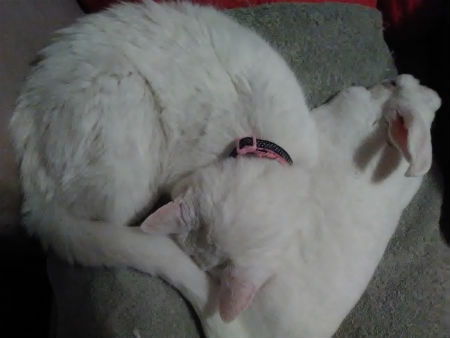 Longtime lurker and AoSHQ fan. Last year my mom needed to stay at the hospital for a few months, and so her pets came to live with me and my cat, Powder. Fortunetly, Powder was a gracious host. Here she is making sure Teddi the Dog is clean enough to stay in her house. Powder also got along very well with Abbott the Rabbit once she learned that Abbott made a better pillow than he did a snack. All three of them get along just great.

Mom is now better and I drove her and all three pets to her home this week, and I'll take Powder back with me. She probably won't admit it, but I think she'll miss the dog and bunny. -Darren

So glad your Mom is better now. Quite an interesting household, cat, dog and rabbit.
***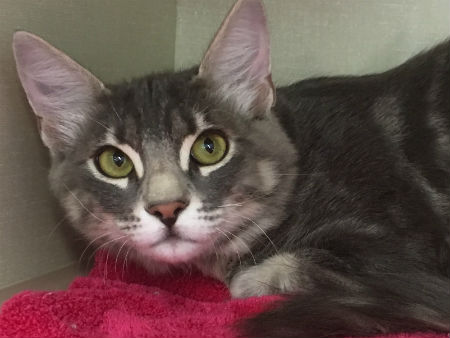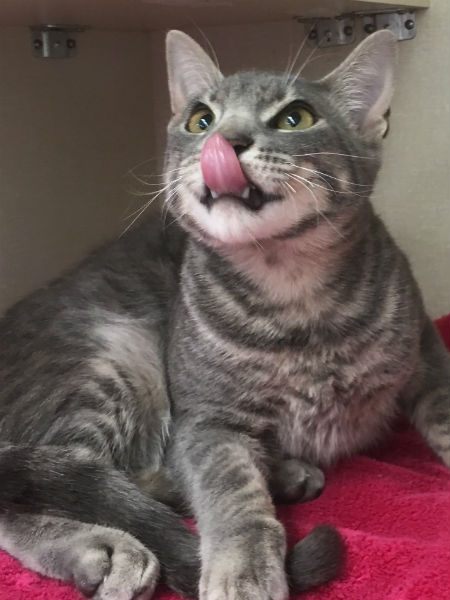 I took in a litter of five foster kittens right at Christmas. They were feral, and I set about socializing them. Three of them have good homes now. I still have two. They are so sweet and charming! The potential adopters, though, not so much. They've ranged from a couple with a chaotic home life, along with pit bulls, to a couple where the woman appeared to be blasted on heroin. There have been others, some not so bad, but they wouldn't agree to the adoption agreement. I will keep them for as long as it takes to find them good homes. We have five cats of our own, so it's a houseful. I've sent pictures of some of our kitties in the past, but wanted to share the photos of these two.

As to the pit bull comment, I don't necessarily lump all pit bulls into the undesirable category. But the couple who had them seemed to have a somewhat chaotic home life, and I had no idea how those dogs behaved. In addition, these kittens haven't been around dogs, so I just didn't think it would be "a good fit." That's what we (the fosters helping kittens for the cat rescue that is helping us) sometimes say to people we just don't want to adopt our kittens to. I have to be able to sleep at night. - Cheri
Cute kittehs Cheri. I don't find fault in you for wanting those cuties to go to good and safe homes.
***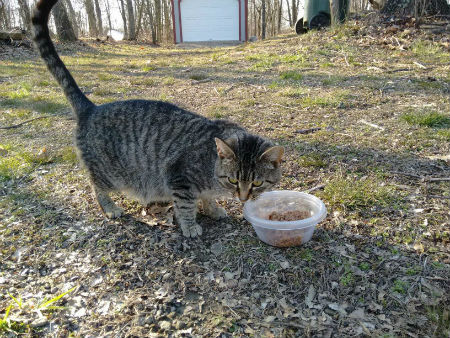 I've sent in pictures of my cats Smokey and Boots before, but I wanted to share our newest pet, a feral kitty my kids dubbed Assner. (Long story, don't ask.) We first saw this little kitty on Thanksgiving day and I noticed she had a bum front leg. Since then we've had a pretty cold winter here in OH, so my husband and I made a little hut for the cat and put out food. At first we thought she was a he, until I got close enough to see Assner is a female. Of course, the telltale howling of a cat in heat also confirmed her gender.

Assner (middle name Dumpling) had her kittens a week ago and just now (about fifteen minutes before I sat down to send this picture) my husband and I spotted Assner Dumpling in our woods and determined she must have her litter under a big pile of railroad ties we have piled up.

Hopefully we can get Assner to the vet for TNR and build a new shelter for her and her family.-Victoria
So how many kittehs did you keep? You folks seem to have open hearts for cats.
***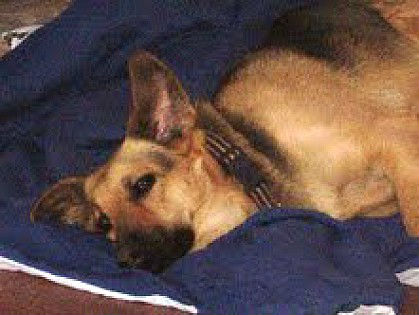 Longtime lurker here and I love your Pet Thread. This is my girl, Lady. She was a German Shepherd-Beagle mix and she was my next door neighbors' dog. When Lady was over a year old and had her first litter, the neighbors decided she was of no use to them and surrendered her and her puppies to Animal Control. I saw her being put in the wagon and I asked the driver if I could have her. He agreed, and she became mine that day. She was a super skinny, unhealthy dog, but I committed to improve her health. My goal was just to get her to live to age 2. She had many health issues, but she was the best dog I ever had. She went from a skinny, undisciplined, fearful and aggressive dog to a goofy, funny, sweet, gentle, super smart and amazingly disciplined one. I couldn't have loved her more. As she seemed to thrive and be happy on a daily basis, I dared to hope that she live past 10 years. Unfortunately, she died at the young age of 8 on October 22, 2017. Anyone who has ever lost a dog understands the pain involved, so I don't need to go into that. Yes, it is still painful, but I'm grateful I had her for the amount of time I did. I consider it a huge honor of her short life that she be included in your Pet Thread. Thank you so much for letting me share her with you. -Cynthia
Sorry to hear of your loss. She looks like a sweet dog who got to live in a special home.
*****
Thank you for the photos and stories. What a great group of pets today!! Do you have a photo and story of your pet you wish to share? Do you have a funny link or video you want to submit? You may send them to petmorons at gmail dot com. We just ask you to give us your nic so we may credit you. We also ask for your patience. We will get to your submission in time.
Have a great week!!

posted by Misanthropic Humanitarian at
03:01 PM
|
Access Comments