« Marx or Confucius? [KT]
|
Main
|
Ace of Spades Pet Thread »
March 03, 2018
Saturday Gardening Thread: Berry Nice [KT]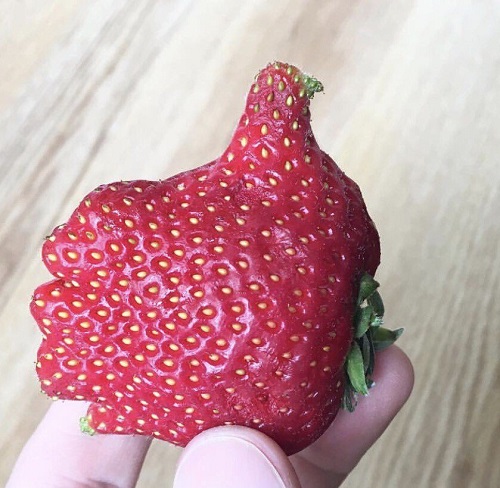 I don't think it's ugly.
Hello, Gardeners and Friends of Gardeners! We have a lot to discuss today. There are berries, some tips from the comments on last week's post, and some heritage photos. Should be fun.
Strawberries
Cumberland Astro grew strawberries last year, and made in the following comment:
I planted a patch of Tribute STRAWBERRIES in Spring of 2017. They were very productive all summer and fall, but not very large. I lost more than half of them to rot and bugs, but still had enough to have a few berries with my yogurt each day. I covered the patch in pine needles this winter. We're going through a warm spell now and the plants are starting to grow through the straw. I hope that's not a problem because more freezes are coming.
Pat* hopes she has not killed her strawberries by uncovering them during a warm spell.
SherpaK2 sent in the following photo of over-wintered strawberries last week: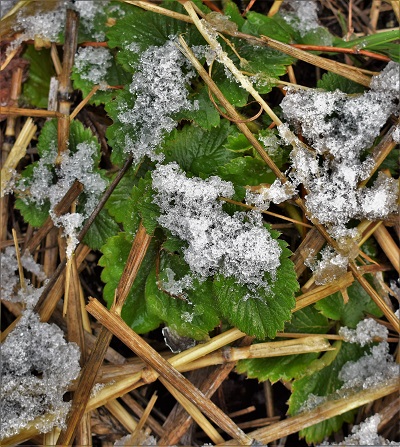 Gordon wishes that he had saved seed from an "ugly" but very delicious strawberry from a farmers market. Good luck next year, Gordon. Market strawberries are hybrids between Fragaria and another genus of berry, and generally don't make viable seed. They reproduce by offsets or runners.
Some varieties are much tastier than others. They are generally classified as "June-bearing" (usually the most high quality) and "Everbearing" (two crops in hot-summer areas.)
In cold-winter climates, strawberries are generally planted in spring for fruit the next year. Some everbearing varieties are planted in Alaska as annuals. In California, commercial growers plant strawberries as annuals, bringing in new plants every season from the mountains. 'Chandler' is popular. Some home growers do the same thing in order to avoid problems with disease, planting in a new area each year. But many people can keep a bed going for a few years by taking out older plants and keeping younger ones. It helps to start with disease-free plants. Some catalogs make a point of this.
Other kinds of strawberries include the Musk Strawberries (from Italy), which are shade tolerant and don't take a lot of summer heat. Need cross-pollination. They are intensely flavorful. New hybrids are under development.
Then there are the Alpine Strawberries - grown from seed, generally don't make runners, tiny but very flavorful berries, plants nice in flower gardens.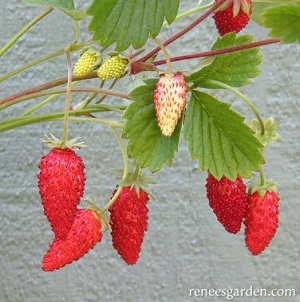 Mignonette
There are also strictly ornamental strawberries. Some of these have almost flavorless fruits. Some have fruits with a little flavor. Some have very attractive foliage. Some of kind of invasive.
Cane berries
Weasel wants to grow cane berries (raspberries and blackberries) at his new property. There was some nice discussion in the comments while I was gone last week. Maybe next week we can expand on them a little.
Mmmmm.
Garden and Farm (and Related Structures Heritage)
Suds46 sent in the following great photo:
That's my dad on a farm he worked on during high school. He claimed he was paid 50 cents a day. However, back then you could buy a new pair of overalls or maybe even a new pair of shoes for 50 cents.

He went on to serve in the navy during WWII. After seeing action in the Atlantic, he was on a ship ready to sail to the Pacific when we dropped the bombs on Japan. I strongly suspect I was born exactly nine months after he got home from the war. I'm one of the first of the post war baby boomers (a dubious honor as it turns out). Inherited the Suds nickname from my dad as did my siblings.
Illiniwek sent the following:
My grandmother ... later she would go to the laundromat in town to used a few newer machines at once. She died at age 77, but never seemed to really retire. But she didn't want a nursing home life, at least not as they were back then.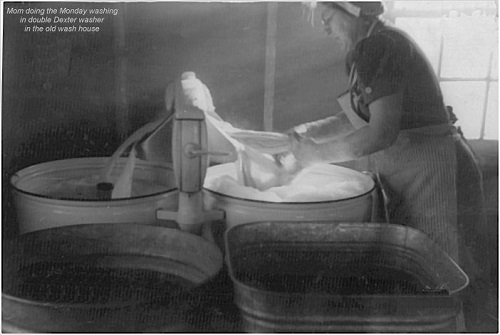 Below is a recent photo of the back yard of my "city" grandparent's home. The trees are bigger. The low wire fence with Black-eyed Susans which separated it from the neighbor yards is gone. Grandpa grew tomatoes by the driveway in the summer and there were four-o-clocks by the porch that over-wintered, probably because snow got piled on them during winter.
The coal chute where Jack Frost lived is still evident. There were once chickens in the back yard, but that was before my time.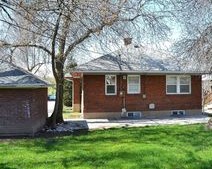 Hank Curmudgeon sent in a link to an old book on urban poultry breeding. Fascinating.
Keep those heritage photos, stories and tips coming.
Gardens of The Horde
This week, weather.com got excited at the prospect of 120 mph winds at the peaks of the Sierras. We got some rain in that storm, but mostly, it is supposed to deliver snow in the mountains. Good!
If you caught the ONT last night, you saw that WeirdDave got some REAL wind in a populated area. Didn't get his bird houses, as far as we know. Everybody making it okay in the storms?
In addition to the plants he has growing outdoors, Sherpa_K2 is really gearing up indoors, too: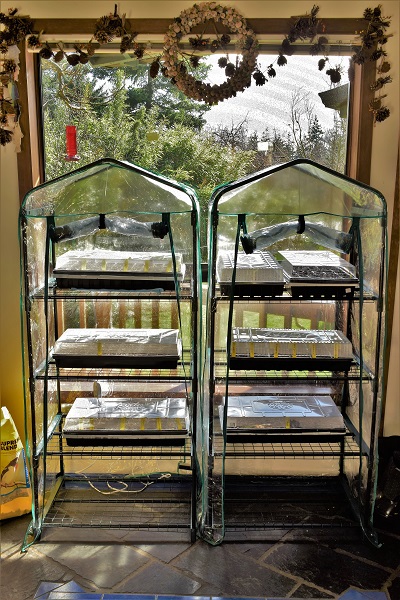 For example:
Heating pad underneath tray set at medium heat. Branywine, Costoluto Genovese, Chocolate Stripes, Principle Borghesi Sun-Drying, Sun Gold, Mortgage Lifter, Roma, Crimson Cushion Beefstake. Average 1/4" planting depth.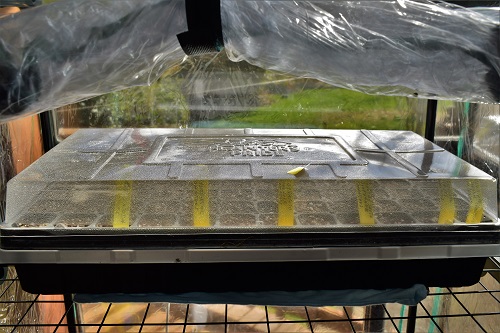 Pat* sent in a bird photo caught from indoors:
A Red-Shafted Northern Flicker (probably male) at my seed feeder, taken from where I sit at my computer every day. This year is the first time we've spotted a Flicker here.

(Editorial note: I hope you can crop the useless left half of the photo out, and maybe part of the top too . . . He's good at figuring out when my hand is creeping towards the camera, even though I keep it right next to me.)
You caught him! Nice location for a feeder, even if the bird is camera-shy. I imagine that visitors there are a nice respite from some things you see on that computer screen.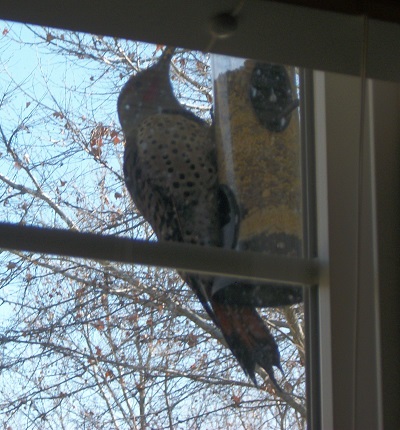 If you would like to send information and/or photos for the Saturday Gardening Thread, the address is:
ktinthegarden
at g mail dot com
Include your nic unless you want to be a lurker.
Anything going on in those desert or coastal gardens?



posted by Open Blogger at
12:54 PM
|
Access Comments