« Thread before the Gardening Thread: California Water and Train Report [KT]
|
Main
|
Ace of Spades Pet Thread »
March 10, 2018
Saturday Gardening Thread: Critter Week [KT]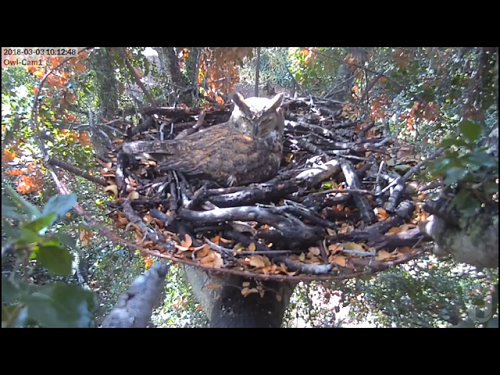 From CaliGirl:
This is Luna our great horned owl. She has two eggs. I think they should hosta very soon. She rotates the eggs just like a hen.
Keeping our Heritage Alive
From JTB:
Since you have been mentioning old time topics on the Gardening Thread, I thought this might be of interest. The latest issue of Early American Life magazine has a couple of articles that are pertinent. One is about using common produce to dye Easter eggs in the 18th and 19th centuries: how to prepare the eggs, which vegetables make which colors, how to prepare the solution, etc. For example, red cabbage produces a dye for blue eggs. Tumeric (yellow), onion skins (yellow to gold), madder root (red) and coffee or tea (brown) are used for other colors. The longer the eggs are in the dye, the deeper their color. The photos with the article showed eggs with a deeper color than usually seen today.

The other article is about the use and construction of hot and cold frames in the 19th century and earlier. (Hint: horse manure was preferred over other manures to produce the warmth.)

This is copyrighted material so I'm not sure how much can be quoted or copies of photographs used. Just thought I would mention the articles. The issue is on the newsstands now and local libraries may subscribe.
Their website is here. Looks interesting.
This is my neighbor's rooster. Haven't seen him in a while.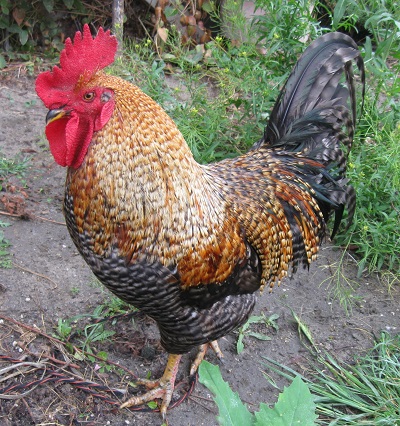 We have been discussing the designer chicken trend in the Silicon Valley, with exquisite chicken feed, fancy digs and so forth. Well, here are some high-fashion portraits of chickens from Italy. Go ahead and take a look. Nicer than some fashion portraits of people.
The endeavor began in 2013, when the artists were inspired by the beauty of these domesticated birds at an avian exhibition in Milan. It has since evolved into a 190 page book featuring 85 high-resolution photos of some of the world's most eye-catching avians. The photos were shot on location at the exhibition, and the photographers worked with chickens who are groomed as show birds; they struck their photogenic poses at will.
Any chickens in your neighborhood? An older gardening friend of mine who used to have a ranch with her husband told me that she felt a thrill when she heard a rooster crow. Not everyone feels that way.
This link came via David Thompson. Be careful about running the video at the "Doppler effect" link with the sound on if there is a dog in the room. Or if there are, say, three dogs in the room.

From the desert to the sea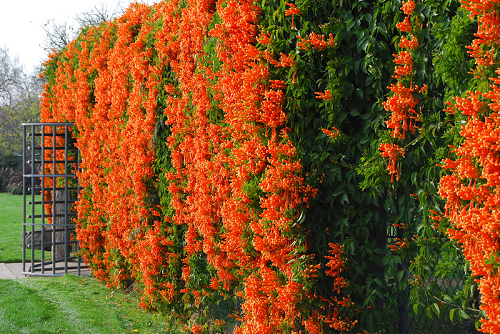 Flame Vine
Pyrostegia venusta is a rampant vine that blooms in winter in the low desert and other mild-winter climates. Blooms from fall to spring in mildest climates. It does well in heat, takes drought and attracts hummingbirds. It is invasive in Florida. Related to that other, hardier, really really invasive orange trumpet vine.
Do any of our desert denizens grow this vine? Anybody else?
Anything else in bloom in for our mild-winter gardeners? We got a sample this week. Know what it is?
Aloha from chilly Kauai I have been upset with my beloved for chopping some of my sloppy plants but this appeared yesterday so he is forgiven. I had to bring it inside to LOVE the aroma. Island Girl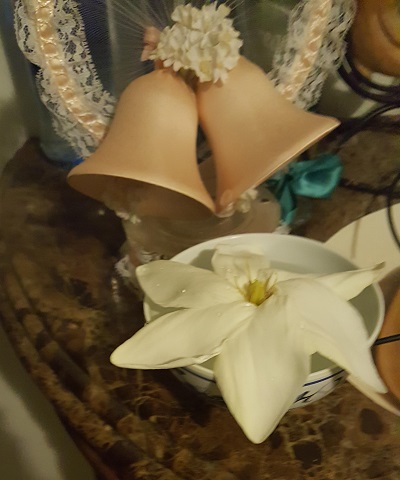 For next week
Keep thinking about cane berries for Weasel. We have news from him. He may be needing more plants.
We also have a question in on edible orchids for drink garnishes.
We have some interesting people-related and horse-related heritage photos. We will take more.
From the Web
What to prune or divide now is a piece on herbaceous and evergreen perennials for cold-winter climates.
Some extra-nutritious veggies. I tried Power Pops cherry tomatoes once. Didn't like them much.
Gardens of The Horde
On Thursday, we received this year's first gift of a disemboweled gopher at the front door. After a suitable viewing period, one of the garden kitties, Racer (a reddish classic calico) took the body away but left the innards.
Geoff B sent in the following:
I was going through my pictures and found these from 2015. Since I grow my tomatoes in containers that have water reservoirs and a pipe leading to them the moist shaded area can attract water needing creatures.

Pictured are two. One at the top of the pipe and a different one at the bottom of another pipe.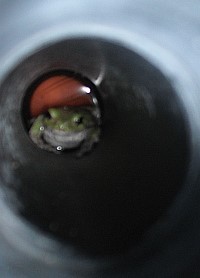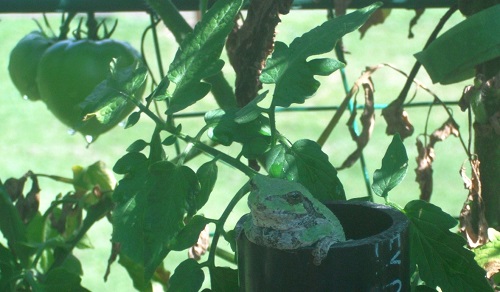 And we have a plea for help. It would be a shame to lose the plant that made these flowers:
I go by the name of Mumbe and am a huge fan of Ace of Spades. I need help with an elderly camellia bush(over 100 years old). I have read up on how to root cuttings but would really appreciate any advice AofS gardeners might wish to share.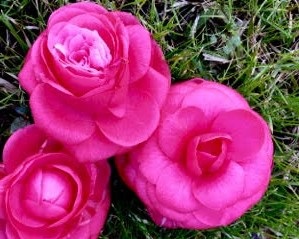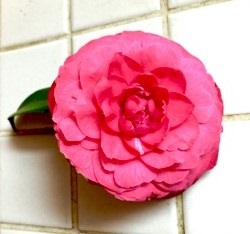 If you would like to send information and/or photos for the Saturday Gardening Thread, the address is:
ktinthegarden
at g mail dot com
Include your nic unless you want to be a lurker.

posted by Open Blogger at
12:42 PM
|
Access Comments