« Saturday Gardening Thread: Critter Week [KT]
|
Main
|
Mini Chess Thread 03-10-2018 »
March 10, 2018
Ace of Spades Pet Thread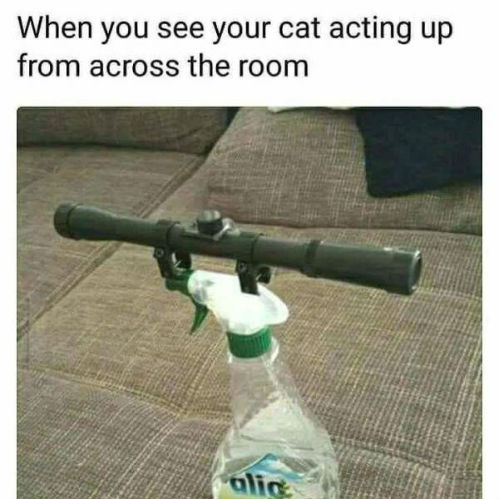 *****

Good afternoon. Welcome to the almost world famous Ace of Spades Pet Thread. Where we hope to have a good time for a couple of hours. Let's forget about news and politics and enjoy the animal kingdom.

*****
A Little of This. A Little of That.

I think all long time pet owners have made a mistake or two when it comes to the health of their pets. That's not to say these folks are bad owners. Common mistakes pet owners make.
*****

Since we are talking about pet mistakes, having a bobcat was the least of this man's problems. h/t hank curmudgeon
*****

A friend of mine submitted the following to me for the Pet Thread. The friend went on to say "What a sweet story. It's quintessentially American. One of the many reasons why I love this country."
You can teach an old dog a new trick. Howling.
*****
Meet The PetMorons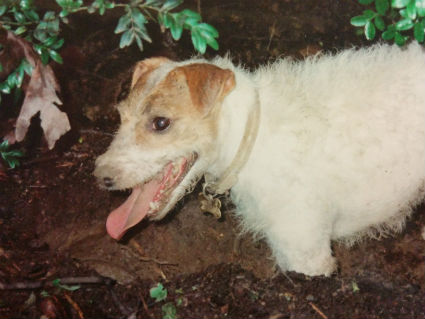 Our Jack Russell Terrier Savannah is shown here about 15 years ago, excavating for a varmint. She loved to hunt and was as good a girl dog as she knew how to be.

RIP Savannah 26 Dec 1998 - 19 Jan 2018.

Thank you for the Pet Thread, one of our top favorite AoS features.

Anita & Doug

Who knew you could get a Jack Russell Terrier to pose? Just a bouncy animal. So sorry to hear of the loss of your long time companion.
*****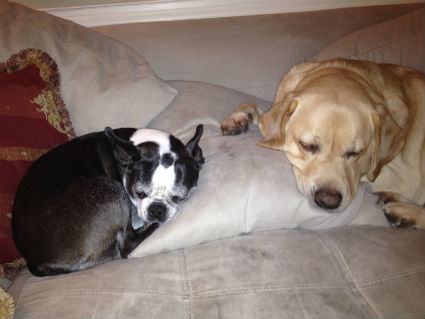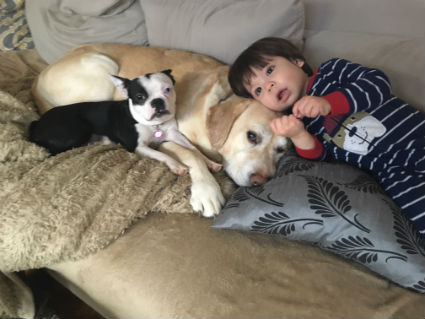 Longtime lurker…

I've meant to send in some pics for the pet thread in the past but never got around to it, but recent news prompted me to just do it.

First pic is Spot (the Lab, who is sans any spots) and Putri. We are a blended family. My wife brought herself, her son and Spot (who was 2 at the time) and my side was me a Putri (who was 6). Putri was the best dog a man could ask for. She was there for some of the most difficult days in my life and was a constant companion. In her nearly 14 years I spent, maybe, a month apart from her. She passed away in 2016 a month before her 14th.

The second picture is of Spot, Cici and Chase. Our son came along in 2015. A little miracle in his own right. My wife and I are in our 40s and wanted a child. Due to some circumstances we needed to go with IVF. After almost a year of trying, insurance money was running out and my wife was determined that any older would be too much. So, with the insurance left and the last 2 frozen embryos we went for it. And against every statistic along came Chase. He is appropriately named, by the way.

Cici became part of our family just a few months after Putri passed away. My wife realized there was a Boston Terrier sized hole in my life. She's a handful and a half. She and Chase are partners in crime and are always cooking up some trouble. While Spot is the old patriarch who patiently takes it all in. He still has a lot of puppy in him despite the age. A typical happy lab. A sweeter dog cannot be found.

Well, just yesterday afternoon we learned that Spot has a soft tissue sarcoma that has metastasized throughout his body. We went to the oncologist assuming that we were working out a plan to get Spot a few more happy and healthy years only to find out that he only has a couple of months left. His loss is going to leave Chase and Cici bereft. Cici, especially, adores him and can always be found sleeping on top of him or coaxing him into some rough play. It is going to be a tough couple of months saying goodbye to the Old Man.

Thanks,
Zach
Thanks for sharing Zach, it is amazing how animals can become such a part of us and our lives.
*****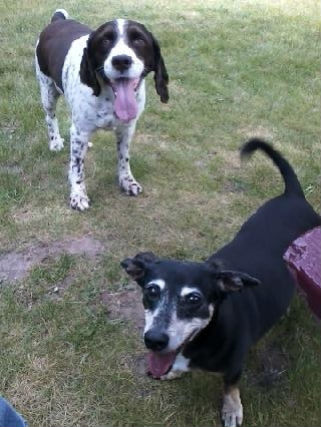 Both rescues, living the Northwoods dream, barking at and chasing deer, chippies, bunnies, and other assorted riff-raff from their yard. I'd swear, I've even heard them say: This is our yard, there are many like it, but this one is OURS...

Pic was right after one such chase. Here's my abused morons. Choder is the Springer, Reece is the Jack/Dachshund mix. - Big Dan
*****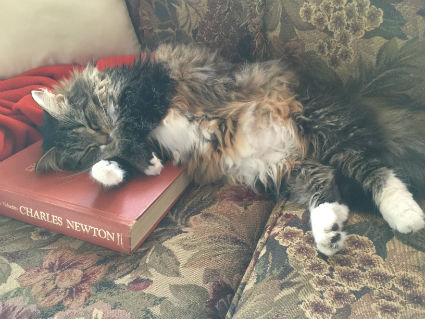 Long time lurker, I'd like to share a picture of Gabby. She turned up on our deck 5 years ago, and seemed to be a cat that someone had dumped-off in the country (declawed and no neighbors had lost a cat). I fed her and was going to turn her in to the humane society, but she kept talking to me and telling me how much she likes us and our house so I decided to keep her. I named her Gabby, because she talks (chirps) all the time and is really curious about everything. I can't even image how anyone would want to throw her away - she is a joy to my husband and I. She often lies on my husbands books or magazines because she requires much attention, as in the picture. Sometimes our best pets are the ones that find us.

Thanks so much for the Pet Thread and Ace of Spades!

Lynn in Wisconsin
Thanks for sharing Gabby's photo and story with us Lynn. Quite the kitteh!
*****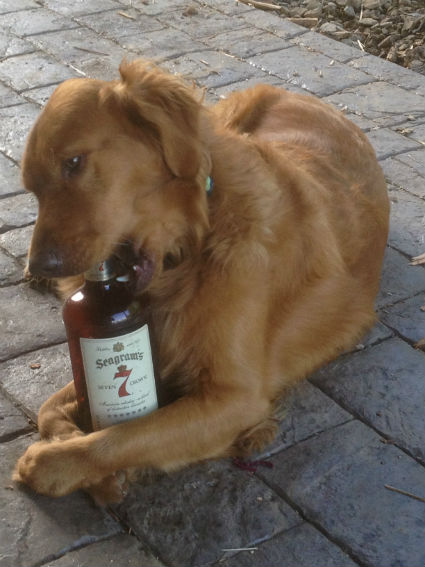 This is my boy Seamus, taken several years ago before I quit the devils brew. He is our third golden retriever and a fine pet. His favorite activities include chewing on firewood and sleeping in front of the wood stove. I discovered Ace of Spades and told my friends, if I could only read one blog it would be this one. I'm just a lurker but a loyal one. Love reading you regularly. - Doug
What is it with sporting breed and their desire to chew on firewood. Good looking dog thanks for sharing Doug.
*****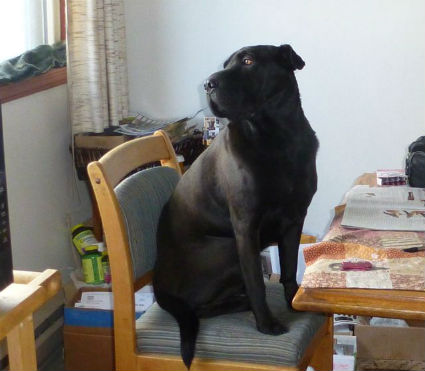 This is Toby. He is not allowed to surf on table or counters but I
do let getting on chairs slide. His big vice is being pesty with
the horses. I feed my endurance gelding loose in the yard because he
gets over twice as much concentrates as all the no work easy keepers
and he and the dog both enjoy the run around game but sometimes the
horse would pass but Toby insists. Overall he is a good dog.

PaleRider.
You're fortunate you don't have a counter surfer there. Toby looks quite at home on that chair. Thanks for the submission.
*****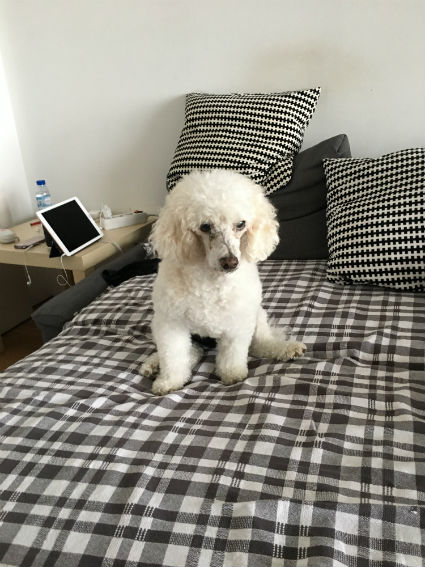 Here is a picture of Casper the day we had to put him down (Feb 2018). We rescued him almost 5 years ago. I have had dogs my whole life, and I can say this without hesitation that putting him down was the hardest thing I have ever done. Something about rescued dogs digs deep at your soul. RIP Casper. - CN
Heartfelt condolences to you CN.
*****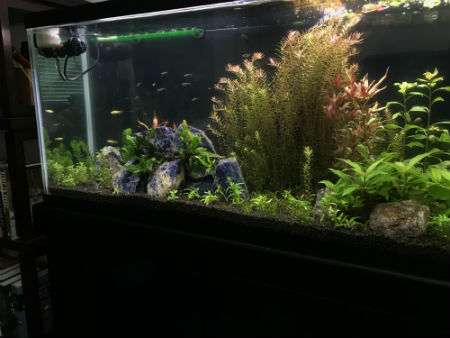 Greetings,

Tried to post a photo of my aquarium in the comments, but that seems verboten.

55-gallon tank. Lots of plants. Cool Finnex Planted+ 24/7 LED -- changes color over the course of a day. Always bugged me that I'd have a dark fish tank at night when relaxing. Now there's a dim blue glow that lets me enjoy the aquarium, without making the fish go crazy. Also, nice to see the tank turn orange (like sunrise/sunset) at the appropriate times.

Cheers,
Arch Stanton
Quite the aquarium setup you have there Arch. It is very attractive. Thanks for the information behind it.
*****
Once again, thank you commenters and lurkers for all of the photos you share with us every week. The love you have for your pets certainly shows.
Do you have something pet and/or animal related you would like to share with us? Drop it off with your nic to petmoros at gmail dot com.
Have a great week!!!!

posted by Misanthropic Humanitarian at
03:00 PM
|
Access Comments