« Thread before the Gardening Thread: Real Education [KT]
|
Main
|
Ace of Spades Pet Thread »
April 07, 2018
Saturday Gardening Thread: April Showers? Snow or Rain Shower? [KT]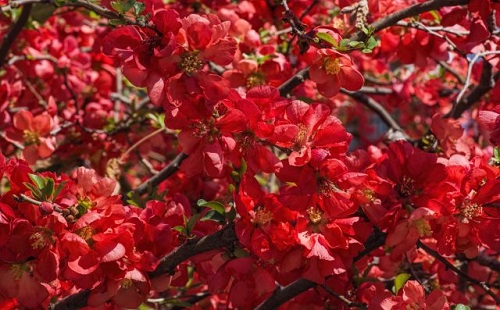 Hello, gardeners and friends of gardeners. I've heard tell of some frigid temperatures in the upper midwest about now, and some pretty cold temperatures with snow and sleet further south. It looks like rain around here. We're not used to it, after the drought years. You always have to watch the weather when you garden.
A littler earlier, Don in Kansas was able to visit a botanical garden. The photo above is a Texas Scarlet Chaenomeles (Flowering Quince). You can see embiggened photos of the flowering quince, cherry blossoms, redbud and two magnolias by cllicking on the flowering cherry photo at the link. Plus additional photos at the end of the post, and in previous posts. A nice way to get into the spirit of Spring!
I once had a 'Cameo' flowering quince, which is a beautiful shell pink. I thought it was thornless, but maybe not. Texas Scarlet is a little taller than the semi-double Cameo, and thorny. Sort of a medium-height flowering quince. A good barrier plant. Some flowering quinces have edible fruits. Texas Scarlet is one of them. The small fall fruits are edible when cooked. Usually used in preserves or for syrups. Like other flowering quinces, branches can be cut and brought indoors to flower in winter in a vase, as soon as the flower buds swell. Good time to prune the plant.
I would have loved to have the taller salmon pink semi-double thornless 'Falconet Charlot' growing near the low-growing 'Cameo', but never found a plant. There is a similar one now called 'Double Take Peach'.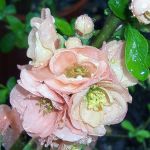 Cameo
Our Heritage
Susan, who mostly lurks, sent in some family farm photos which we posted earlier. (Don't comment on old threads). Today, we have some great photos related to her husband's work. You can see these kinds of enterprises popping up in relatively prosperous societies. Kind of nice that they help people maintain some background knowledge in case of the Zombie Apocalypse:
My husband works for a Canadian gin distillery that does a ground to glass kind of thing... they use draft horses to plant and harvest the barley - keeping the work and legacy of these horses and people going forward. I have some pictures from last years planting.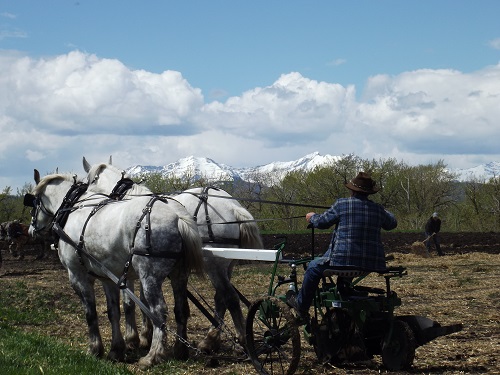 Take a look at those mountains in the background, too!
They use barley and rye as they have been making some small batch whisky, (the first batch was pre-sold). I went to the planting last year when visiting Calgary. My husband was at the subsequent harvest. the owner of the distillery has his own team of horses (and also a team of oxen). Other heavy horse enthusiasts come for the chance to put their horses and equipment to work. It is something to see.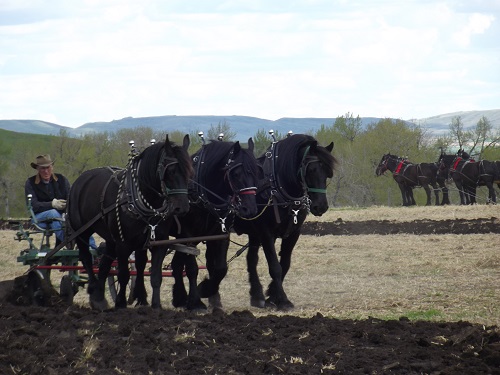 More horse photos at the company website. Thanks, Susan. Fun to see those horses.
Wildlife
CaliGirl might want to keep a safe distance from that intriguing owl nest. Scary stories there if you read the comments. Luna looks like a good mama. Luna may not be human-friendly.
Western Monarch Butterflies (and presumably those in Mexico) have now left their winter kaleidoscopes. I just learned what a group of over-wintering Monarchs is called. Someone was looking up at such a group from below when they came up with that name, I would imagine.
I guess you're not supposed to keep Tropical Milkweed going in winter within 15 miles of an over-wintering site. Great choice as an annual in the north where native milkweeds could be a problem for farmers, though. Can't become invasive there.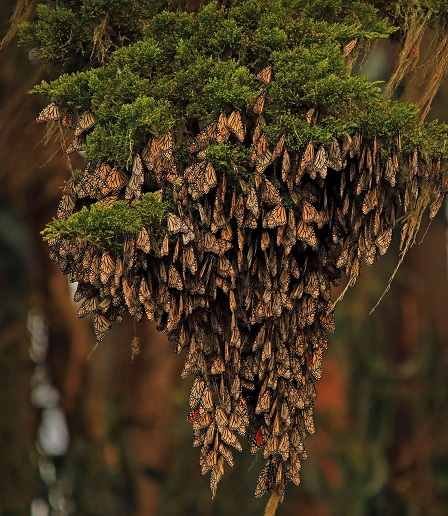 We have discussed garden uses of milkweed in a prior post. Be careful with the invasive kinds, including natives. If you plant one, don't let seeds float away to vex farmers. They are bad news on farms. And don't comment on old threads.
Remember that all milkweeds are attractive to butterflies, including Monarchs, as nectar plants. But not all of them are equally attractive to egg-laying Monarchs. "Butterfly Weed" is one that is not very attractive to egg-laying Monarchs. I recently got an advertisement for two new regionally-adapted "caterpillar-friendly" varieties of milkweed. Natives. One is a drought-tolerant version of a familiar species that has garden cultivars for wetter climates. And here is a detailed summary on Milkweed resources.
We can discuss differences in milkweeds in the comments if people are interested. The transformation from egg to butterfly is fun to watch.
Not-so-wildlife
From a friend in Switzerland, a photo of cows going to spring pasture. They herd cows through the streets in some little villages during the summer, too. But they aren't festooned with flowers except on special occasions. Head cow still has a bell. How they do "Heritage" stuff in Switzerland. Went to a birthday party once in a Swiss farmhouse where the barn half had been converted to human uses. Pretty idyllic. The family who lived there didn't farm, but their neighbors had cows. I've been in a farmhouse where the barn half was still a barn, too. Not as idyllic.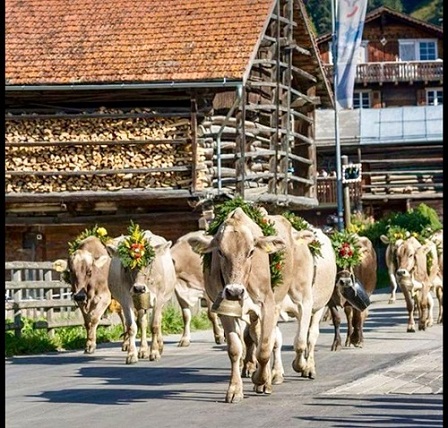 Indoor Food Production
Still have snow on the ground where you are? You might get a few ideas from this video sent in by Lizzy, showing hydroponic culture of baby greens. Okay, so you would probably need to skip the robotics. But 14 days to a crop is pretty good.
If you want to go beyond a few baby greens or herbs on a windowsill or under a light, Hank Curmudgeon has sent in a link to a piece on seven things you should know about a food-providing greenhouse. Written for preppers. Most of the principles apply to any greenhouse, though. Even hydroponic ones like the one in the video above.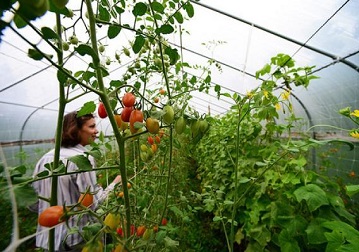 Outdoor Food Production
Hank Curmudgeon has also sent in a vegetable growing cheat sheet for preppers. A basic way to stay on track in the garden. This is part of it: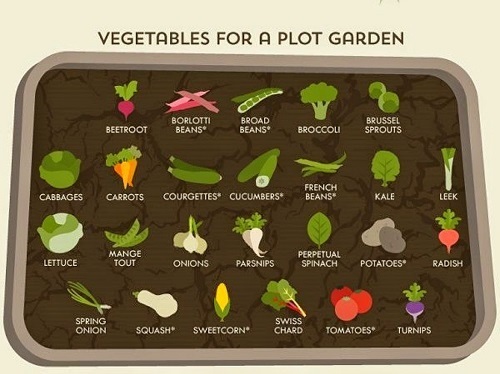 Black Raspberries
We have been breaking down the cane berries for Weasel and others who are considering growing some. Black raspberries need slightly different care than red raspberries. There are no "everbearing" or "primocane" black raspberries, for one thing. They bear only on second-year wood. Be sure to cut out canes that have borne fruit. I love them. They are kind of hard to come by unless you have some in the garden, or have access to a farmers market. Or live where they grow wild.
Black raspberries naturally propagate by tip layering. You can move plants to a new area when disease pressure builds up by tip layering plants into containers.
Gardens of The Horde
Last week in the comments, Weasel regaled us with a story about retrieving an exploratory drone during a visit to WeaselAcres. He also sent in a new photo of the pine he took home and transplanted.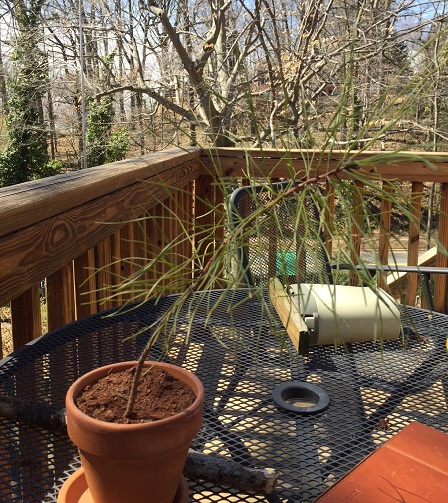 If there is a pine identification expert out there in The Horde, we can post some needle close-ups.
Naughty Pine notes that Gardening is Expensive:
This is what I hate about gardening: you dig out your bed, remove all the bulbs you can see, spray the expensive plant killer onto the area, cover it with layers of fabric and store-bought rocks, and set on top the containers of plants you want to showcase.

In the spring, the rogue plants poke through. If you tear them out, they take the fabric with them.

At least this is a crocus, which I can transplant to the lawn.

I have an older friend who removes the rocks and fabric from the beds in the spring, cleans the rocks, and destroys all unwanted plants before replacing fabric and rocks. She tells the other widows she can't play bingo or take casino trips because she blows her money on garden supplies.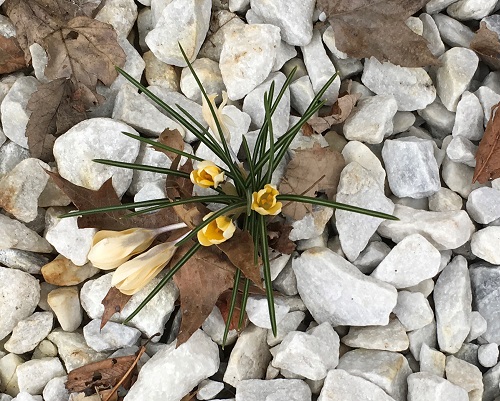 Of course, some people would consider a crocus in the lawn to be "rogue". Not me. The small, early crocus species, sometimes known as "snow crocus", are the ones usually recommended for lawns. Creamy yellow and white sounds like a nice combo. I guess they started the cream ones first. Is this what Naughty Pine's rogue crocus will look like after it makes offsets in its new home in the lawn?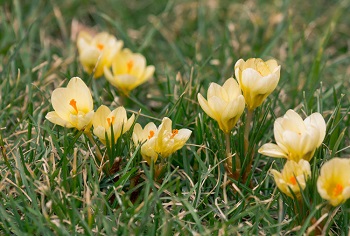 Purple "Tommies" (photo below) may be less attractive to marauding squirrels and other rodents than other species. If you want to plant the big, bright Dutch Crocus varieties in a lawn, you might not be able to mow until July. Might as well plant some other bulbs in that lawn, too. That would be okay with me. This is called a Stinze-style lawn planting. Can't say that I've ever seen one. Have you?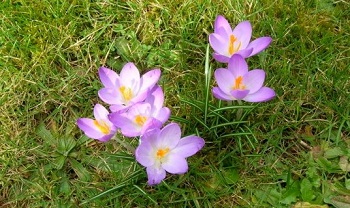 These are either impatiens or nasturtiums growing from a seed starter kit that a declutterer talked me into. I've invested a whole $30 on new pots, a coconut mat and drip dishes for my old pots, and two seed packets in order to save money on the inevitable container flowers.

Last year I spent over $60 just on pre-made hanging baskets. I refuse to think about the mulch, fill dirt, potting soil, and weed barrier.

Why are some seeds above the soil? It's because certain girls think pushing seeds into the dirt is yucky and will damage their nail polish. I will remedy the situation after I transplant these babies.

- NaughtyPine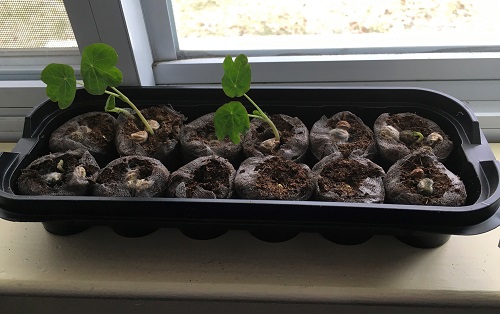 Hope you enjoy your nasturtiums, Naughty Pine. The one below is unusual. It is called 'Orchid Cream'. The flowers "open a cream to pale yellow shade splashed in red. Over the next days, the cream color shifts towards pink and carmine red." Some tall and short varieties of nasturtiums are described at the link. And there are many more elsewhere. Single colors and mixtures. Double and single. Spurred or not. Fringed or not. Some with variegated leaves.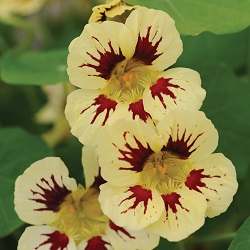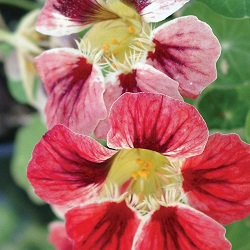 I think Nasturtiums are a lot easier to start indoors than regular Impatiens. Though there are some other kinds of Impatiens, like Balsam, that people regularly start from seed. We will have to discuss Balsam sometime. And some of the taller, less common Impatiens. Balsam does better in hot summer weather than Nasturtiums. Or regular Impatiens, for that matter. This was kind of a surprise to me.
If you would like to send information and/or photos for the Saturday Gardening Thread, the address is:
ktinthegarden
at g mail dot com
Include your nic unless you want to be a lurker.


posted by Open Blogger at
12:30 PM
|
Access Comments