« Saturday Gardening Thread: April Showers? Snow or Rain Shower? [KT]
|
Main
|
Chess Thread 04-07-2018 »
April 07, 2018
Ace of Spades Pet Thread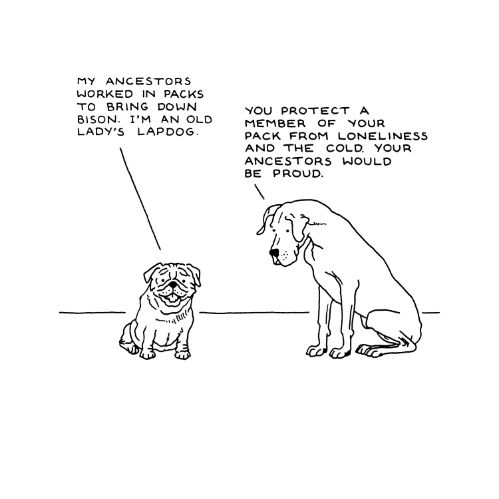 Good afternoon Horde. Welcome to the almost world famous Ace of Spades Pet Thread. Kick back and relax for the next couple of hours and enjoy a beverage and some companionship with your Moron animal lovers.
*****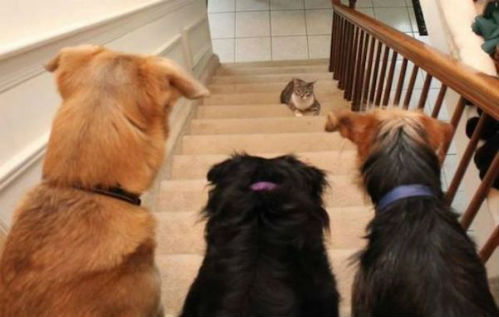 (Something may want to think twice about coming up)
***
A Little of This. A Little of That.

A chore that is never fun. Runaway dog comes back after meeting Mr. Porcupine. Yes the prick won.
Planning on purchasing a bird for a pet? Be careful.

No good deed goes unpunished. Just ask this little kitteh.
Is this the saddest dog on the internet?
***
Meet The PetMorons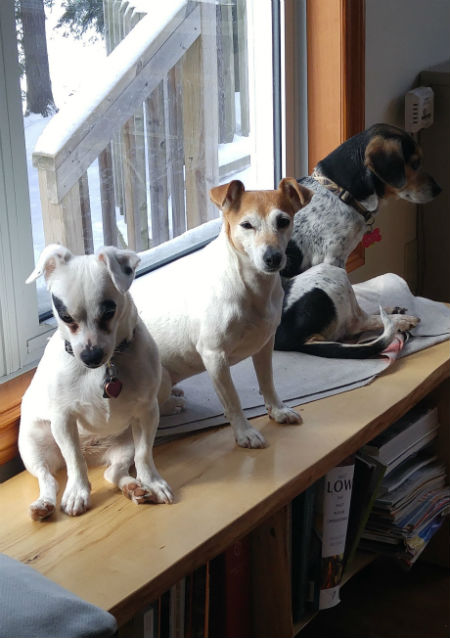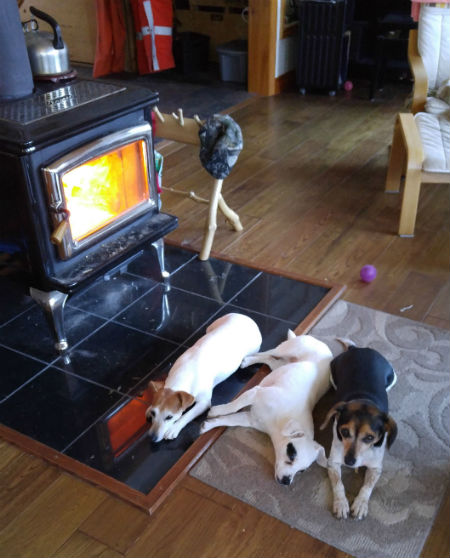 Hello,

Here are our 3 pets (except for the wild ones wandering around outside).

We got them all from Jack Russell Terrier Rescue Ontario. Candi has a typical Jack Russell appearance with brown on her head. Molly is the other white dog who certainly has a Jack's personality but is a mix of who-knows-what. She looks a bit like a meerkat & the Mrs. thinks we may have gotten a twin that was separated at birth. Sally may have a bit of Jack in her but she's mostly beagle.

Candi & Sally are perfectly happy to sleep all day while Molly has endless energy. You can see her favorite activity here:

Thanks for the always entertaining moron pet thread.

PointyHairedBoss

I hope everyone checks out the You Tube video of Molly. She's cute! But, so are the others. Thanks for the submission PHB.
*****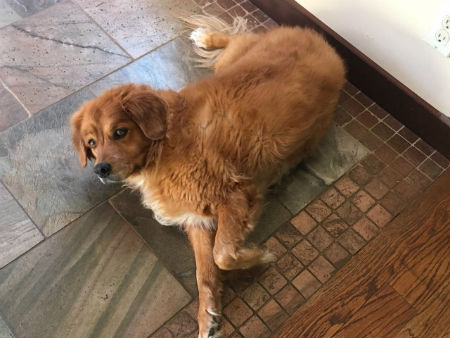 Hi fellow pet morons! I'm a lurker who seldom has anything to add, but my daughter has been encouraging me to send in our little doggie. This is Summer, AKA "Twisty Dog". She's half golden retriever and half cocker spaniel (called a Dakota Sporting Dog??) She's had a hard life. Abandoned at a pet shelter, she has had convulsions every six months since we rescued her. Then she was out walking with us one night and a neighborhood dog (this was a Foster Dog) came and bit her - and she ended up with tubes to drain the infection and a shaved hindquarters! Then there she was the time Twisty was out with my mother in law, when a teenage neighbor (on our little cul-d-sac) came whipping out of her driveway without slowing down, and rolled right over her. Since Twisty already had a bad case of hip dysplasia (and at a young age!) the vet couldn't get her dislocated back femur balls to knit to her hips, and so he lopped them off. Now her femurs float around, and she can contort herself like the best contortionist out there.

Twisty is a gentle soul who we would never think about getting rid of. Unlike the free range rabbit in my master bedroom that has chewed my base boards and carpets, and that I am thinking of donating to the local fox. Remember, the cuter the animal, the tastier! - Brendan
Wow, a dog who can give you "The Look". Sounds like she is quite the trooper. Thanks for sending us the story and photo of Summer.
*****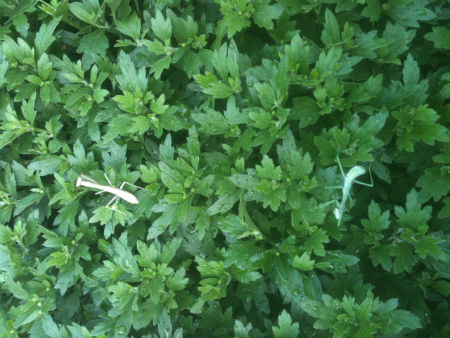 This is Luna. She was supposed to be for the grandkid, but he wouldn't stop biting her. So we found her a non-biting household to live in.

Blanco Basura
So does this mean he's living at Grandpa's house? Handsome dog. Thanks for the submission Blanco.
*****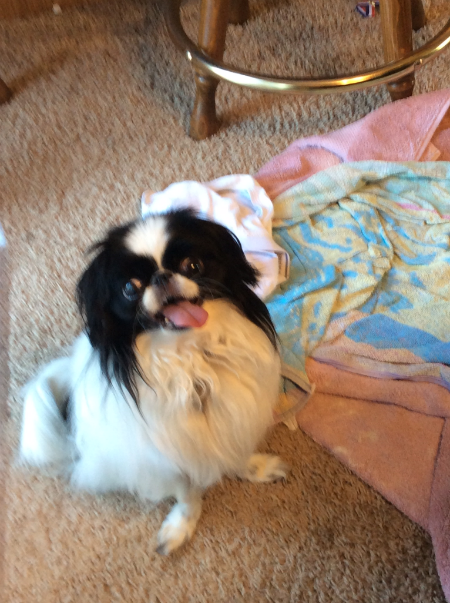 This is Chibi, short for Chiboshi, one of our Japanese Chin. Chibi and his partner in crime Hiro have been featured before, but I wanted to send another picture. Chibi passed away suddenly this past week. Heart attack on the way to the vet. He's been my clown for 12 years and I miss him terribly. The worst part, I was out of town at the time. Never got to say good-bye.

Scott-High Plains Deplorable

Scott, so sorry to hear of your loss. Give Hiro an extra treat from us here at the AoS.
*****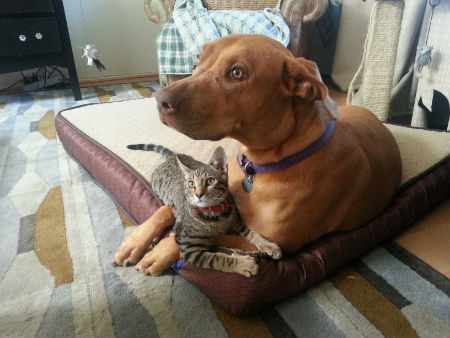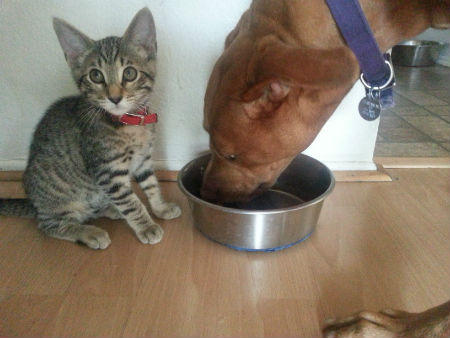 Hi MH - my wife and I love your pet thread, and I've been meaning to send off a pic or two for a long time now. Just couldn't pick only two, going through years of pictures sure brings back wonderful memories. I know I've sent too many pics, if you choose to post this, pick what you will!

Our family has always been supplemented with numerous dogs, cats, rabbits and aquarium creatures - all living in harmony and eager to eat each other's food. The cat lying stoned next to a crop of catnip is Girl - she is the master of the household and swears the weed cures everything. When she isn't self-medicating, she's framing our Dog Coco for murder (usually mice and birds without heads laid in the dog's bed). Coco is a playful 85 lb blue nose pit/doberman female who started out in life as the dumbest animal I'd ever had the duty of picking up after, but now at 8 years old - she's reads minds and regularly outwits us humans. She's also incredibly patient, as you can see with the kitten Lily. That dog has been through grabby babies, grappling children and grumpy grownups of the two and four legged variety, YET SHE PERSISTS, and with grace. What a gift they all are to us ranting humans!

Again - thanks to you and Ace for the insight and entertainment you give us, it brings us back every day...-Shane

Well thank you for the photos, one can never submit too many. I chose these two which show the friendship between Coco and Lilly. Thanks for the kind words.
*****
My younger dog, Avery, a lab mix,


Jigsaw, my Golden Retriever previously mentioned in the moron pet thread, had to be put to sleep due to cancer:

Another tough loss this week. So sorry to hear about this Lawrence. Give Avery an extra hug from us. And a treat.
*****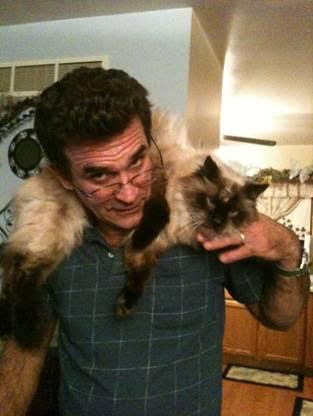 (Bill)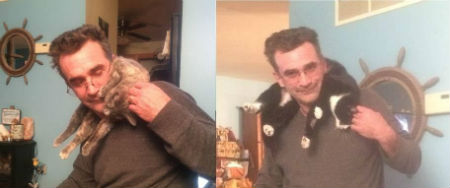 Long time lurker and rare poster Scont here. Thought I would contribute some kitteh pics to the pet thread. These have the added bonus of being fashion oriented, as I have come up with the next must have fashion accessory for all the well dressed Rons and Ettes out there.

Presenting, The Feline Fur Collar!

These collars come in various sizes and colors for all occasions. They have built in heat, vibrating massage (purring), and optional acupuncture (just piss them off).

Bill. Rescued him about 16 years ago. He was living in the boiler room at the hospital where my wife works, begging for scraps at the outdoor lunch table. He is now an almost permanent fixture on my lap. His coloring goes well with any black tie formal affair.

The two most recent additions to the Feline Fur Collar Fashion Line are Cleo (left) and Kit (right). These are sisters from the same litter I adopted from my wife's cow-orker's son that was going off to college and couldn't take them with. Very affectionate little furballs. Kit is the first kitteh I've had that has thumbs. And, as we all know, acquiring opposable thumbs is the first step to kitteh world domination. And I, for one, welcome our new feline overlords.

Standard disclaimer: No kittehs were harmed in the making of these collars. Although some may have been slightly annoyed.
Thanks Scont for the fashion show and tips. Quite the group of kittehs you have there.
*****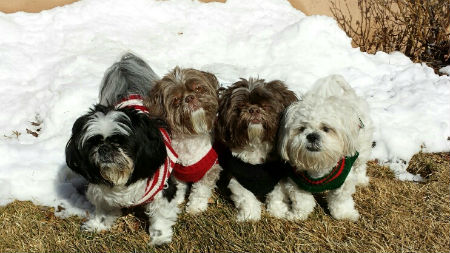 Rocky is one of our 4 shih tzus.
Reggie....black and white
Chino......brown, big eyes
Gizmo.....white
Submission by no name given. Cute dogs. How in the world did you get them to sit that long for a photo? Treats? Thanks for the submission.
*****

Once again a great group of PetMorons. Thank you PetMoron owners. We appreciate you taking the time to submit their photos and stories. Do you have something you wish to share with us? Well feel free to submit that photo or interesting tidbit to petmorons at gmail dot com.
Have a great week!!!

posted by Misanthropic Humanitarian at
03:04 PM
|
Access Comments