« Weekend Gun Thread
|
Main
|
The Morning Report 2/26/18 »
February 25, 2018
Sunday Overnight Open Thread (2/25/18 )
(ONT, take us away)
*****
The Quotes of The Day
Quote I

"Public virtue is the vital spirit of republics and history shows that when this has decayed and the love of money has usurped its place, although the forms of free government may remain for a season, the substance has departed forever." --James Buchanan, Inaugural Address, 1857

Quote II

A bullet fired from an AR-15 travels 3x faster than one from a handgun…and yet the president and the NRA think giving teachers guns will stop a school shooter."Lawrence O'Donnell

Quote III

The investigation is ostensibly about bribery and fraud, and I'm still at a total loss to understand what exactly here rises to the level of a federal case. From what is known, it appears to be the same old bullshit that's been a fundamental part of college sports since college sports was invented: agents, coaches, sneaker companies, paying players under the table to come play for them because the rules don't allow them to pay them atop the table. Barry Petchesky
The FBI is too busy protecting us from sleazy basketball players and not from: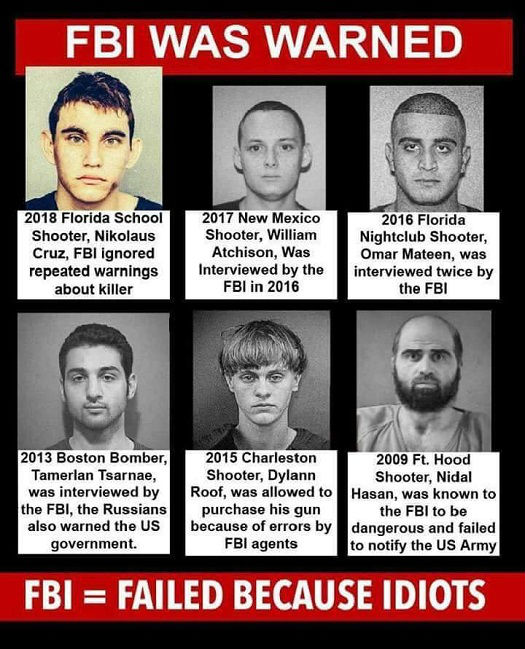 h/t OregonMuse
Quote IV

What did I miss? Cowardly corporations punish NRA because FBI failed to act on info re: shooter and FL Sheriff had 4 deputies who stood outside and hid during gunfire that killed 17 innocent kids. How many NRA members did mass shootings? ZERO. Former Gov. Mike Huckabee
*****
Remember the Polish cow who swam to freedom? She suffers a tragic end.

Tragic end for cow who escaped the slaughterhouse to live on an island: Bovine hero DIES while being transported by truck to a farm after it is captured following weeks of freedom.

The heroic red Limousin beef cow gained celebrity status after going on the run
She escaped captivity by charging at a fence and breaking a farm worker's arm
Despite evading capture for almost one month, she has died after being nabbed
*****
The ONT Musical Interlude
February 25, 1995, At a private party for 1,200 select guests on the closing night of the Frank Sinatra Desert Classic golf tournament, Frank Sinatra sang before a live audience for the very last time. His closing song was 'The Best is Yet to Come'. via thisdayinmusic.com
***
February 25, 1943, Born on this day, George Harrison guitarist and vocalist with The Beatles The all-time bestselling album in the UK is The Beatles' 'Sgt Pepper's Lonely Hearts Club Band', with over 4.5 million copies sold. Harrison wrote the 1969 US No.1 & UK No.4 Beatles single 'Something'. As a solo artist he had the 1971 US No.1 album 'All Things Must Pass' and the 1970 worldwide No.1 single 'My Sweet Lord'. He was also a member of the Traveling Wilburys with Tom Petty and Bob Dylan. Harrison died of cancer on November 29th 2001. via thisdayinmusic.com
*****
Science. Is it really settled?
Good news for you drinking Morons Alcohol increases your longevity, exercise optional.

Moderate alcohol consumption may be vital in helping people live past the age of 90, new research suggests.

The average lifespan has steadily increased due to advancements in technology and medicine, among other facets of life. The newly published 90+ Study — which first launched in 2003 by researchers at the (UCI) — claimed that individuals who drank approximately two glasses of beer and wine daily were 18 percent less likely to be subjected to a premature death. People who exercised between 15 to 45 minutes a day reduced this risk by 11 percent, however.

Live longer with but with dementia?

It's hardly a surprise that too much alcohol is bad for the body, including the brain. But a new study published Tuesday in The Lancet suggests that even doctors are underestimating its impact on our risk of developing dementia.

The researchers looked at a nationwide, anonymous database of more than 30 million adult French hospital patients who were discharged sometime between 2008 to 2013. They excluded those at risk of developing rare forms of dementia, such as those brought on by infectious diseases like HIV or other neurological disorders
So alchohol consumption is not settled but global warming is?
*****
Guess who won't be invited back to CPAC anytime soon? Mona Charen.

Declining to mention Trump by name, Charen said conservatives are guilty of "look[ing] the other way" when it comes to the president and other Republican men who have faced allegations of sexual misconduct.

"This was a party that was ready to ... endorse Roy Moore for Senate in the state of Alabama even though he was a credibly accused child molester," Charen said.

"You cannot claim that you stand for women, and put up with that," she told the crowd, as several members of the audience shouted, "Not true!"

Charen's comments were met with heavy boos inside the conference hall, and she was later spotted leaving the conference with a three-person security detail.

Too be honest with you I haven't heard about Mona in years. Is she even relevant?
*****
Row, row your boat Genius Award Winner.
*****

Man's best friend, turns out to be man's best friend and Tonight's Feel Good Story of The Day.
*****

Tonight's ONT has been brought to you by The Good Old Days.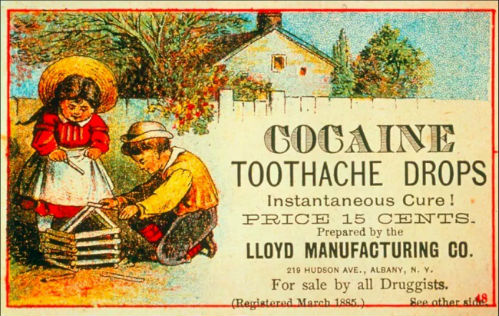 Notice: Posted with permission by AceCorp, LLC. Featuring Two for One Ampersands &&
*****
Weekly commenter stats for week of 2-23-2018
Top 10 commenters:
1 [845 comments] 'Insomniac' [118.68 posts/day]
2 [480 comments] 'Your Decidedly Devious Uncle Palpatine, 501st Kremlin Jewbot Gvardii'
3 [446 comments] 'Monk'
4 [380 comments] 'tu3031'
5 [378 comments] 'Mark Andrew Edwards'
6 [315 comments] 'Cicero (@cicero)'
7 [299 comments] 'Mike Hammer, etc., etc.'
8 [294 comments] 'Under Fire'
9 [290 comments] 'rickb223'
10 [285 comments] '#neverskankles'
Top 10 sockpuppeteers:
1 [142 names] 'Miklos, just Miklos' [19.94 unique names/day]
2 [60 names] 'Duncanthrax'
3 [57 names] 'The Political Hat'
4 [46 names] 'Surfperch'
5 [45 names] 'Hands'
6 [41 names] 'Notorious BFD'
7 [40 names] 'Buzzsaw90'
8 [39 names] 'tu3031'
9 [36 names] 'Axebot'
10 [36 names] 'Adirondack Patriot'
***
Quote I h/t Isophorone Blog@Isophorone

posted by Misanthropic Humanitarian at
10:00 PM
|
Access Comments