« Billy Graham Dies at Age 99
|
Main
|
The Morning Report 2/22/18 »
February 21, 2018
Wednesday Overnight Open Thread (2/21/18 )
(Yo Ho Ho and a bottle of rum)
*****
The Quotes of The Day
Quote I

"Nowhere but America do horrific large-scale mass shootings happen with this degree of regularity. This must stop." Sen. Chris Murphy, D-Conn."
Quote II

"We welcome you as the leader of the Palestinian people here today. But I will decline the advice I was recently given by your top negotiator, Saeb Erekat. I will not shut up. Rather, I will respectfully speak some hard truths. The Palestinian leadership has a choice to make between two different paths. There is the path of absolutist demands, hateful rhetoric, and incitement to violence. That path has led, and will continue to lead, to nothing but hardship for the Palestinian people." U.S. Ambassador to the United Nations Nikki Haley
Quote III

If a lower court treated another right so cavalierly. I have little doubt that this Court would intervene. But as evidenced by our continued inaction in this area, the Second Amendment is a disfavored right in this Court." Supreme Court Justice Clarence Thomas
Quote IV

I do not agree with what you have to say, but I'll defend to the death your right to say it. Evelyn Beatrice Hall
*****

What once was considered normal is now absurd. Water massager for breasts looks quite Moronish.
*****
Of course NSFW - Paul Joseph Watson and Milo Yiannopoulos discuss current events.
*****
Here's hoping this hunger strike works. There are probably more that need to go on this diet.

"On Friday, February 16th a UVM staff member, John Mejia, announced they would be going on hunger strike until UVM meets all of the demands presented by No Names for Justice last semester including an additional 10 demands that they presented," the description page read. "It is time for our demands to be met, no more bulls—- emails, no more bulls—- meetings."
*****
Sunday's ONT comments delved into hangovers. Some said Tequila. Well here you go, how tequila is made.
*****

A Big Mac value meal in Australia is $9.55.
The same meal here in the USA is $5.99.
So why nearly a $4 difference between the two meals? Australia is paying burger flippers $20+/hour.

Wages for service sector jobs tend to be much higher than in Canada, where the dollar currently trades at par with the Australian currency. Entry-level fast-food workers, for example, are paid $20.08 an hour as a base hourly wage. Pay goes up to $25.10 on Saturday, $29.12 on Sunday, and overtime hours are $30.12 for the first two hours and $40.16 for each hour thereafter. On top of this, employers pay 9.5 per cent of wages to every employee's nominated retirement fund. Workers who are non-permanent "casual" employees are generally paid a further 25 per cent of their wages on top of these amounts.
*****
Here's hoping that this next adventure isn't as cheesy as TJ Hooker was. William Shatner signs up for with country music label. h/t some Moron
*****
Do you remember when the USA pulled out of the climate control scam Paris Accords? Oh my the shock and anger expressed towards PDT and us deplorables. The rest of the world is pretty quiet with other nations breaking the Paris Accord.

Indeed, the entire E.U. is on track to fall short of promised reductions, according to the European Environment Agency. So are Japan and Australia. Mexico and South Africa are among the nations who, according to the Climate Action Tracker, are guilty both of promising insufficient reductions and of failing to meet even those promises.
*****

Do you offend easily? Are you a feminist or a cuck? This might not be the video for you.
*****

For the money they are charging, all of the students should get a top bunk at this camp School. UIC professors want to exclude objectionable opinions.

But at American universities, it isn't just the students you need to worry about.

More than 100 Chicago professors have signed an open letter to Mr. Zimmer objecting to Mr. Bannon's invitation:

"The university should model inclusion for a country that is reeling from the consequences of racism, xenophobia, and hate."
Call me an Old Fogey, I miss the days of Evelyn Beatrice Hall and her famous quote.
*****
The ONT Musical Interlude
1968, Otis Redding had his first entry on the UK singles chart when '(Sittin' On) The Dock Of The Bay' entered the chart, it went on to be a No.3 hit. The song became the first posthumous single to top the charts in the US. via thisdayinmusic.com
***
February 21, 1949, Born on this day, Jerry Harrison, keyboards, guitar, Jonathan Richman And The Modern Lovers, Talking Heads, who had the 1983 US No.9 single 'Burning Down The House', and the 1985 UK No.6 single 'Road To Nowhere'. Also a member of Casual Gods. via thisdayinmusic.com
***
February 21, 1943, Born on this day, David Geffen, Geffen record label boss. Founder of Asylum records who signed The Eagles, Crosby Stills Nash & Young, Jackson Browne, Warren Zevon and Tom Waits and Joni Mitchell. Formed Dreamworks in 1995 via thisdayinmusic.com
*****

Tattoos are forever. Perhaps a little research is in order.

When picking out a tattoo, many people decide to go with a word that means something to them, only written in Chinese or Japanese. The problem with that is if you don't speak those languages, you have to trust someone else more familiar with the foreign tongue. Usually that's fine, but it turns out, sometimes it's not, as Alan Wong recently learned.

Wong was taking a flight when he glanced at his seatmate's ankle and saw a word in Chinese and Japanese that probably doesn't say what it's owner thinks it does.
*****
NSFW-Really-NSFW We are so f*cking doomed. Vagina wigs.
*****
Recently CBD covered the Robot Dog. WATCH A HUMAN TRY TO FIGHT OFF THAT DOOR-OPENING ROBOT DOG

In this week's episode, a human with a hockey stick does everything in his power to stop the robot from opening the door, including tugging on the machine, which struggles in an ... unsettling manner. But the ambush doesn't work. The dogbot wins and gets through the door anyway.
*****
If at first you don't succeed, try, try again. Genius Award Winner.
*****
Helping out a Viet Nam vet out is Tonight's Feel Good Story of The Day
*****

Tonight's ONT has been brought to you by Bubbles.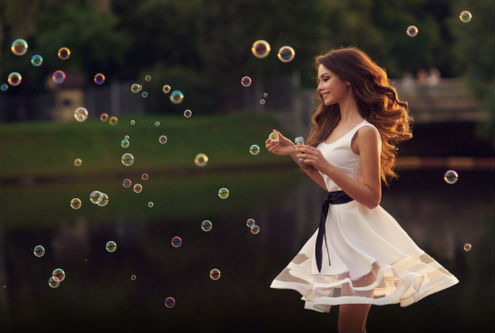 Notice: Posted with permission by AceCorp, LLC Discard after 2/21/2019.

posted by Misanthropic Humanitarian at
10:01 PM
|
Access Comments