« Is Another House Of Cards About To Tumble Down? Forensic Science Isn't Really Science...
|
Main
|
Weekend Gun Thread »
February 11, 2018
Food Thread: Sharp Objects And Fingers: A Match Made In Kitchen Tool Heaven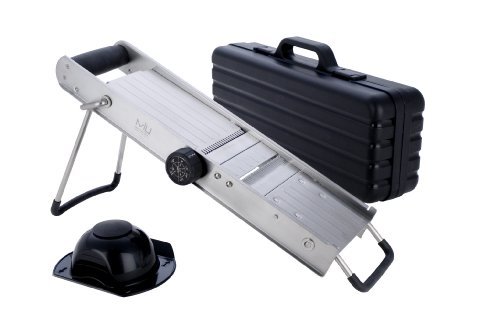 I have a few of these engines of the Devil in my kitchen. Well, actually they are all in a closet, well away from my kitchen, and more importantly, far from the tips of my fingers.
The mandoline is a great idea, and several times each year I make something that requires the slicing of large quantities of..something. And I briefly entertain the notion of hauling out one of these buggers and risking life and limb to save a few minutes of time. Luckily I am not quite as stupid as I sound, and I resist the temptation.
I cut myself enough with knives...I don't need to add the diabolical design of a mandoline to my list of potential kitchen injuries. I am already on a schedule of at least one burn per month, and I just don't feel like cutting the tips of my fingers just to get an extra-thin slice of whatever.
Seriously, they are wonderful machines, and can be a real time saver if one knows how to use them. But I think it is simply a function of practice, and my guess is that most home cooks don't need one often enough to get good (and safe) with them. For restaurants however, they must be marvelous!
******
I got an e-mail about that weird mail-order peppers service from last week's Food Thread from commenter "BeckyDotData" that made me laugh, and reminded me once again that most of you people are nuts!
In November, I drove to visit my children in Sarasota who requested a caucasious-Mexican Thanksgiving which requires, among other dishes, tamales- hot tamales. At the local Publix, I picked up an habanero and bit into it. Hot like fresh black pepper. The produce clerk screeched awaiting my heart attack. I put the assaulted pepper in a bag to purchase the remainder and asked if her store carried pickled peppers. She was speechless. This has been the median reaction from employees. In 2016, I ordered seeds for the Scotch Bonnet, a lovely meaty orange habanero and succeeded in growing peppers that registered in the > 100K scoville units. I love my hot peppers, and yes, I do have taste buds, although I have been accused of witchcraft by weenies. In 2011, I successfully grew the dreaded Bhut Jalokia. But after field testing batches of tamales, the ghost pepper lost all of its heat during steaming process. My disappointment was clinical.

While I certainly am not spending my bourbon budget on peppers, I am curious about their efficacy. I am on the do-not-respond list for the USDA in all four states because of this quest.

My request for you is to ask your lurkers, commenters, and assorted morons to review this service if they partake.

Thank you for your time. My handlers are coming.
******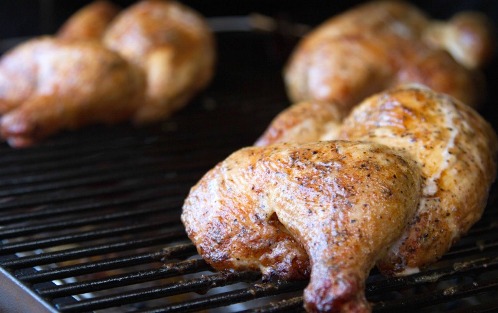 Obviously they are touting a particular recipe to sell some temperature probes, but it's a pretty solid sounding technique, and I have had chicken with that weird but great white sauce before, and it is worth making.
BBQ Chicken With Alabama White Sauce sounds sort of gross, but try it, you'll like it!

******
Some random thoughts about chili. I have been making it recently for no particular reason, and with no particular recipe, and I have yet to flub a batch. And when I say "no particular recipe" I mean I am winging it. Ground beef, chopped chuck, chili powder, toasted dried chilies, cumin, no cumin, oregano, smoked paprika, sweet paprika, onions, garlic, blah, blah, blah. I have tried a bunch of different combinations and every single time it has turned out nicely. Some were better than others, but every single one was at least good and satisfying.
My conclusion? No idea. I just like eating chili.

******
Wow. Who are these people who judge their dates according to ridiculous criteria?
Foods to avoid on a first date
. Here's my recommendation: eat good food that will make both of you happy. If it's a rack of ribs covered in sauce that you get in your hair, or some dainty and fun high tea sandwiches...whatever floats your boat.
******
I made this a long time ago, and it was really good. the bread crumbs are an interesting touch. But one modification will make it a better dish: cook the mussels, then put on a pair of dishwashing gloves to protect your hands from the heat and shell them. I don't know about you, but I am too damned old to have to deal with the shells in my pasta.
Wide Noodles with Mussels


1 lb. wide pasta

3 tablespoons extra-virgin olive oil

1 small onion, finely chopped

1 shallot, finely chopped

2 cloves garlic, finely chopped

1/2 cup dry white wine

1 teaspoon freshly squeezed lemon juice

3 pounds mussels, scrubbed and debearded

1/4 cup bread crumbs

Italian parsley, finely chopped to yield 2 tablespoons

Salt and pepper
Directions
Bring 6 quarts of water to a boil and add 2 tablespoons salt.
In a large skillet with a lid, heat the olive oil over high heat until hot but not smoking. Add the onion, shallots and garlic and saute over high heat 4 minutes, until softened and browned. Add the wine and lemon juice, bring to a boil, then add the mussels, and cover. Cook for 5 minutes, until all the mussels have steamed open. Discard any that haven't steamed open after this time.
Cook the pasta in the boiling water until tender yet al dente.
Meanwhile, push the mussels to the side slightly and add the bread crumbs and parsley to the liquid, stirring to combine. Drain the cooked pasta and add it to the pan with the mussels, tossing over medium-high 1 minute. Season with salt and pepper and serve immediately.

******
Food and cooking tips, flourless chocolate cake, Perfectly marbled prime NY strips, crispy roasted potatoes and other goodies with impressive girth:
cbd dot aoshq at gmail dot com
&topic=world_news">

posted by CBD at
04:00 PM
|
Access Comments