« Sunday Overnight Open Thread (1/28/18 )
|
Main
|
Mid-Morning Open Thread »
January 29, 2018
The Morning Report 1/29/18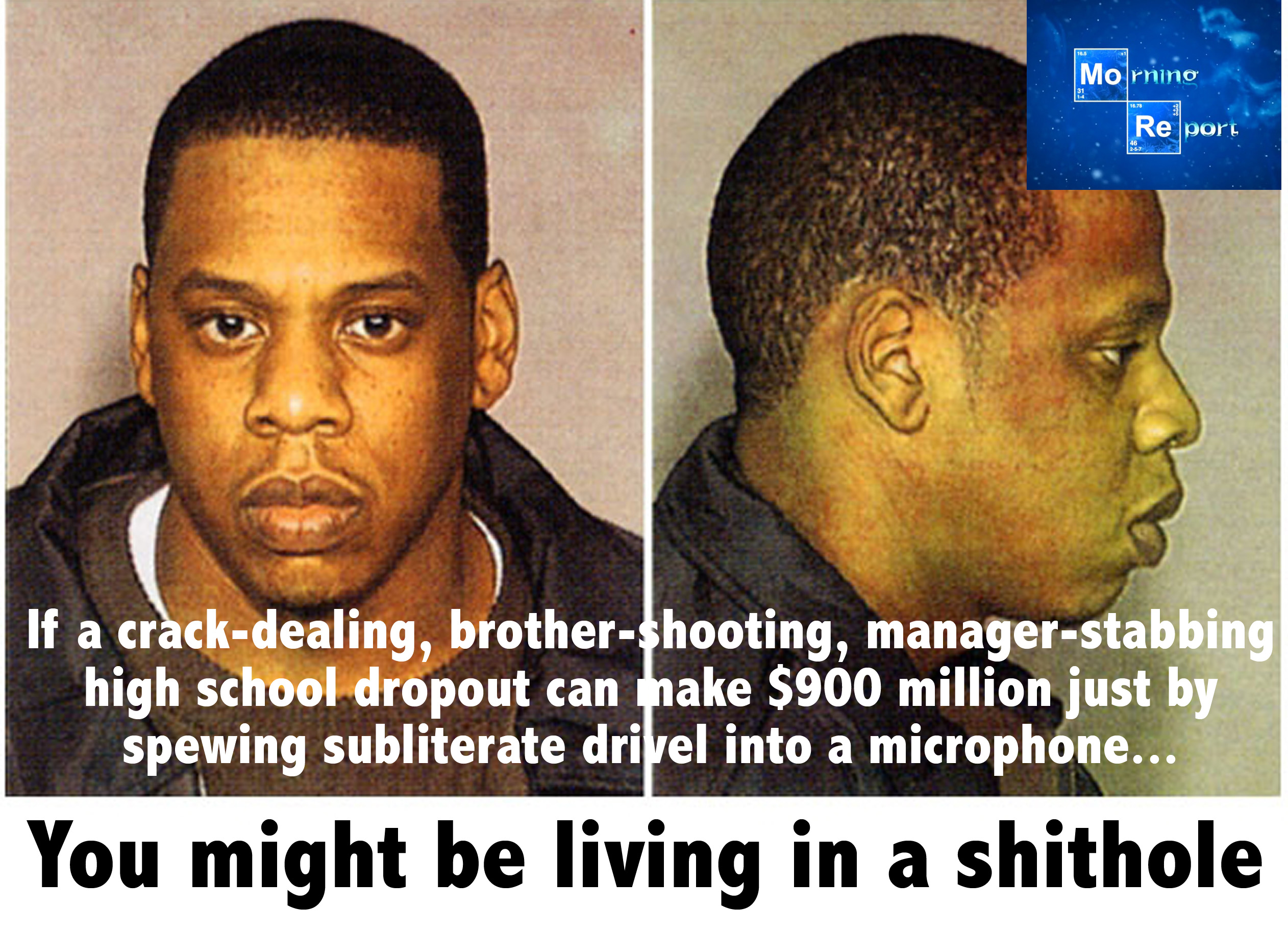 Good morning kids. Another week is upon us so let's get with it. As we await the official rollout of the President's immigration proposal, the speculation this weekend has been rampant as to what is really going here. From my perspective, and as you can infer from the links I've posted below on the subject, it seems to boil down to two divergent opinions:
a) PDT is caving to the GOP-E/Chamber of Commerce in hopes of further cementing their loyalty in getting his major agenda items through Congress before the midterms, and at the same time denying the Democrats arguably their biggest, and possibly only agenda item or...
b) this is all a bluff to paint the Democrats as disingenuous hypocrites to the American people and hamper their ability to oppose him heading into next November.
If past is prologue, as it has been proven with this President, I tend to believe the latter. The usual gaggle of miscreants, deviants and America-haters in Congress and elsewhere have not only rejected the President's proposal out of hand, but the vitriol and unhinged rhetoric with which they have chosen to categorize it scorches the earth on this issue going forward. And that levels the playing field if you will with what many deemed a major blunder by PDT in conceding 1.8 million as the floor from which to negotiate the number of future Democrat voters to be gifted with citizenship.
But assuming this is all a bluff by the President, how is he planning on moving forward? There are many immigration experts stating that the numbers of people potentially to be granted an Amnesty are exponentially higher than just 1.8 million. So, is PDT going to just unilaterally push his proposal through Congress? Remember that the GOP-E flunkies and traitors like Grahmensty are of the mind that the figures in PDT's proposal are just a starting point. Moving past the brilliance of politically crossing the "T" and hurling a massed broadside at the enemy's fleet, I am not happy, to say the least, about much of the details of this proposal. What I would much rather see is the strict enforcement of all the immigration laws already on our books, including the prosecution of any individuals or companies that knowingly employ illegal aliens (that one s aimed right at Tom Donohue's wallet), the phasing out of bilingualism in the public and private sectors and ideally a freeze on legal immigration into this country for a period of, at minimum, 15 years. Yeah, I know that that will never happen. But a recent survey of black Americans, still a key constituency of the Democrat Party, shows that an overwhelming majority favors such an immigration halt. They too understand the economic ramifications of open borders, if not the cultural dissolution it engenders. Let the President get that out into the discourse. Dick Les "Dicky" Durbin himself called this "the civil rights issue of our time." You know, old Dick is absolutely right, only not quite the way he sees it. And we're still waiting for him to tell us about his relationship with Leftist would-be mass assassin James Hodgkinson.
In Deep State/Democrat Insurrection news, the pressure is building for the House Intel committee to release the contents of that blockbuster FISA memo to the public, and a vote is expected on that as early as later today. Along with a most public rollout of his immigration proposal (ruse or real), speculation is rampant that the President will use the occasion of tomorrow's State of the Union speech to reveal some or perhaps all of what is in that memo. Other than that, as Hillary Clinton, who by the way will never be President of the United States of America, continues to publicly humiliate herself, revelations about even more women being harassed at one of her PACs have surfaced. Yup, she's running in 2020. Meanwhile, Alan Dershowitz is rightly hitting the alarm bell about the flailing investigation into Russian Collusion embracing the concept of "thought crimes" vis a vis PDT once considering firing Mueller but deciding against it.
The President's trip to Davos by all accounts was a raging success and yet Nazi collaborator and convicted felon George Soros went on an extended tirade about freedom, or something, but within the turd was a rather curious corn kernel. The malignant Magyar seemed to hint that the President would be gone before the 2020 elections. In the same vein, we have a report from our friends at Front Page Mag about a Muslim Brotherhood "refugee" from Egypt who evidently made public and clear death threats against the President but has disappeared without a trace. Yes, let's allow more of these fine people into the country because, act of love. Feh.
From hither and yon, another (to me) Presidential fake-out about considering entering the US into the Paris Climate Accord, but only if it entails a major rewriting of the conditions, which translates into "ain't happening," phony soldier Dick "Weed" Blumenthal impotently tilting at windmills about PDT's judicial picks, Joe's Man-Chin ripping Nancy Palsi about her sick immigration rhetoric, Billionaire Marxist Tom Steyer cautioning the Democrats that 2018 might not turn out to be the blowout they think it will be, and in that vein, healthcare plus the economy and, or course, immigration will be key issues concerning voters heading into next November, and Democrat governors are once again planning on using the courts to thwart the Constitution, the rule of law and the will of the people By suing the GOP for implementing the Tax Overhaul.
Lastly, I leave you with Shawn Carter, a.k.a. Jay-Z. America must really be a shit-hole if a sub-literate thug can one day be worth $900 million by spouting tasteless, pornographic drivel into a microphone and be hailed as some sort of artist and worse, someone for the youth to emulate. On Saturday evening, this product, or more accurately byproduct, of 50-plus years of Democrat social engineering, sat down with that other glittering jewel of reason and morality Van Jones to decry President Trump's calling of third world shit-holes third world shit-holes. Forgetting for a moment that the President denies using that word to describe third world shit-holes as third world shit-holes, his response to Mr. Z on Twitter was a mic-drop.
Anyway, links from around the world, across the nation and up your street. Have a better one and remain blessed.


posted by at
07:04 AM
|
Access Comments