« Weird News Dump
|
Main
|
Saturday Gardening Thread: Island Breezes [KT] »
January 27, 2018
Thread before the Gardening Thread: What Molly DeVos Is Up Against [KT]
Serving your mid-day open thread needs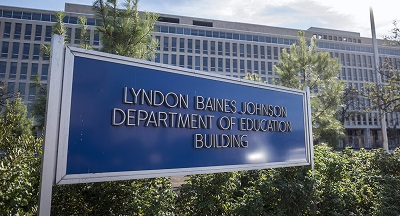 Nothing says "Education" like college enforcement
In the mission of offering continuing political education here at Power Line University, herewith another timeless scene from Yes, Prime Minister on how the bureaucrats regard the idea of school choice, with a side of Obamacare thrown in for good measure. . . .
This post sent me back to May of last year when Hayward wrote,
The U.S. Department of Education employs 4,400 people and has a current budget of $70 billion. How many children does the department actually educate? I am sure the round number approaches zero. I've had a few opportunities to ask liberal audiences aghast at Trump's appointment of Molly DeVos and alarmed at proposed budget cuts for the department to name one single thing a past secretary of education or the department has done that has had a meaningful effect on public education, and I can hear the crickets chirping while I await a response. I sometimes offer, "What about No Child Left Behind"? Most people on the left hate it (because it involved standards and testing), even though they can't say very much about why (because it is an embarrassment to oppose standards and testing openly). . .
Heh
DeVos stands out in my mind among Trump's appointments as a target of disdain by the Left, and in some cases by others. But she seems to have continued to soldier on in making some important, if incomplete, reforms, like freeing local schools from federal controls. The Left may not be happy with the recent declaration by DeVos that Common Core is dead.
Surprisingly, Jerry Brown agreed with Molly DeVos on previous Title IX "guidance" concerning sexual assault and harassment. Jerry Brown favoring due process. Disconcerting to many, I'm sure.
But never fear, a couple of days ago, civil rights organizations filed a lawsuit against Molly DeVos and the the Department of Education for changing the guidelines. The lawsuit was filed in Northern California. Where Jerry Brown lives.
DeVos made her own announcement regarding sexual assault investigations on Thursday: The Department of Education will investigate potential mishandling of allegations at Michigan State University, the day after MSU sports doctor Larry Nassar was sentenced to 40 to 175 years in prison after more than 150 women, including Olympic gymnasts, said he had sexually abused them.
A lot of good it did to put university administrators instead of police in charge of investigating sexual abuse in THAT case.
How are things going in your local educational establishments?

posted by Open Blogger at
11:16 AM
|
Access Comments