« Saturday Overnight Open Thread (1/20/18 )
|
Main
|
Uncle-Tom Deplorable Still Shackled by White Patriarchy »
January 21, 2018
Sunday Morning Book Thread: 01/21/2018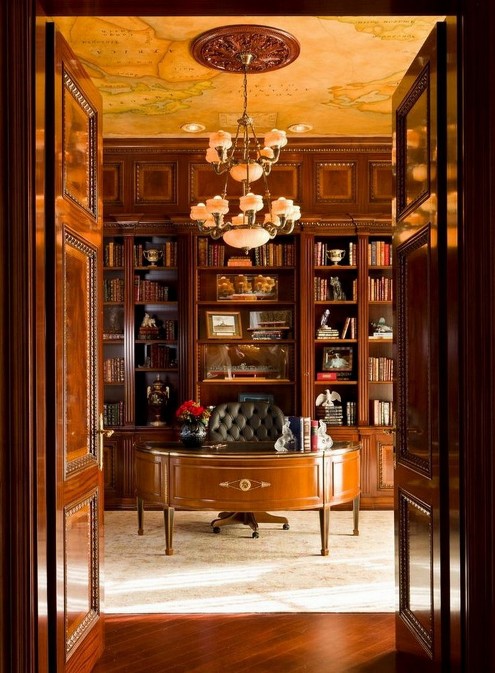 It's certainly beautiful, but I would be drawn inexorably to putting my feet up on that desk if I were reading in that chair. And it's probably some fantastically expensive 18th century English desk with butterfly wing stain and unicorn horn inlay, and the butler would come in and have me ejected from the house by the assistant butler who moonlights at the local pub as a bouncer.
Even when I studied I usually put my feet up on the desk or the window sill or whatever was handy. The higher the better. No ottoman for me. Maybe I needed every bit of oxygenated blood in my brain to absorb the information.
How about you? Can the category of book be discerned by the height of your feet?
******
Here's the blurb from EarlyBird Books about a Woman's Health book. I have no idea whether the book is worth a bucket of spit, but I got a chuckle out of the description, which is just a wonderful example of the cognitive dissonance that the Left suffers whenever the significant psychiatric issue called "Gender Dysphoiria," known to the Left as transgenderism, is discussed.

For decades, medicine saw men and women as essentially the same physically except in the area of reproduction. However, a new and groundbreaking science of gender-specific medicine has discovered astonishing distinctions between male and female bodies. From the thickness of our skin to the signs of a heart attack to ways we metabolize drugs, the sexes have significant physiological differences. But, what do these differences mean to you and your doctor?
So which is it? Are men and women social constructs, or are there profound pysiological differences? Inquiring minds want to know.
Actually, the answer is obvious, and it's embarrassing that our culture has allowed this question any semblance of seriousness.

******
From the AoSHQ Book Thread mail bag:
You folks plugged Rob Avery's first novel, "Close Hauled," some months back, and as I later told you, he saw a dramatic upsurge in sales over that weekend.

Well, his second novel in the series is out. Here's a blub and a link. It's just as good as the first; maybe better. Here's a blurb:
-------
"Broad Reach" by Rob Avery picks up where his first novel, "Close Hauled," left off. Sim Greene has made his way down to the Caribbean with a sailboat -- and a ton of cash -- only to find that his best friend and soon-to-be-dive-shop-partner, Al, is in jail on suspicion of murder. Green has to clear his partner -- if he is indeed innocent -- while staying out of jail himself. Great mystery fun in a merger of Robert Parker and John D. McDonald.
******
Historical fiction is one of my favorite easy reads. It's not like reading a history book, where concentration is sort of required, so I can breeze through them, comfortable with the historical background but not really worrying whether it is perfectly accurate. The problem is that so many of them are lousy history and lousy fiction. There are wonderful exceptions, and they have been discussed at some length by the Horde. But a few that may have (but probably haven't) escaped your attention are the fine novels by
Edward Rutherfurd.
He focuses on cities, and the paths that families take through them across the centuries. They are fun reads, and as far as I can tell the history is well researched. Good stuff, especially since they are long, and are great for snowy weekends.
Another author whose fiction I really enjoy is Ken Follett, who has written a bunch of spy novels but has branched out to grand historical novels. One of his early thrillers is unabashedly pro-Israeli, which I like very much, and is a great read. It's called "Triple," and it's about Israel's early nuclear program and its acquisition of uranium. It's one of those books I can pick up and open to any page and be immersed immediately in the story.
But his later historical novels are pretty solid. "The Pillars Of The Earth is the first in a short series, and while I thought the history was reasonably accurate, this reviewer was a bit critical, though not unfairly...

A radical departure from Follett's novels of international suspense and intrigue, this chronicles the vicissitudes of a prior, his master builder, and their community as they struggle to build a cathedral and protect themselves during the tumultuous 12th century, when the empress Maud and Stephen are fighting for the crown of England after the death of Henry I. The plot is less tightly controlled than those in Follett's contemporary works, and despite the wealth of historical detail, especially concerning architecture and construction, much of the language as well as the psychology of the characters and their relationships remains firmly rooted in the 20th century. This will appeal more to lovers of exciting adventure stories than true devotees of historical fiction.
Anyway, what's the historical fiction on your shelf? Not the one that fell down, the one that is firmly anchored with screws that go all the way into the studs!
?tag=aoshq-20&topic=world_news">

posted by CBD at
09:00 AM
|
Access Comments