« Saturday Gardening Thread: Island Breezes [KT]
|
Main
|
Mini Chess Thread 01-27-2018 »
January 27, 2018
Ace of Spades Pet Thread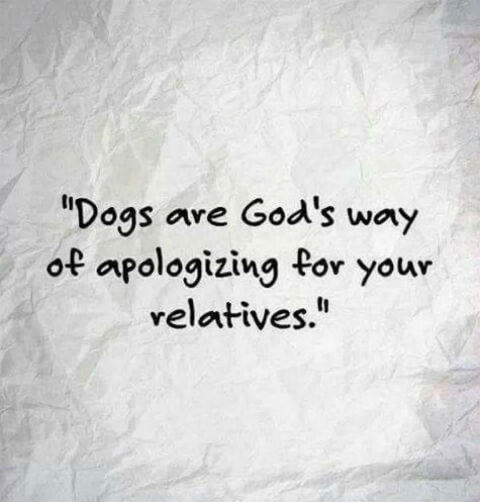 ***
Welcome to the almost world famous Ace of Spades Pet Thread. We are back to normal (whatever that is) and are ready to sit/stay and kick back with some wonderful animals.
***
A Little of This. A Little of That.

I guess I won't be moving to and raising dogs in Scotland any time soon. Electric shock collars have now been banned.
They are a useful tool especially out in the middle of a forest.
***
Meet The PetMorons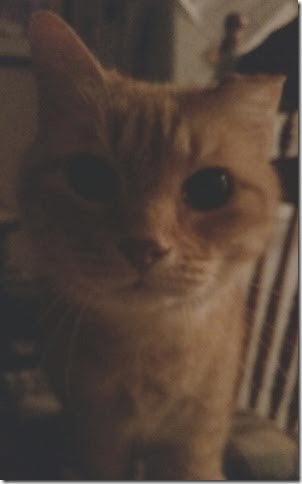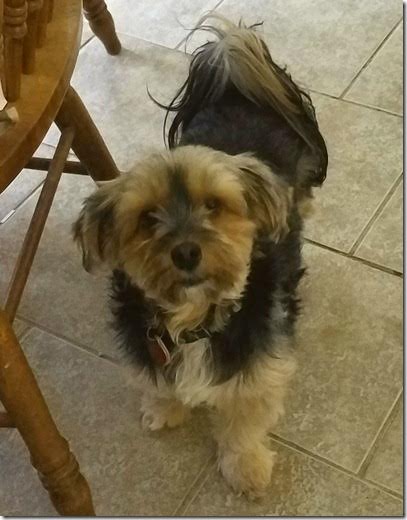 This is Doofus, an orange tabby that we found as a tiny abandoned kitten. Brought him home, cleaned him up, and got him to the vet for a checkup, and the rest, as they say, is history. I don't like cats, and I told him that repeatedly, but, in typical cat fashion, he ignored anything that he didn't want to hear. When I got home from work every day, he'd meet me, and meow at me until I picked him up, then he'd put a paw on either side of my face, and bump noses with me. When I got ready for work, he'd get up on my shoulder and watch me put my boots on, apparently to make sure I got them on the right feet. (I was always tempted to put one on the wrong foot, just to see if he'd notice.) He had more personality than most people I know, and when we lost him two years ago to bone cancer, it hit me lots harder than I thought it would, because I don't like cats.

Molly is the dog. I managed to catch this picture of her expression when I was trying to get her to go outside when the temp was in the mid-20's. Since she hates cold weather almost as much as I do, she was pretty sure I was mistaken about wanting her to go outdoors. She eventually went, but she grumbled the whole time, and was back to the back door in 11.3 seconds. It doesn't take her long to pee when it's that cold!

(Feel free to use as much or as little of this as you want, I just thought the picture was cute, and wanted to share it with someone who might appreciate it. Thanks for your efforts on the Pet Thread, it's my favorite Saturday thread!)

Best wishes

Retired Spook

Sounds like a special cat that can convert a non-cat person. And the pup is a little cutie. Thanks for sharing Retired Spook.
***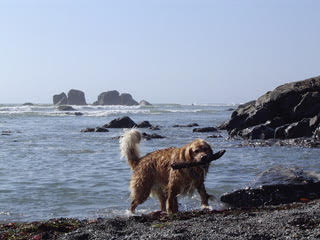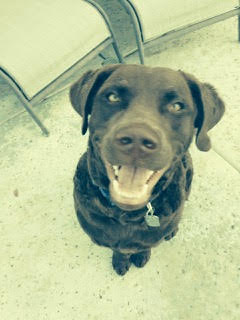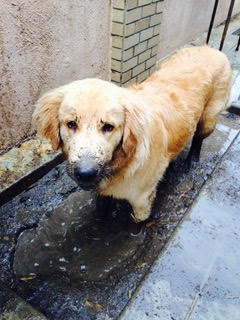 The first dog is Tucker. This is north of California.

The brown dog is Finn.

The dirty golden is Jagger

Todd

Looks like 3 is company!!!
***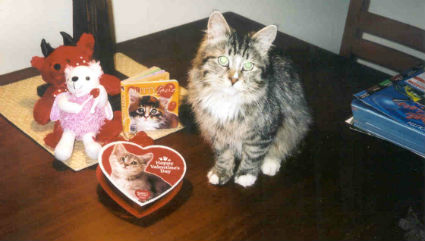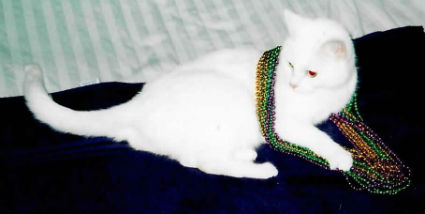 Wolfus Aurelius here again. Earlier the Pet Thread said we didn't have to limit ourselves to current pets. So, an RIP for one of the cleverest cats I've ever known, and a portrait of Linda's own furry house guest:

The gray tabby with white was Tatiana Romanova, my first Siberian. She actually was my current Siberian's aunt, as it happens, though they never knew each other. Tati, as she was known, was energetic and playful. Her cleverness was legendary: She leaped to fetch small rubber balls and brought them back to me to continue the game, pulled open drawers to dig out her toys, and once climbed up and opened a kitchen cabinet to retrieve wire twist ties I thought I'd put out of her reach. Sweet-natured (but she had limits to that; see below), Tatiana unfortunately was never completely healthy. She passed away from that cardiomyopathy syndrome just before her 4th birthday. But she lived very intensely, and crammed almost 8 years' worth of cat life and play into 4. If she had known the ingenious Marie-Antoinette, I'd have come home to find them selling stuff on eBay and playing online poker.

Annabelle, the slim white shorthair, was rescued by Linda a month after Hurricane Katrina, making her about 12-13. Her people had let her run free before they fled, which is a better thing to do with cats than with dogs, and she was making a living and dominating the other, bigger cats in the complex. She likes humans, but not other cats, and hisses at and cuffs them. She met her match some years ago, however. Tatiana did not take kindly to being hissed at in her own home. She roundly thrashed the white cat, who was actually a little larger than she was, and chased Annabelle under my bed. I literally saw (white) fur fly. Annabelle refused to come out from under the bed until the next morning. She seems to have forgotten that, and adores Linda no end and sits on my lap too when I visit.
Thanks Wolfus.
***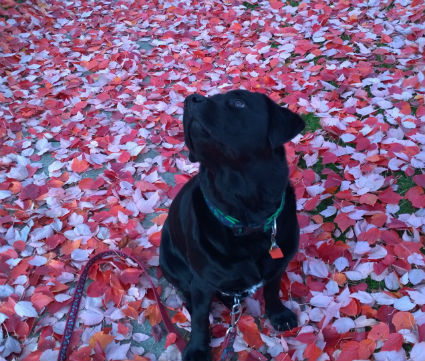 MisHum,

Here's a nice Fall shot of Sterling. He's waiting for the snows that are surely coming our way.

Regards,
Browndog
Browndog, send Sterling this way we have a wee bit of snow for him.
***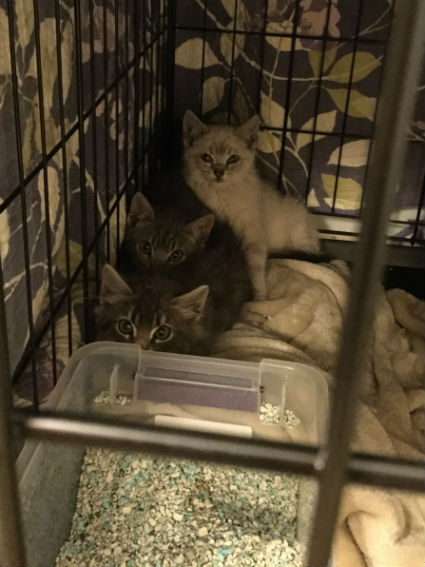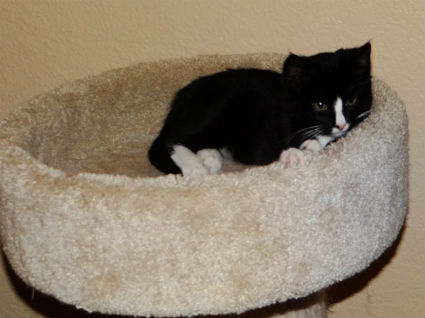 In a completely unexpected manner, I find myself taking care of five foster kittens. I've been very busy getting supplies and equipment for them. The person who did the trapping found three of them on Saturday Dec. 22. She'd seen five of them on Friday, but only the three when she trapped them. Being the dedicated soul she is, she kept going back for three days, spotted the other two, and managed to trap them on Tuesday, Dec. 26. We don't know about the mom cat, she hasn't been seen. The last two kittens were really hungry and dehydrated, so the woman with the rescue organization that is helping me with vet care and equipment said it was likely that the mom cat is dead because the kittens were so hungry and thirsty. They are six to eight weeks old. I don't have a photo of the last two yet. They were really frightened when I got them, but are starting to calm down so I can handle them. I've attached a photo of the first three. There is a long haired grayed tabby male, a medium haired colorpoint female, and a shorthaired male.

I've also attached a photo of the little tuxedo kitten we found and trapped in our yard almost exactly two years ago. I sent the pet morons of photo of her as an adult a couple of months ago. She grew up to be a gorgeous kitty.

My nic is Guns Gardens and Yarn. I posted once last week and once this week, so yes, I mostly lurk.
Thanks for coming out of the Lurker shadows and sharing this story with us. It looks like you have your hands full.
***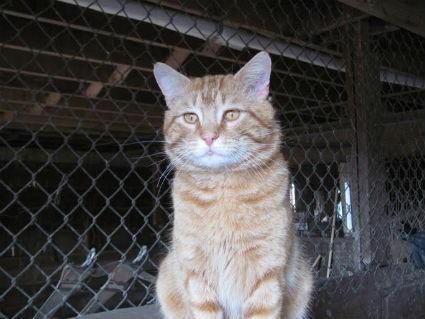 From Burnsie, long-time reader and fan.

This is Moe, King of the Moes, Lord of the Barn, and Bane of All Rodents. Moe was a walk-on, so his origins are shrouded in mystery. Lucky for us, though, he took a liking to the daily Wet/Dry Buffet laid out for the other barn cats and the All-You-Can-Eat Mouse Tartar and decided to make our barn his own. Moe is a guy's guy, a tabby's tabby, and a big old friendly teddy bear when he wants to be. I love having him around.
Quite the pose of Moe. He appears to be a self-sufficient keeper. Thanks for sharing his story with us.
***
Here's a post celebrating my Golden Retriever Jigsaw, who just turned 14

This is the most recent pic of him.-Richard

Thanks for sharing Richard.
***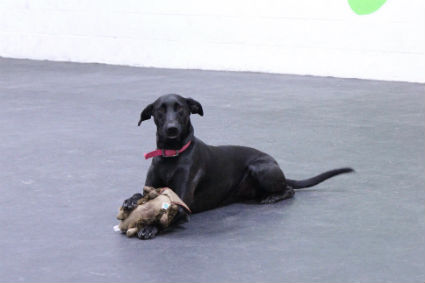 Laura the Lurker here. I don't comment much because the hoard is kind of gross. I know that's something you take pride in. I do love Ace and his guest bloggers. Even more, I love this girl. Isabella the flying dog. She is rescue and has blessed our family. So sweet and fun. Always up for a good time. Loves the boat and agility and chasing the family cat. After 4 years, the cat still won't let her get close enough for a good sniff. As a result, Isabella gives chase every chance she gets. I'll send a pic of the cat some other time, and if I can ever get Rainy the African Grey on video quacking, doing her rendition of a rooster, laughing, singing, and going through her other shenanigans, I'll send that along. But for today, just Sweet Isabella.
Thanks for submitting Isabella's photo. She looks like a spitfire. Hmmm gross? Different strokes for different folks. But the AoSHQ does thank you for your support.
***

That's a wrap for another Pet Thread. What a proud group of owners we have today. If you would like to see your pet here, or have something else you would like to share, please reach out to us at petmorons at gmail dot com.
We are running a bit behind on photos. So we appreciate your patience. Our goal is that every pet will be a PetMoron eventually.
If you send in a photo, please include your nic, your pet's name and a short story about the photo.
Have a great week!!


posted by Misanthropic Humanitarian at
03:49 PM
|
Access Comments