« Are The Democrat Cocktail Parties Really That Good? I Guess So, Because These Two Idiots Debase Themsleves For A Couple Of Good Drinks And Some Hot Passed Hors D'oeuvres
|
Main
|
Saturday Overnight Open Thread (11/25/17) »
November 25, 2017
Saturday Evening Movie Thread 11-25-2017 [Hosted By: TheJamesMadison]
CGI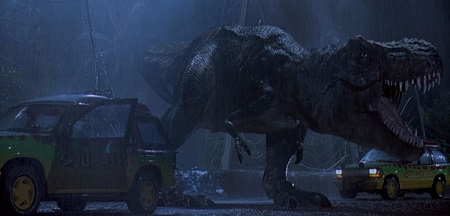 So, last week I might have given the impression that I hate computer generate imagery, which is not true. I don't have any particular love for it as it's really just a tool for filmmakers to use when creating visuals. So, I'm going to offer up a list of computer generated images that I consider to be some great examples of the art.
Interstellar



Handing a couple hundred million dollars to Christopher Nolan seems like a good idea that will lead an impressive looking picture. That was no exception with Interstellar. Apparently they worked heavily and very closely with an astrophysicist to get the science behind the visuals just right.
Now, I'm no astrophysicist, so I can't say whether this is anything close to reality, but it does look great. The size, scope, and seeming power of the black hole has a fantastic effect on the big screen.

The Tree of Life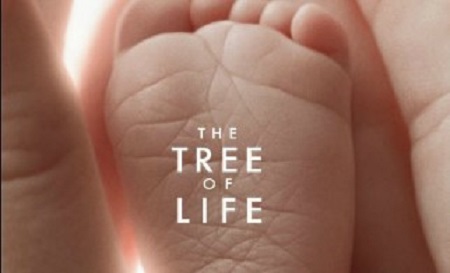 I decided to include this despite the visuals not being computer generated. They're done mostly with fluid effects with Douglas Trumball behind the effects. Terrence Malick convinced Trumball to come out of retirement to work with him because they were both unenthused by the application of CGI. So, it's the second entry and I'm already breaking with my conceit.
Anyway, the creation of the cosmos segment (a visual call back to the Book of Job in response to a characters questioning of God's will in the face of a child's death) is absolutely remarkable. Combined with the Lacrimosa, watching this segment with full attention (as one should always do, especially with a Terrence Malick movie), is wonderfully rewarding. The scope and scale feels very real in part because the visuals are allowed to linger and work together to create an experience that feels huge. It helps if you watch without distractions, trust me.

Jurassic Park



No, not Jurassic World or any of the other sequels, the original monster fest from the early 90s.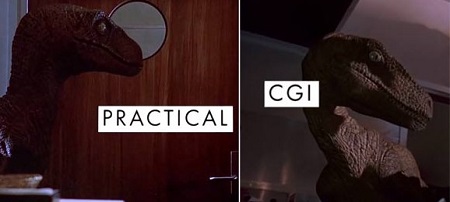 I find the CGI iterations of the dinosaurs in this movie to be as equally convincing today as I did as a kid when I first saw this in theaters. And there's actually a pretty solid reason why.
The CGI versions of the dinosaurs are actually only there in a few shots. Spielberg was on the fence about whether he was going to use some standard stop-motion effects or roll the dice on the computer stuff his visual effects team was talking up. He, obviously, did roll those dice, but only used them a handful of times. The rest of the time there were actual models and puppets on hand (most often life-size puppets) to sell the reality of the dinosaurs in general. But, the computer teams were able to use those puppets as reference for their own computerized versions. Another thing they were able to do was look at filmed versions of those puppets in the exact same conditions that they were trying to recreate (in particular the stuff in the rain), so they could reference it and recreate the look on the scales that they could easily see from the puppet. It helps to make the dinosaurs in their digital forms still so believable.
It's also one of the reasons that a lot of modern CGI has a fake like feel to it. There's oftentimes little to no physical reference for the digital artists to look at. So they have to create the images from scratch. I don't know about you, but I'd find replicating something hard enough, but creating something that looks completely real without reference to anything to be damn near impossible.

Other Thoughts
Have you ever noticed that most of the time that characters try to touch a computer generated creature, you don't actually see the hand touching the beast? You see the person scratch on the far side of the animal's head. That's because it's really hard to make the interaction between real things and CGI look believable.
One great example of two people interacting seamlessly despite having been filmed completely separately comes near the beginning of The Lord of the Rings: The Fellowship of the Ring. Gandalf hands Bilbo his hat and staff.
It seems so easy, but Ian Holm isn't actually that short and Ian McKellen isn't actually that tall. They filmed their bits separately, but the handoff is perfect. It was the single most impressive visual effect in that movie for me when I first saw it. And, I think it was executed so well because of the point made about the dinosaurs. They had the two versions of the hat and staff (regular sized for Gandalf and big for Bilbo) and were able to digitally paint in a staff and hat between the frames where it was wholly one or the other.
CGI really is just a tool that can be used or ill-used. Used well, filmmakers can create breathtaking new worlds that are impossible to do otherwise. They can create creatures we'd never see before. Used poorly, filmmakers create cartoons that take the audience out of the picture.
Movies of Today
Opening in Theaters:
Coco
The Man Who Invented Christmas
Darkest Hour
Next in my Netflix Queue:
Otis
Movies I Saw This Week:
I Saw the Devil (Netflix Rating 2/5 | Quality Rating 1.5/4) Poster blurb: "It's final act really just lost me. It's pretty thoroughly nonsensical." [Netflix DVD]
Pride and Prejudice and Zombies (Netflix Rating 2/5 | Quality Rating 1/4) "Who thought it was a good idea to take the zombie part of this equation so seriously?" [STARZ]
Murder on the Orient Express (Netflix Rating 4/5 | Quality Rating 3/4) "A solid adaptation that might have made a misstep in putting Poirot so front and center, distracting from the mystery itself a bit." [Theater]
The Cook, The Thief, His Wife, and Her Lover (Netflix Rating 2/5 | Quality Rating 1.5/4) "After having seen it, the gap between how good I think this movie should be and how good I actually think it is is about the size of a chasm." ["Library"]

Contact
Email any suggestions or questions to thejamesmadison.aos at symbol gmail dot com.
I've also archived all the old posts here, by request. I'll add new posts a week after they originally post at the HQ.

posted by OregonMuse at
06:35 PM
|
Access Comments