« Saturday Gardening Thread: Going Foliar [KT]
|
Main
|
Weekend Gun Thread »
October 21, 2017
Ace of Spades Pet Thread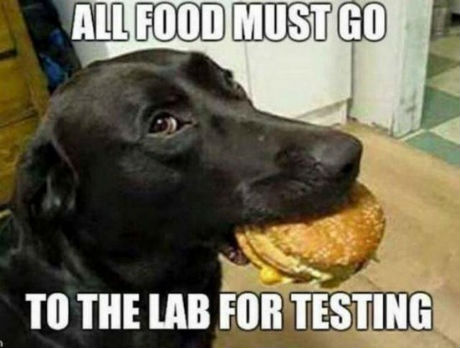 *****

Welcome to the almost world famous Ace of Spades Pet Thread. Sit and back and relax and enjoy the world of pets and animals.
*****
A Little of This. A Little of That.

The Birds, The Bees and an Amorous bull.

A vet tech takes home a new pet. The problem with this new pet? It was taken to the vet to be euthanized.
Not quite the horse scene from 'Animal House'.

Not all dogs hate UPS drivers. Here's proof.
Not every dog wants to work for 'The Man'.

Oops these cuties took a wrong turn.
*****
*****
Meet The PetMorons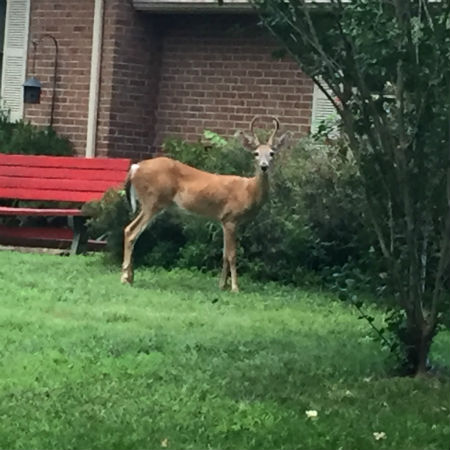 Nothin' quite like azalea fed venison! This young buck basically lived in my front yard last year for a few months, but I haven't seen him this year. Actually, venison joke aside, I kind of hope he's ok! - Hrothgar

A unique PetMoron. Thanks Hrothgar.
*****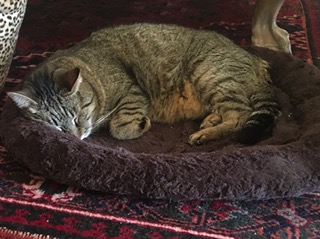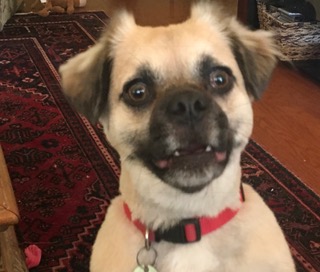 All of our pets are either walkons or "gifts". Mittens appeared on our doorstep a few years ago. She is quite the social cat and follows her friend Pugs on all our walks. Fortunately, we live on a quiet dead end street, in the country. Our gray tabby, Big Boy aka Ciccino. "Sweet Little Thing" in Italian, came from Arezzo, Italy in 2009. Yes, Mom, I'll be back to get him as soon as I get settled. Sure, famous last words! I used to call Ciccino "cicci" until I finally got our vet to tell me why everyone laughed when I called him Cicci. Pugs loves everyone and especially his cat friends. We've had him since 2015, when our vet called telling us he needed a home. We're his fourth family and his last. We're off to bed, hubby gets the least room. Big Boy and Pugs the most, Mittens and I share the rest of the space. -Lurker, annieb Ps that's a coonskin cap on the wine glass.

Thank you annieb. What a nice group of "kids" you have there.
*****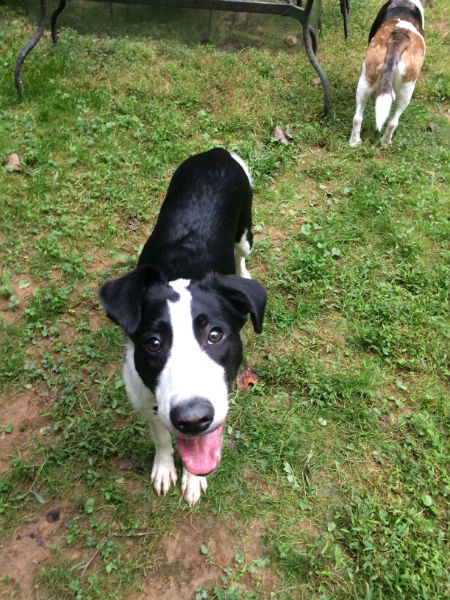 Leo made a previous appearance at 10 weeks of age, weighing in at 12 pounds.

Here he is at 6 months and 40 pounds.

Note the primary dog is bored of photos. -blaster

No mischief in those eyes of Leo. Yeah right. Cute dog.
*****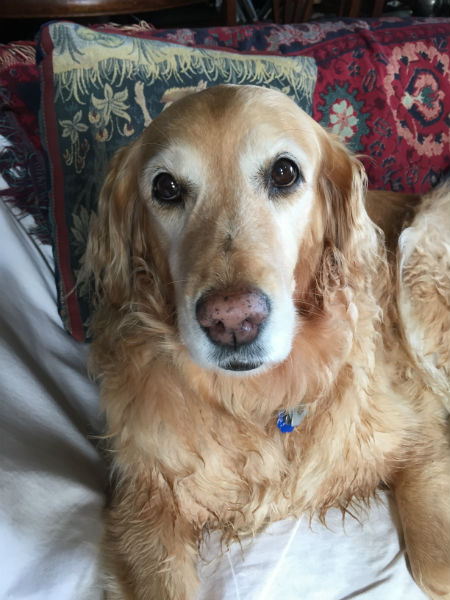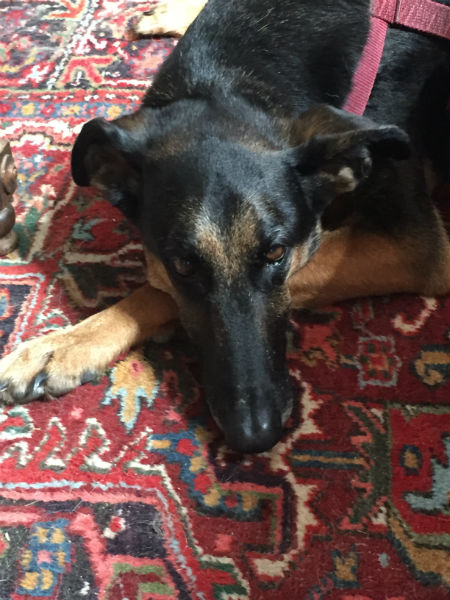 So - Good Old Publius does not, himself, have dogs - what with being a denizen of that most horrific of places known as the City of New York. However, Publius grew up with dogs and his famiglia has always kept them close. So, having recently visited the Pater and Mater Familia of the Redux clan, in the wilds of Nova Scotia, I give to you pictures of the Redux Clan's two remaining pooches. The first is Molly - she is a golden/lab mix and an absolute doll. My parents got her from a nearby family which could no longer keep her (and after having bred her etc.). She is a good hunting dog and loves the cool waters of our lake and the beach. Give her a stuffed toy and she will, lovingly, disembowel it. She is also addicted to petting - and if you pet her and stop she will put a paw right on your crotch, or other nearest body part, but usually your crotch, and then look at you with those mournful eyes until you pet her again. The other dog is a greyhound/saluki/German shepherd mix (!) and her name is "Turnpike Sally" because she was found wandering around the NJ Turnpike, emaciated and very scared. It apparently snarled traffic for a while until animal control got hold of her. Poor thing. Anyway - the Redux Clan fell in love, adopted her and shipped her to the compound in Canada. She used to be absolutely scared of everyone and over protective of the Redux parents. Yet time heals all wounds and she is the sweetest thing you will ever meet now - but is fast as the dickens and wily. She has a wonderful pampered life chasing ground squirrels at my parents' place. Here she is lounging on the Persian - no . . . the carpet, not the cat!. Aaah - `tis the life! "Good dog. Good dog."

Pax Ex.

Publius Redux

Thank you for thinking of us and submitting those photos. It is nice to know those dogs have a tough life. Real tough!
*****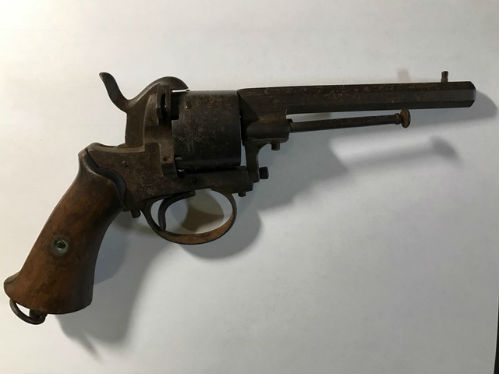 Hi it's Keena. Never thought I was a cat person til a part Maine coon stray adopted us many years ago. He's 27 lbs and very loving w us but a big hunter. He even outsmarted a coyote. He kills everything: rats, mice, voles, birds, lizards and yes, baby bunnies. This is him at what we estimate is age 14! I just call him Kitty.

Thanks Keena. Quite the hunter you have on your hands there.
*****

Quite the group of pets this week. Thank you for the submissions.
If you have a funny pet video, a neat animal story or a pet photo or two you wish to share with us, we can be reached at petmorons at gmail dot com.
If you send in a pic, please include your pet's name and your nic.
Have a great week!!!


posted by Misanthropic Humanitarian at
03:02 PM
|
Access Comments