« Thread before the Gardening Thread: Thought Crimes Today [KT]
|
Main
|
Ace of Spades Pet Thread »
October 21, 2017
Saturday Gardening Thread: Going Foliar [KT]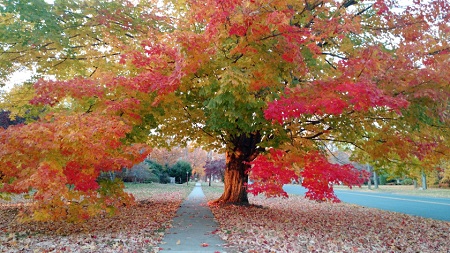 I love fall leaves. The photo above was posted by a blogger from Connecticut preparing to leave on a country-western dance hall/sightseeing road trip to Texas.
For anyone who stumbles onto this travel blog, and is not familiar with New England's fall foliage, scenes like this are what surround us for a few short weeks. We don't have to travel anywhere in particular...but, that doesn't stop us from driving distances in search of the "best" of what is already pretty amazing, almost anywhere you look.

I am only mentioning this, because autumn in New England is arguably my favorite time of year. But, I am making this little sacrifice of leaving New England at the height of our fall foliage season, in order to visit some equally beautiful places "down South".

Too bad you can't be in two places at once.
There are lots of places I would like to visit during the fall foliage season. Any nice leaf displays near where you live? In your yard?
Here's a photo from the City of Provo, Utah. Different color palette. There are some breath-taking expanses of golden aspens in the mountain range above Provo if you catch them at the right time.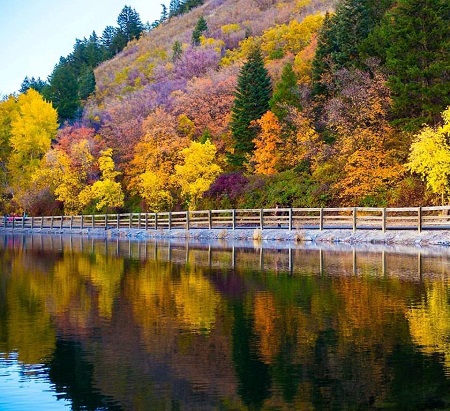 The Horde does Photography and Art
Our own master photographer Don in Kansas took some photos at the botanical garden at the end of last month. The photo below isn't "fall foliage", but it is spectacular foliage. Coleus. Have you ever grown any that looks this good? There are some great flower close-ups (and other wonderful photos) at the link.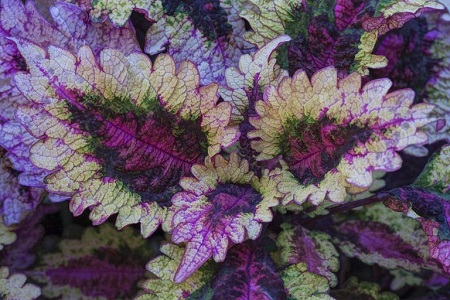 We got a nice surprise in the mail from George V, "Frequent reader, rare commenter".
Hi KT, I always enjoy the gardening thread, although I don't do much myself.

We do have some apple trees and a raspberry patch that have both produced well this year in our part of the world, Southeast Michigan. I finally got this picture out of the camera from early September as the fall berries started to come in. I've had new companions in the berry patch - this little fellow who's about 1 1/4" long and one who was even smaller. I've not seen this variety of bright green tree frog before in our yard. The first time I saw him he jumped away from my hand and I almost jumped out of my skin!

Thanks again for the gardening thread.
I love this little guy: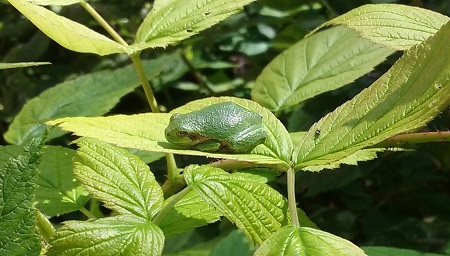 Speaking of apple trees, are you considering planting one? King Arthur Flour did a comparison of pies made from different apples. They chose Granny Smith as the best they tested. I am not sure I agree. Granny Smiths are often sold before they are ripe. I thought the cooking and selection tips in the comments were interesting. Would you choose apples to grow yourself for fresh eating, storage, cooking or a combination?
Incidentally, a friend made some mighty fine fried apples a couple of weeks ago. On the tart side, but buttery. Easier than pie. . .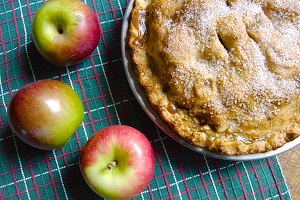 Sherpa_K2 has send in a bouquet, or maybe a still life, for us to hang on the AoSHQ Garden Thread Refrigerator. I think it's great. Looks like someone ate some tomatoes before adding the sepals to the arrangement. Anyone care to do some flower I.D.?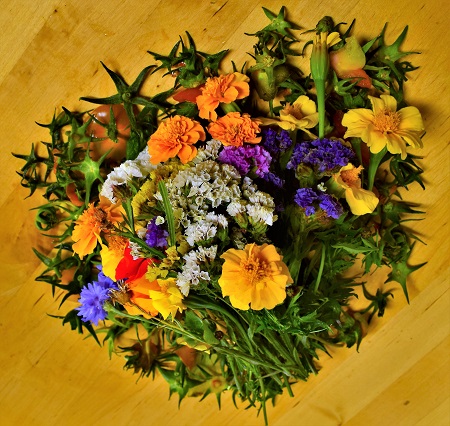 He also send in in a lovely photo of an end-of-summer Hollyhock. I think it makes a nice challenge to JTB and others in The Horde who do drawing or painting from nature, because of the interesting open seed capsule below the flower.
Speaking of drawing, I took a bunch of leaves to Cub Scouts this week as part of a plant and tree identification project. The boys did rubbings (with old crayons, used sideways) of leaves between two sheets of paper. Recommended as a way to get kids, or yourself, away from electronics for a while. It's slightly magical to see the images of the leaves appear. Hollyhock leaves were the biggest leaves I took. They have a nice, somewhat hand-like "Halloween is coming" vein structure. If you or a kid you know would like to send in a leaf rubbing, maybe we could post it.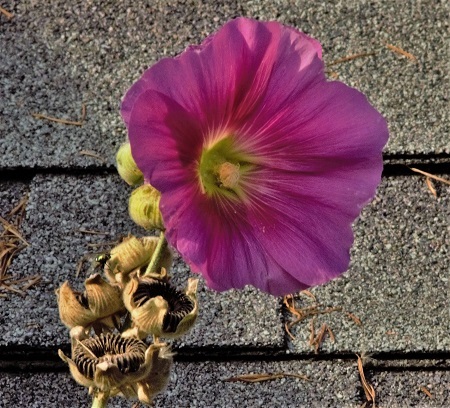 Those are shingles in the background. Wonder if a ladder was involved in the taking of that photo?
The Holihock disdains the common size
Of Herbs, and like a tree do's proudly rise,
Proud she appears, but try her, and you'll find
No plant more mild, or friendly to mankind
She gently all obstructions doth unbind.

Abraham Cowley
The poem above comes from Part 4 of 6 essays on hollyhocks at this site. The first known image of one in cultivation seems to be from 9th Century China.
We've discussed hollyhocks before, along with hollyhock dolls and parades, but it's been over a year. (Don't comment on old threads). The kind pictured was the ultra-double form favored in Victorian England. Some commenters expressed nostalgia for the single types. So I thought that maybe now was a good time for a little additional information on hollyhocks. For the artistically-minded, Frank Lloyd Wright did a Hollyhock House inspired by the geometry of this plant.
One of the challenges to growing hollyhocks is hollyhock rust, a fungal disease. There are some control strategies, but some of the single and semi-double kinds have some resistance, too. Vietnamese hollyhocks are recommended for Florida. Dwarf, award-winning Queenie Purple is recommended for New Orleans, between hurricane seasons. Nice flower list for the brave-hearted.
Happy Lights is the result of a cross between the common Alcea rosea and the rust-resistant yellow fig-leafed hollyhock. I like it.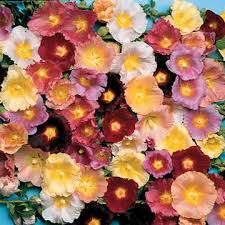 Anything going on in your garden? If you would like to send information and/or photos for the Saturday Gardening Thread, the address is:
ktinthegarden
at g mail dot com
Include your nic unless you want to be a lurker.


posted by Open Blogger at
01:00 PM
|
Access Comments