« EMT 03/25/18
|
Main
|
Jabotinsky Was Correct: Too Bad It Took So Long For Anyone To Realize It »
March 25, 2018
Sunday Morning Book Thread 03-25-2018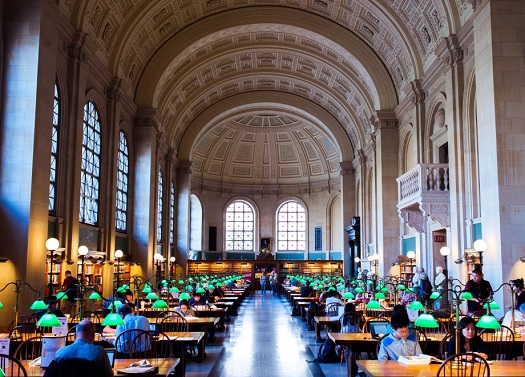 Public Library, Boston, Massachusetts
Good morning to all you 'rons, 'ettes, lurkers, and lurkettes. Welcome once again to the stately, prestigious, internationally acclaimed and high-class Sunday Morning Book Thread, a weekly compendium of reviews, observations, and a continuing conversation on books, reading, and publishing by people who follow words with their fingers and whose lips move as they read. Unlike other AoSHQ comment threads, the Sunday Morning Book Thread is so hoity-toity, pants are required. Even if it's these pants, which everybody will be wearing by 2030. (h/t Orwell & Goode)
Pic Note
I'll get back to posting pics of moron libraries next week. This was the photo I was going to use for the Oct. 15th book thread, but Oct. 11th was when I tore my arm off, so I never had the opportunity to complete it. Until now.
It Pays To Increase Your Word Power®
Anagrams:
ERIC CLAPTON is an anagram of 'narcoleptic.'
THERESA MAY is an anagram of 'share my tea'
MEG RYAN is an anagram of 'Germany.'
BRITNEY SPEARS is an anagram of 'Presbyterians' (also 'best in prayers').
PEPSI COLA is an anagram of 'Episcopal'
CLINT EASTWOOD is an anagram of 'old west action'
GEORGE WASHINGTON is an anagram of 'War on? He gets going''
DONALD TRUMP is an anagram of 'Lord Dampnut'
ACE OF SPADES is an anagram of 'Escaped Oafs' (h/t peacelovewoodstock)

It Takes a Village
Apparently, students have been reading The Lottery, the classic short story by Shirley Jackson, and are missing the entire point. Ace already covered this on Tuesday, but luckily, there's a point or two that I can still beat to death.
What does the story mean? Jackson said this:
Explaining just what I had hoped the story to say is very difficult. I suppose, I hoped, by setting a particularly brutal ancient rite in the present and in my own village to shock the story's readers with a graphic dramatization of the pointless violence and general inhumanity in their own lives.
I look at it like this: what is the worst, the most horrific thing you can think of? In Jackson's case, it was ritualistic human sacrifice set on a backdrop of a small, placid village, so small that everyone pretty much knew everyone else. Of course, that was back in 1948. Nowadays, kids are exposed to bloody-as-hell horror movies such as Saw, Hostel, and the like, and graphically violent, bloody-as-hell TV series such as Game of Thrones and The Walking Dead, compared to which a ritualistic human sacrific is weak tea.
Not to mention Stephen King, who has milked the "creepy small town" theme to a fare-thee-well.
Yes, there is some of that pomo non-judgey stuff in the mix, too, but I don't think that's the main thing. The main thing is that The Lottery, relying as it does on shock value to make its point, is simply outdated.
So what does is take to shock millennials? What will make them think "Ugh, that's just messed up."?
What about a story about a small town lottery whose winner has to move permanently out of his parents' basement? Is that scary enough for them? See, that's the problem: the only example I could think of is a satirical one. In order to be creeped out by the Abnormal, you need to have a strong sense of what the Normal is, or what it should be. And right now we're pretty much at the point where the two magnetic poles are reversed, where the Normal is now the Abnormal, and vice versa.
I wonder what sorts of horror stories millennials are going to be writing?

Moron Recommendation
Moron commenter 'Rgallegos' likes The Fall of the Duke of Duval: A Prosecutor's Journal by John E. Clark, about the near-legendary corruption of Texas politics:
The name Parr may not be familiar to most readers, but many know Lyndon Johnson's first U.S. Senate election was tainted: this 1948 "Box 13" fraud was perpetrated in the town of Alice in Jim Wells County, Texas, by George Parr, the "duke" of neighboring Duval County. Clark, an assistant federal prosecutor under U.S. Attorney William Sessions (later FBI director) in the 1970s, played a key role in the long federal grand jury investigation of the Parr machine and later trials of its leading operators. His book describes the system of patronage and corruption Archie Parr developed in the early 1900s and his son George ran until a 1970s legal onslaught--set off quite unintentionally by an IRS audit of an Austin contractor--brought it down.
Not since Hillary Clinton have we seen a national-level politician more corrupt than LBJ. And while many would argue that Nixon should top the list, what he did was peanuts compared to the wholesale graft and grift of the Democrats. I encourage interested parties should read It Didn't Start With Watergate by Victor Lasky, a book I've touted on more than one previous book thread. Lasky contends that
Watergate was mainly a media event, points to Democratic scandals which have been relatively ignored, and claims that leading Democrats were fully aware of plans for the break-in and did nothing to prevent it.

___________
186 I can't recommend "The Boys in the Boat" by Daniel J. Brown highly enough. It's an amazing story, that weaves together depression era life, the rise of Nazi Germany and the University of Washington's improbable selection and performance at the 1936 Olympics. It is meticulously detailed, with amazing side stories. One in particular: Bobby Moch, the superlative coxswain for Washington, learns on the eve of the voyage to Hitler's Olympics, that he is Jewish, a fact his 1st gen. immigrant father concealed from him because he thought their life would be easier.

This is one of those books that screams "Make me a movie!!"

Posted by: Brave Sir Robin at March 18, 2018 11:12 AM (ty7RM
The Boys in the Boat: Nine Americans and Their Epic Quest for Gold at the 1936 Berlin Olympics is $10.99 for the Kindle edition. The paperback edition is about the same price.
___________
'Ette shibumi recommends The Fountainhead by Ayn Rand:
Amazing book. Not as long as Atlas Shrugged, but still longish. What's scary about it is that I have heard people mouthing the exact same collectivist trash that she wrote about decades ago.
Rand was born and spent the first 20 years of her life in Russia during the early years of the communist revolution, so she was an expert on collectivist trash.
If I was going to start someone out on Rand, I'd give them this book rather than Atlas Shrugged. It has all of the ideas contained in Atlas Shrugged without the endless speechifying.
I think this is another book that screams "Make me a movie!!" I don't think the first version they made was all that good, even though Rand herself wrote the screenplay. A new version, scheduled for a 2019 release, is "in development".
___________

Books By Morons
Moron author Mark Robbins has put his sci-fi utopia novel Walden Shock on sale and wants us morons to take advantage of it.
Using current science and technology as a firm foundation, this fictional chronicle provides the reader with a truly positive and optimistic view of a future utopian society. The "common", or "typical" opinion of mankind's future is one of a sterile world devoid of love, freedom or initiative – and where lives are largely under the rigid, scientific control of a global despot. In sharp contrast, this enjoyable story envisions a world in which human ingenuity and family cohesion are the cornerstones of society. Walden Shock makes a vibrant and logical argument for the value of freedom, discipline and integrity in our society (current or future), and this well-spun story is much more fun than lecture. You will be stimulated and entertained as the singularity arrives in West Texas with guns, cowboys and robots – this story is fun!
I say: any novel with guns, cowboys and robots is worth reading. I plunked down 99 cents (the sale price) for Walden Shock, and maybe you should, too.

___________
Also on sale for 99 cents is the Kindle edition of A Rambling Wreck: Book 2 of The Hidden Truth by moron author Hanz Schantz:
Off to college for the education he'll need to defeat the guardians of the hidden truth, Peter must infiltrate a deadly conspiracy, thwart an attempted social justice takeover of the school, save his professors from assassination, and somehow find time to study for finals. The stakes are now higher than ever. To succeed, Peter must discover who burned down the Tolliver Library, find new allies in his fight, and secure the assistance of the legendary George P. Burdell himself.
This novel, incidentally is a finalist for the Conservative-Libertarian Fiction Alliance (CFLA) Book of the Year. The full list can be seen here.

___________

Don't forget the AoSHQ reading group on Goodreads. It's meant to support horde writers and to talk about the great books that come up on the book thread. It's called AoSHQ Moron Horde and the link to it is here: https://www.goodreads.com/group/show/175335-aoshq-moron-horde.
___________
So that's all for this week. As always, book thread tips, suggestions, bribes, rumors, threats, and insults may be sent to OregonMuse, Proprietor, AoSHQ Book Thread, at the book thread e-mail address: aoshqbookthread, followed by the 'at' sign, and then 'G' mail, and then dot cee oh emm.
What have you all been reading this week? Hopefully something good, because, as you all know, life is too short to be reading lousy books.


posted by OregonMuse at
09:00 AM
|
Access Comments