« Mid-Morning Open Thread
|
Main
|
NBC News Tried to Kill Harvey Weinstein Story »
October 11, 2017
The Morning Rant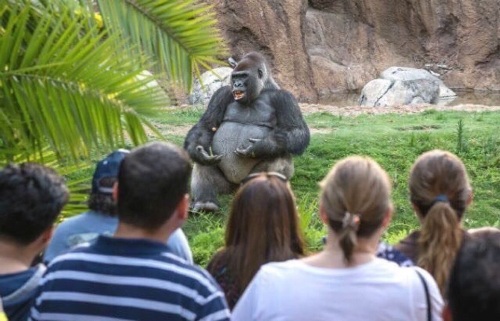 "Harvey Weinstein used to come here regularly. Promised some animals he would make them big stars, like the MGM lion or Tony the Tiger. No, I'm not going to go into details, but now we've got a couple of orangutans in counseling, a pretty young wildebeest who's gone all emo and a manatee with an eating disorder. And the potted plants in the front office all have PTSD."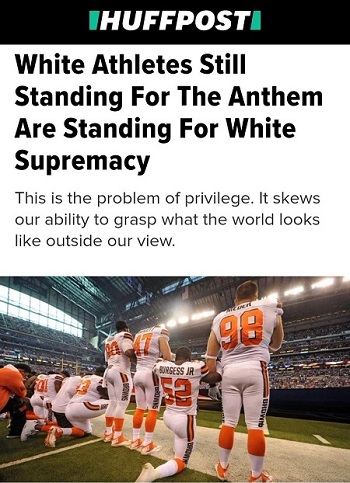 Whither colonialism?
From yesterday:
199 Even Obama's half-bro in Kenya wished the Brits had stayed in Kenya longer, admiring what they accomplish for S Africa.

There are Indians who argue that maybe the Raj it was worth it, to get a decent banking/financial system.

Posted by: Lance McCormick at October 10, 2017 12:02 PM (u0s1P)
So you all know that in the field of what might be called 'Third World Studies', the prevailing view is that colonialism is bad. That is, anytime white guys showed up in a land outside Europe, the results were always bad, brown people were massacred, resources plundered, villages pillaged, entire cultures destroyed, environment devasted, etc.
This is a rigid article of the orthodox academic faith that nobody questions.
So, a short while ago, a peer-reviewed journal called 'Third World Quarterly' published what they called a "Viewpoint essay" (which sounds like it might be kind of like an oped piece in a newspaper) entitled "The case for colonialism". The essay suggested that well, maybe we should have another look at it, because perhaps, just perhaps, the results of colonialism weren't universally bad.
And you won't believe what happened next.
This: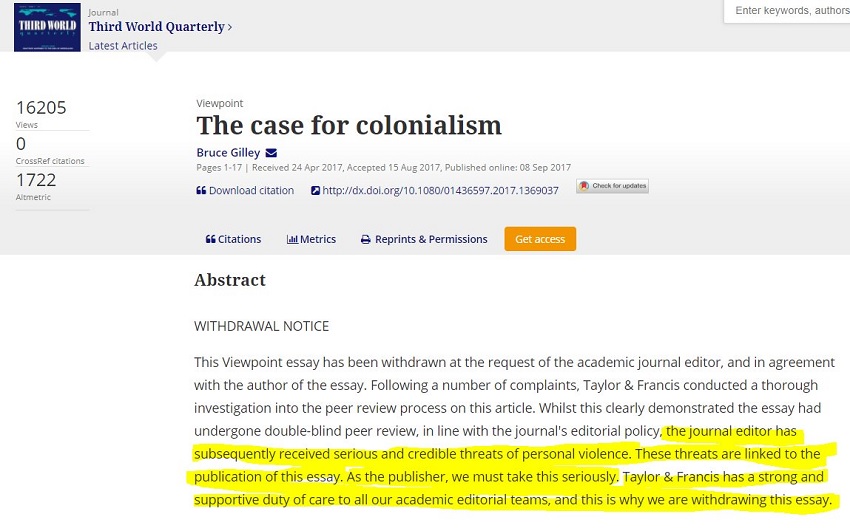 (click for larger version)
When you're on the left, thuggery and violence is always an option. Because in this case, it worked.
As I read this batshit crazy tweet, I thought to myself, self, you really need to come up with a unit of measurement to measure internet craziness analogous to the 'kohn' that we use for internet stupidity. At first I thought the 'olbermann', but it seemed too awkward. The 'olby' might be better, but then this latest tweet showed up and I thought, the 'daou' might be what we want: microdaous, millidaous, etc. I mean, these are all huge quantities that are almost too big for everyday use. Problem is, Daou isn't crazy so much as he is blindly partisan, probably the most blindly partisan guy I have ever seen. On the other hand, that tweet is breathtakingly insane. So somewhere up the partisan scale, you slip over into the crazy.
So I don't know. I'm still working on it. Your ideas are welcome.
And by the way, the squabbling in the comments between the bernie bros and Hillary fans is amusing.

According to Twitter, this video contains content that is 'inflammatory' and 'negative', so they suspended it:
These tweets, however, are just fine: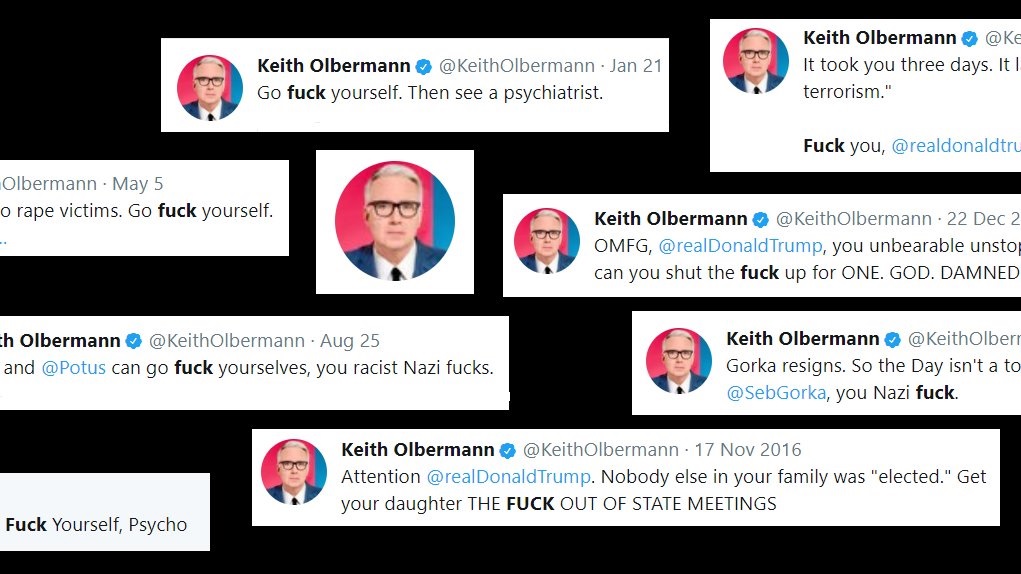 Here is another compilation of dance numbers from classic movies set to modern music, and it's impressive how the editor was able to sync up the music with the dancing. It's very fun:


posted by OregonMuse at
11:32 AM
|
Access Comments