« After Food Thread Open Thread
|
Main
|
The Morning Report 10/9/17 »
October 08, 2017
Sunday Overnight Open Thread (10/8/17)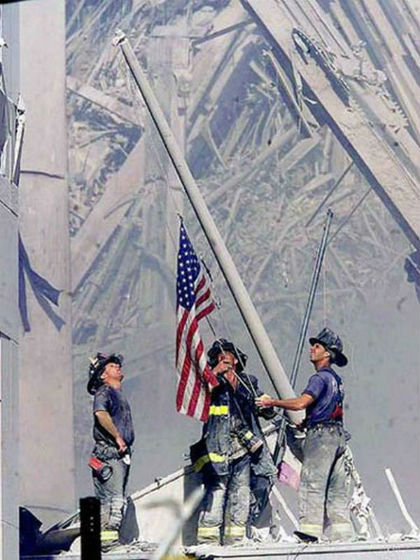 (We really do have a great country)
*****
Quotes of The Day
Quote I

There's a lot of things great about life. But I think tomorrow is the most important thing. Comes in to us at midnight very clean, ya know. It's perfect when it arrives and it puts itself in our hands. It hopes we've learned something from yesterday. John Wayne
Quote II

ISIS is not at our doorstep. Illegal immigrants are not only at our doorstep, but millions of them are already through the door, murdering far more Americans than ISIS ever will. Ann Coulter
Quote III

You send your kids off to college. They love you. You walk away with a Cornell mom T-shirt. You are walking away going this is great, and come Thanksgiving, your kid tells you that you are an imperialist and a racist and a homophobe. That is not worth $120,000. Andrew Breitbart
*****

The Wagyu Beef & Skittles Foundation. The Obama Foundation.

In September, the Obama Foundation released a video statement on social media announcing that the foundation would be holding a leadership summit at the end of October.

"This October, we're bringing together hundreds of leaders from all around the world for a hands-on exchange of ideas in my hometown – the city of Chicago," said the former president in the video.
How fitting that they should meet in one of the most crime infested cities in the USA. Wonder just how many entrepreneurs and business leaders will be there? We're fromt he government and we are here to help you.
*****

Oh no, someone's feelings are hurt. Miami Beach Cops get undies in a bunch.

A Miami Beach man is facing criminal charges after he created a parody account purporting to be Ernesto Rodriguez, a spokesman for the Miami Beach Police Department. The defendant, Ernesto Orsetti, is charged with impersonating a law enforcement officer, a third-degree felony, according to a press release posted by the Miami New Times.

"Defendant falsely created and assumed the identity of the victim (active police officer/police information officer) via Twitter," the police report says. "The Twitter account, @ernierodmb, had a marked Miami Beach police vehicle and a photo of the victim in uniform."
I have a feeling this won't be the last we hear of this.
*****
While we are on the crime beat. Shooting first and asking questions later doesn't work out for Father & Son team. McGruff the crime family they are not.

Sheriff's deputies in Douglas County arrested a father and his teenage son after they say the pair opened fire on a pickup truck that had accidentally crashed into the family's front yard in Roseburg.

Armed with a .22-caliber pistol and a .40-caliber Glock, Mike and Dillen Sanderson unloaded at least 10 rounds at the brown Chevy as it sped away from their home early Wednesday, according to cops and court records.

"The guy emptied a clip at me!" the distraught driver, Adam Smith, 29, later told a Douglas County Sheriff's deputy, a probable cause affidavit shows.
*****

In the "You can't make this shit up" news, Fearless girl is underpaid.


"The State Street Corporation, a financial services company that put the Fearless Girl statue on Wall Street to promote the importance of women working in corporate leadership roles, will pay $5 million after an investigation found that it underpaid female and black executives," Camila Domonoske of NPR reported today.

You want equal pay? Here, have a statue instead.

Really.

The company and the U.S. Labor Department had been going at it for six years. The $5 million settlement after paying lawyers for six years tells me the company stood to lose plenty if the case went to court.
*****
John and Jane Q. Citizen get so pissed off at the various politicians in their lives. It's about time they drained their local judicial swamps.

A 21-year-old Michigan mother is left seeking protection after her alleged rapist was awarded parenting time and joint legal custody of her 8-year-old child after the county surveyed her about child support.

According to the Detroit News, the survivor's attorney says Sanilac County Circuit Judge Gregory S. Ross awarded Christopher Mirasolo, 27, joint custody after a DNA test established Mirasolo was the parent of the child. The attorney, Rebecca Kiessling, has filed an objection with Ross and will be seeking the survivor's protection under the federal Rape Survivor Child Custody Act at a hearing on Oct. 25.
*****

Black Riffle Coffee. My kind of coffee company. NSFW
*****
Referencing Quote III from the late-great Andrew Breitbart, Mizzou doesn't seem to get it.

Here's a thought, and it's kind of radical, so bear with me here. At colleges, let's have some events where people can do pretty much whatever they want so long as it's legal, and if anyone doesn't like it or they find it offensive, they leave.
*****
You Morons can argue back and forth who has a better baseball team. Now you can argue who has the best hot dogs. Carrots on hot dogs as carrots in chili is just wrong.
*****

Never too early to look into the 2018 campaign is it? NutcaseTransgender running for Congress. Quite the advertisement.

John Walker Flynt, mental case, now wants to be known as Brianna Wu. Apparently John married a Wu. And no, that's not the name of a Dr. Seuss book.
*****
The ONT Musical Interlude
October 8, 1964, Roy Orbison was at No.1 on the UK singles chart with 'Oh Pretty Woman', his third UK No.1. The title was inspired by Orbison's wife Claudette interrupting a conversation to announce she was going out; when Orbison asked if she was okay for cash, his co-writer Bill Dees interjected "A pretty woman never needs any money." via thisdayinmusic.com
***
October 8, 1987, Chuck Berry was awarded a star on the Hollywood Walk of Fame. His film biography, Hail, Hail Rock & Roll also premiered on the same night. via thisdayinmusic.com
*****
Are you sane? Take the test. h/t fastfreefall

From 'feebleness of intellect' to 'women trouble' the reasons a patient could be admitted to a lunatic asylum in the late 1800s reveals inequality and a poor understanding of mental health issues.
While the startling list of reasons for admission at Trans-Allegheny Lunatic Asylum may give only a glimpse of what caused the patient to be sent there, it reveals a lot about society's attitudes.
The sprawling West Virginia institution was closed in 1994, after more than 100 years of lobotomies and cold bath treatments for its patients, many of whom just had the misfortune to have been abandoned by their families
*****
A lengthy video with Gavin McInnes and Stefan Molyneux. A good watch when you have some spare time. h/t Slapweasel
*****
From Mike Rowe's FB page:

"Got a call last year from a guy called Graham Meriwether who wanted me to narrate his movie. Said he wanted to make a film about farming – a film that in his words, "would make a difference."
"What kind of difference?" I asked. "What do you want the film to accomplish?"

"Well," he said, "I want people to understand how less than 2% of this country's population feed 300 million Americans three times a day. I want people to see the challenges our farmers are dealing with, and the reasons why agriculture is facing a looming skills gap unlike anything we've ever seen. I want people to get a sense of just how close we are to becoming completely disconnected from our food, and the people who grow it."

Ten minutes later, Graham was still talking and I was smiling, since so much of what he was telling I've already said in front of various groups large and small. So I cut him off.

"Send me a rough-cut when you're ready," I said. "If it accomplishes half of what you want it to, I'd be happy to help."

I saw the rough-cut a few months later. It's terrific. I've posted the trailer below. Give it a look. Like a lot of young filmmakers, Graham is embracing a non-traditional distribution platform – at least for now. If you share my addiction to chewing and swallowing, check out his website, and see if your community might benefit from watching this film.
Farmers For America. An interesting piece. h/t Hank Curmudgeon
*****
Is Jessica Grays an 'ette? If not The ONT Nominates her for honorary cardboard membership.

Hunter Jessica Grays has blasted critics on Facebook for calling her "disgusting" after she posted images of a bull moose her partner took down on a recent Alaskan hunt and even thanked her detractors for their heated comments, since the controversy has landed her a number of speaking and sponsorship opportunities.

"I just wanted to take a second and say THANK YOU!" Grays said in a Facebook post. "It has created quite the media stir bringing this to a National Platform where I have media, newspaper, huntings blogs, radio stations and women's rights groups contacting me to be spokesperson and sponsorships from it! Please keep the HATE coming! Two days ago I was a passionate small town hunter and today I have multiple new sponsors and hunts lined up across the country."

Wonder what her boat looks like?
*****
California became the first Sanctuary State. Well Moonbeam, The Feds have some ideas of their own.

The country's top immigration cop said Friday his agents "will have no choice" but to conduct workplace and neighborhood immigration raids in light of California's new sanctuary law.

Immigration and Customs Enforcement (ICE) Acting Director Thomas Homan said in a statement Friday that California Gov. Jerry Brown's (D) decision to sign the law, SB54, would "undermine public safety and hinder ICE from performing its federally mandated mission."

Under California's new law, state and local police will have major restrictions in how and when they can collaborate with federal agents on immigration investigations and arrests.
*****
You laugh at Lutherans and their Jello Salads. Maybe they knew something after all. Edible gelatin robots.

In the near future, you may be able to eat a robot that will heal you or provide nutrients.

It may sound like science fiction, but researchers are closing in on the creation of an ingestible robot that can perform a variety of functions from within the human body.
*****
Predicting the future, never easy when you are a Genius Award Winner. h/t Anonosaurus Wrecks
*****
An interesting breakthrough in the fight against Autism is Tonight's Feel Good Story of The Day.
*****

Tonight's ONT has been brought to you by the Handyman's Secret Weapon.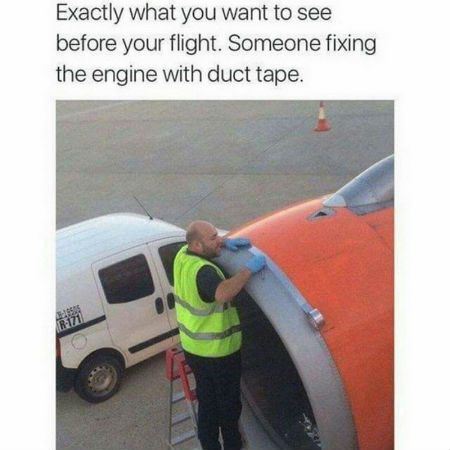 Notice: Posted with permission by AceCorp, LLC.
Weekly commenter stats for week of 10-8-2017
Top 10 commenters:
1 [699 comments] 'Insomniac - The Left Hates You and Wants You to Die' [98.13 posts/day]
2 [516 comments] 'garrett'
3 [432 comments] 'Christopher R Taylor'
4 [419 comments] 'Grump928(C)'
5 [407 comments] 'Mortimer - disappointed'
6 [406 comments] 'Jane D'oh'
7 [390 comments] 'Widespread Pepe'
8 [372 comments] 'Steve and Cold Bear'
9 [345 comments] 'J.J. Sefton'
10 [333 comments] 'Tami'
Top 10 sockpuppeteers:
1 [92 names] 'Steve and Cold Bear' [12.92 unique names/day]
2 [50 names] 'Duncanthrax'
3 [41 names] 'buzzsaw90'
4 [38 names] 'Notorious BFD'
5 [35 names] 'bicentennialguy'
6 [33 names] 'Joe Biden'
7 [32 names] 'garrett'
8 [31 names] 'Under Fire'
9 [30 names] 'andycanuck'
10 [30 names] 'rd'


posted by Misanthropic Humanitarian at
10:00 PM
|
Access Comments