« The Morning Report 10/4/17
|
Main
|
The Morning Rant »
October 04, 2017
Mid-Morning Open Thread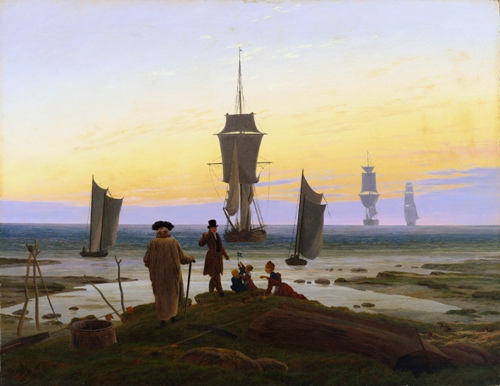 The Stages Of Life
Caspar David Friedrich
This work intrigues me...it gives me a sense of surrealist art.
And on an unrelated note; many of us around these parts want ESPN to just go away because of their relentless march to the left and their equally relentless hectoring of any sports fan with the temerity to want to watch sports unsullied by outside influences.
But there is another reason why ESPN is a pathetic excuse for a sports network...they can't do sports! I watched the Yankees-Twins wild-card game last night, and it was a rollicking good time that was mostly ruined by the inane, uninformed blather of the three vapid fools at the microphones. Maybe I am spoiled by my local broadcast, but couldn't they have just hired a good play-by-play guy and one color commenter from each team's local broadcast? Or does that make too much sense?
Regardless, ESPN is a pathetic excuse for a sports network, and somebody is going to make a lot of money when they figure out how to bypass their talking heads and provide some good baseball talk during the ESPN-broadcast playoff games that we will be plagued with.

posted by CBD at
09:30 AM
|
Access Comments