« Back in the USSR [KT]
|
Main
|
Ace of Spades Pet Thread »
October 07, 2017
Saturday Gardening Thread: The harvest is on now! [KT]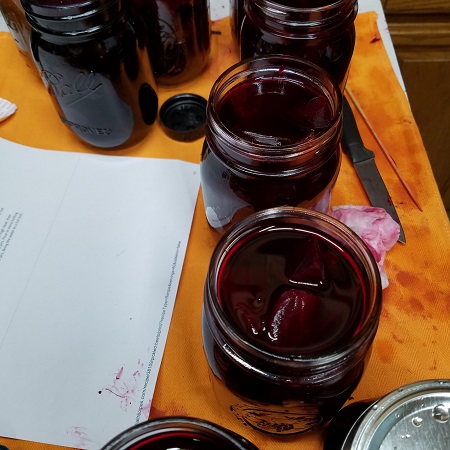 Hello, gardeners and friends of gardeners. It was the Harvest Moon last night. Harvesting is on! Planting is also on in a few places. Desert denizens, now is YOUR big season! Planting anything now? Got any planting planned?
As you can see above, Gordon has been busy pickling beets. From last week's comment thread, JQ had some great recommendations for gardening and food preservation information from extension agencies. Pat* and Shanks for the memory had great reports. Scroll down.
Last week, Gordon noted that he still had "a few beers left, plus some onions and beans." And beets. I think I see some dill in there, too. Some of those heads look like they are at about the right stage for making pickles. Dilly beans? The heads that still have flowers attached should be ready shortly. Best for pickling while the seeds are kind of mature, but still green.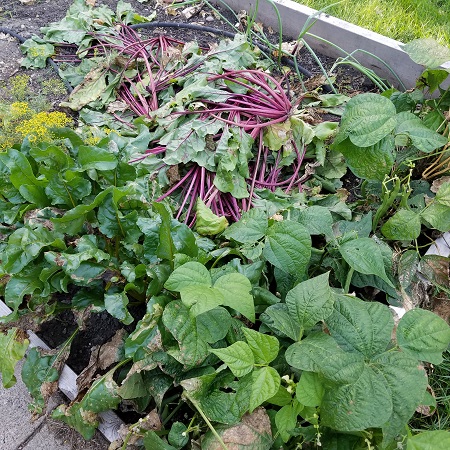 Cosmos and Cleome
Continuing our "cutting flowers from seed, inspired by Illiniwek" series, Cosmos bipinnatus and Cleome hasslerana top someone's list of nine unsung beauties for bouquets. They come in similar colors. I have always thought they made a natural pair. Both are drought-tolerant. This is probably the strain of C. bipinnatus growing in Iliniwek's border: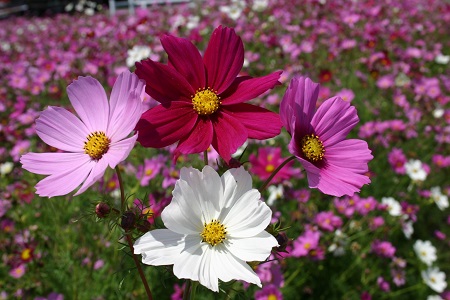 Cosmos Sensation Mixed
They come in separate colors, too. If you choose the white ones, you could creat a tall all-white border with Cleome, Cosmos, Datura and some shorter fillers. Nicotiana alata and Queen Anne's Lace could also be added. The flowers shooting up above everything else in this photo are Cleome.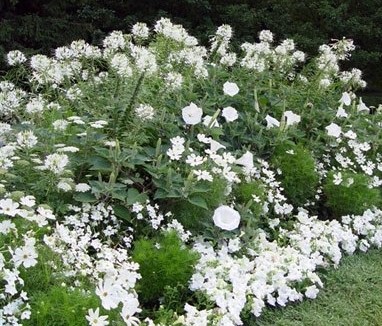 Cleome is adaptable to many climates. But it is less familiar than the Cosmos. Maybe because it has spines. There is at least one spineless hybrid, a short one called Clio.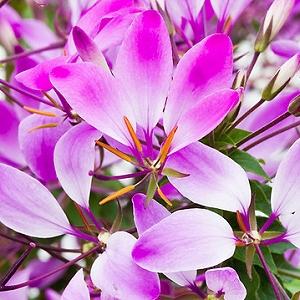 There are now pale yellow cultivars of Cosmos bipinnatus, too. Not to be confused with Sulfur Cosmos.
Illiniwek has Indian Corn: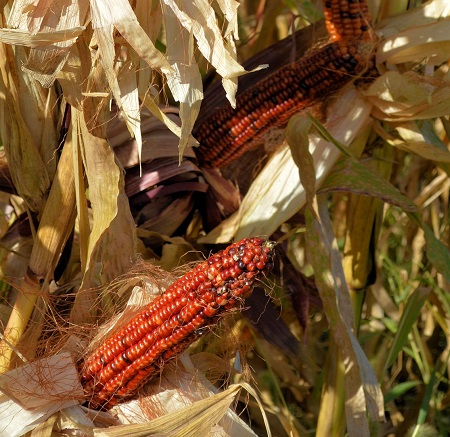 Remember the wild Helenium bordering his pond? It's blooming again. I like the way it reflects on the water.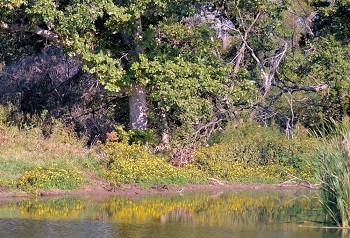 Attracting lots of Painted Ladies. Or a related species. Their caterpillars are much less fussy than Monarch caterpillars. They will eat lots of plants. And they will even eat artificial caterpillar food in butterfly-growing kits.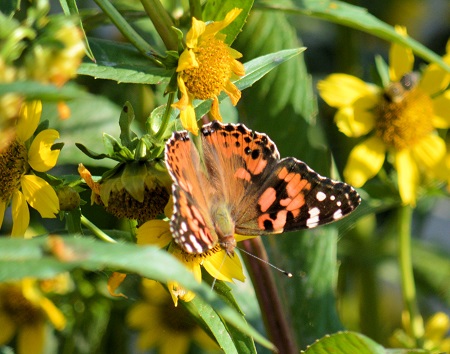 Bet there's some planting or harvesting going on at CaliGirl's ranch. But she has sent in a different kind of photo. Fun.
I put an old tractor near my road as a decoration. It's a 1943 farmall. It doesn't run but I think it's kind of cool.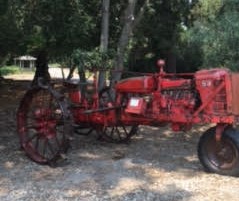 Gardens of The Horde
Anything going on in your garden? If not, I ran across this piece, which may save you some grief next year if you pick up on an idea or two from it: Eight gardening mistakes you probably make every autumn
Have a great weekend. Hope you get to spend some time outside.
If you would like to send information and/or photos for the Saturday Gardening Thread, the address is:
ktinthegarden
at g mail dot com
Include your nic unless you want to be a lurker.


posted by Open Blogger at
01:14 PM
|
Access Comments