« Saturday Morning Weird News Dump
|
Main
|
Saturday Gardening Thread: The harvest is on now! [KT] »
October 07, 2017
Back in the USSR [KT]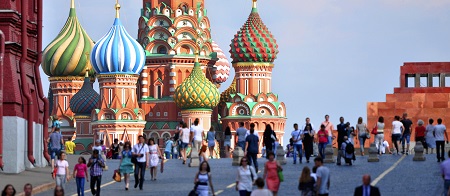 Thought about learning some Russian?
Hello, Horde. Hope your Saturday is going well. I have some sad news from afar. The man who saved the world has died. I likely owe my life to a split-second decision by a man named Stanislav Petrov. The Economist is the source of this obituary:
"The base" was the secret Serpukhov-15 early-warning facility, near Moscow. He had worked there--since graduation, with top honours, from the Radio-Technical College in Kiev--monitoring surveillance by Oko satellites of the missile launch areas of the United States. Its core was a room of 200 computer operators over which, when he was on duty, he would preside from a glassed-in mezzanine office. On one wall of the computer room, an electronic world map lit up the American launch areas: six of them, with a total of 1,000 missiles aimed at the USSR. Just above his eye level, a wall's-width screen glowed a dull red. If nothing appeared on it, all was well. . .
September 26th 1983 was different. At half past midnight, the red screen flashed "START". A missile was coming. The siren howled. In the room below, people leapt from their seats. Everyone looked up at him. He had frozen. The message seemed odd: one missile would not mean the all-out attack they were expecting. But how did he know? Scared stiff, he roared at everyone to get back to work. When he managed to pick up the phone, he reported a fault in the system. But then it saw a second missile. A third, a fourth, a fifth: "probability of attack, 100%". In ten minutes, ground radar could confirm it. But in 12 minutes the missiles, if they were coming, would hit Russia. High command needed 12 minutes to organise their response. . .

His hands shaking, he called his superiors again. Again he reported a malfunction, not a strike. The officer at the other end was drunk, but somehow passed it on. Mr Petrov then waited for 15 unbearable minutes. And nothing happened. There was indeed a fault in the system: the satellite had been fooled by the sun's rays reflecting off clouds high over North Dakota, which had two launch areas.
You should maybe read the whole thing. "They did not thank him for showing them up, for it was an old rule in Russia that the subordinate must never be cleverer than the boss. Instead, they rapped him for failing to fill in the operations log that night."
After his wife died, he lived for some time mostly on potatoes and tea made from herbs picked in the park. After 1998 his story was no longer a secret and he became famous in the West, but his life remained dreary back home. The obituary is well-written.
This video of Russian dancers, and the music, seemed strangely appropriate as I thought about this man's life. The way the dancers move is inexplicable. Seems inexplicable to me that this man could have been overlooked by his countrymen for all these years.
Honey, disconnect the phone. Roger L. Simon describes his two visits to the USSR in the 1980s:
Fascinating place. Loved the Russian orthodox churches and the gorgeous icons, the quaint dachas in Peredelkino where Boris Pasternak used to live. The caviar and blini was terrific too, washed down by endless shots of Russian Standard vodka. And, because I was on cultural exchanges, I met brilliant people like Yevgeny Yevtushenko and a dozen or so other well known Soviet writers and filmmakers.

Funnily enough, most of them would eventually take me aside and ask me if I could help them get out of there. I couldn't, unfortunately, but I could well understand why they wanted to leave. At the end of both of my trips of about two weeks each, I desperately wanted to get the Hell out myself. I hated the place.

The Soviet Union was like one giant jail. You had no privacy. You had no life. KGB minders followed you everywhere -- even, in my case, straight into the lobby men's room of Moscow's Cosmos Hotel to watch me tinkle. . . .
Stanislav Petrov's phone, in his drab little apartment, was disconnected for lack of payment at the time of his death.
Here's Paul McCartney, in Kiev in 2008. After the USSR was gone.
Note: This is the Thread before the Gardening Thread

Serving your mid-day open thread needs

posted by Open Blogger at
11:48 AM
|
Access Comments