« The Morning Report 9/27/17
|
Main
|
The Morning Rant »
September 27, 2017
Mid-Morning Open Thread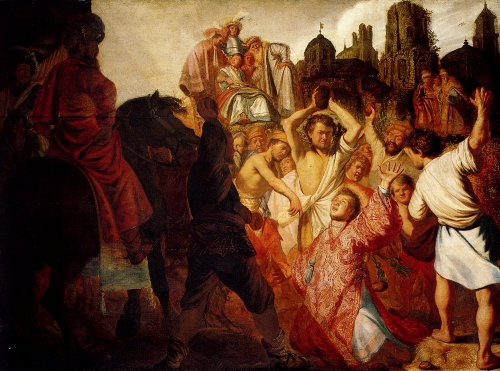 The Stoning Of St. Stephen
Rembrandt Harmenszoon van Rijn
Saint Stephen was one of the first ordained deacons of the Church. He was also the first Christian martyr. The Greek word from which we derive the English word martyr literally means witness. In that sense, every Christian is called to bear witness to Jesus Christ, in both their words and their actions. Not all are asked to shed their blood.

Those who do shed their blood for the faith are the greatest of witnesses. They have been especially honored since the very beginning of Christianity. Stephen was so conformed to Jesus in his holy life that his martyrdom was both a natural and supernatural sign of his love for the Lord. It also inspired the early believers as they faced the first round of brutal persecution.
This is how to sacrifice for one's beliefs.
Collecting a fat paycheck that makes you a 1%er and playing the game you love while being worshiped by one's fans is not sacrifice. That's called self-serving arrogance and hypocrisy.
[Yes, this looks amateurish in comparison to most of Rembrandt's work, but it is his first signed painting, so cut him a bit of slack.]

posted by CBD at
09:30 AM
|
Access Comments