« Mid-Morning Open Thread
|
Main
|
The Media's Cooking Up a #FakeNews Katrina Narrative for Puerto Rico, Despite Trump Actually Sending Lots of Aid »
September 27, 2017
The Morning Rant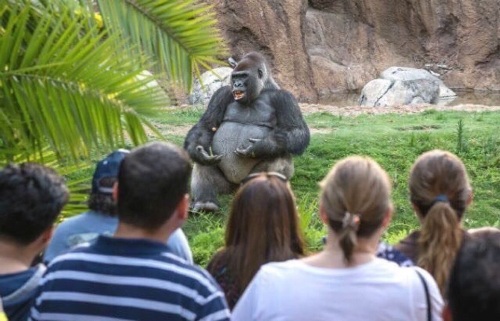 "Look at that graph below. Anyone else see the big, glaring problem there? I ask you, why aren't any of the fashionably woke celebutards or oppressed millionaire athletes "taking the knee" for this?"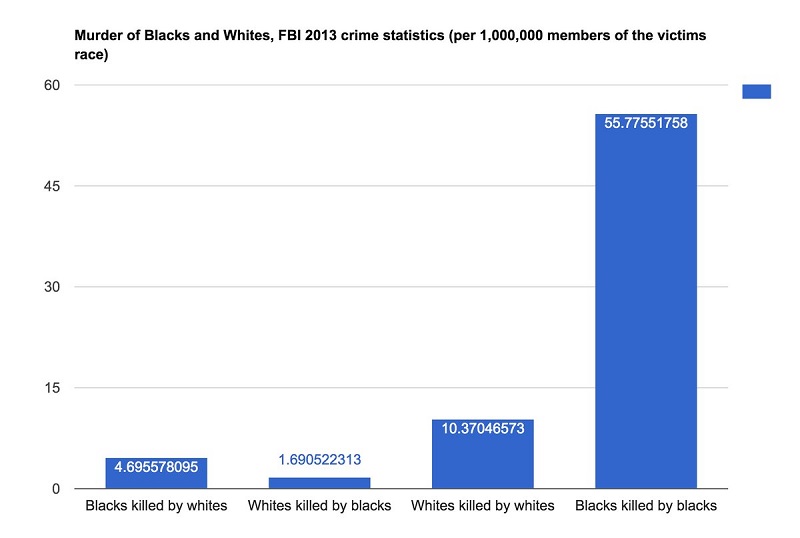 (click for larger version)
Here is a delightful video of Antifa/BAMN queen bee Yvette Felarca eating the pavement after her arrest at a Berkeley protest:
Apparently, Felarca got into it with Based Stickman and thought that the Berkeley police would just let her carry on with her usual bullying tactics. Which, considering recent events, was a reasonable assumption, but this time, she thought wrong.
According to the BPD, Felarca was was arrested for battery and resisting arrest. Someone wondered if this was actually one of BPD's famous "symbolic arrests". I don't know, but as I recall, Felarca is still facing charges she incurred a couple of months ago for inciting a riot. So I'm hoping that with this latest arrest, they'll revoke her bail and toss her into the hoosegow for a good long time.
And why she's still employed as a middle school teacher is a mystery. Oh wait, Berkeley. So, not a mystery.
No Hope For White Guys
And here's the video zombie was talking about in the art thread:

White guy being incited to riot by an Asian gal, who finally screams at him:
"You're still white!. You're still responsible. This is your fault. You're inherently racist! It's in your blood. It's in your DNA."
So if they keep telling us you're racist, you've always been racist, you can never not be racist no matter what you do, what do they think the end result of that is going to be? Put another way, do they really want a race war? Because this is how you get a race war. They've left me no choice. If I'm a big bad racist, I will start doing what big bag racists do, i.e. shoot brown people. What else did they think was going to happen?
Pop Quiz
Who said this?
1."The negro is lazy and indolent and spends his money on frivolities and drink. The European is forward-looking, organized and intelligent."
a. Donald Trump
b. Steve Bannon
c. Michael Pence
d. Che Guevara

2. "Worthless NI*ER!" Dirty worthless NI*ER!"
a. a white cop in Ferguson, MI
b. a 3-toothed, imbred redneck at a KKK rally
c. an orange-haired millionaire New York real estate tycoon
d. Cuban jailers, while beating to death black human rights activist Orlando Zapata Tamayo.

3. "It is simply a sociological fact, that blacks are more violent and criminal than whites. They also do not work as hard and cannot be trusted."
a. Donald Trump
b. Joe Arpaio
c. Richard Nixon
d. a high regime official in Castro's Cuba
(h/t Babalú Blog)
-----------------------------
Quiz answers:
1: (d) Che Guevara, idolized by Colin Kaepernick
2: (d) Jailers, while beating to death black human rights activist Orlando Zapata Tamayo, in Castro's Cuba, , idolized by Colin Kaepernick
3: (d) a high regime official in Castro's Cuba, idolized by Colin Kaepernick
Dumb Tweet
Wait, I thought Kaepernick (a) opted out of his contract with SF and then (b) turned down some offers because they weren't starting QB positions. What makes Ms. King's tweet so dumb is that it is completely void of any factual basis.
Dumbness level = 550 millikohns
Hilarious letter in The Nation that Ben Shapiro tweeted yesterday. It will be chapter CDXVII in my upcoming book "Progressivism Makes You Stupid":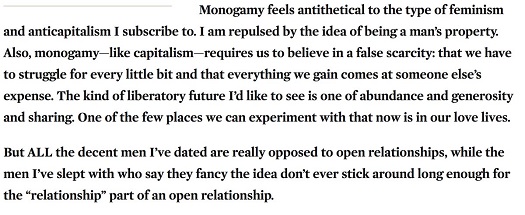 Shorter feminist: "I just can't understand why all of the good men want monogamy but the open relationship guys treat me like dirt."
Yeah, it's a complete mystery.
A new NY Times columnist made her debut a couple of days ago, and oh boy, you can just smell the smug:
The distortion carries over to the Electoral College, where each state's number of electors is determined by the size of its congressional delegation. This would matter less if the United States weren't so geographically polarized. But America is now two countries, eyeing each other across a chasm of distrust and contempt. One is urban, diverse and outward-looking. This is the America that's growing. The other is white, provincial and culturally revanchist. This is the America that's in charge.
Heh. I hate to keep saying this, but does she want more Trump? Because this is how you get more Trump.


posted by OregonMuse at
11:33 AM
|
Access Comments