« Tuesday Overnight Open Thread (9/26/17)
|
Main
|
Mid-Morning Open Thread »
September 27, 2017
The Morning Report 9/27/17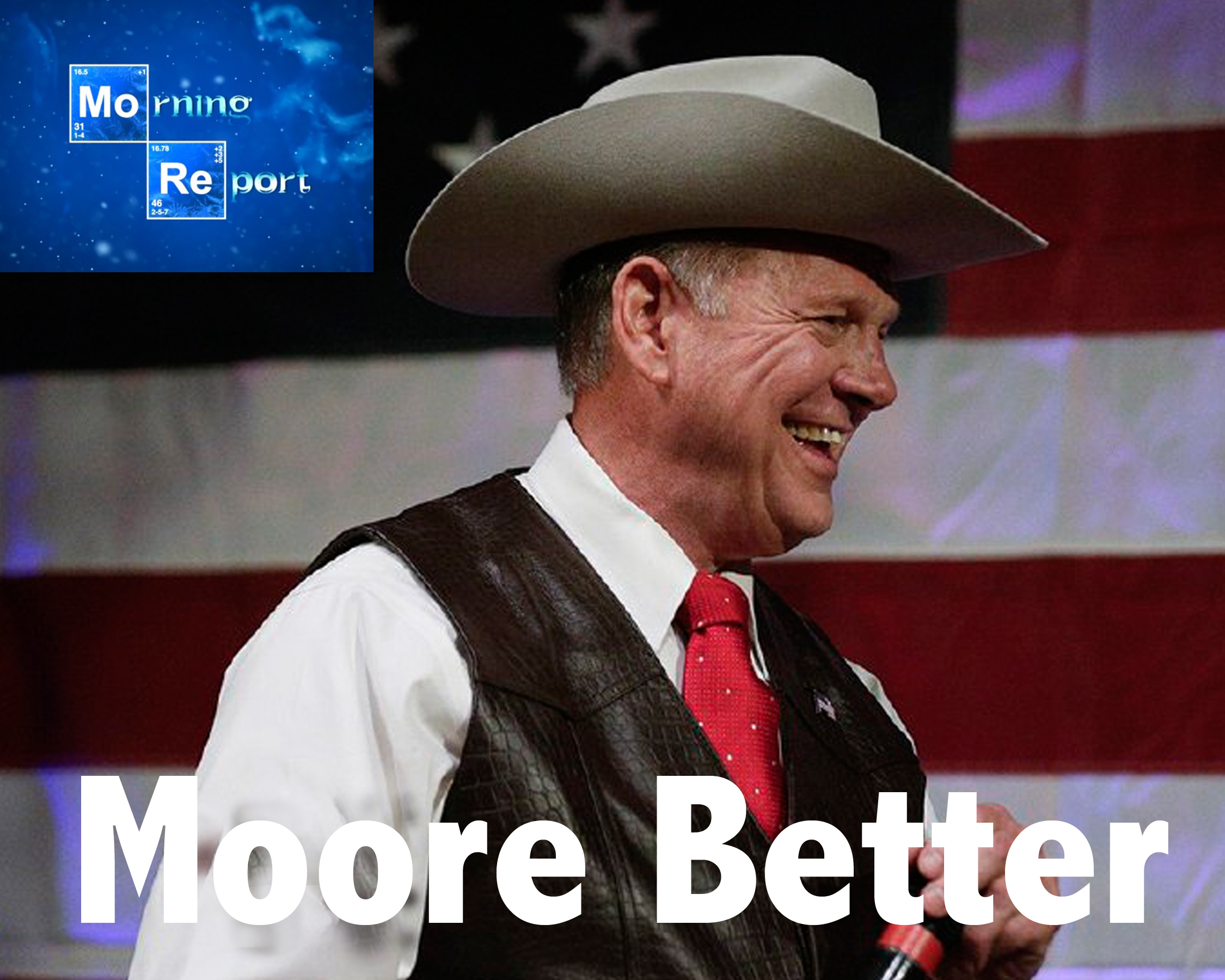 Good morning kids. Midweek and the big story is Roy Moore's defeat of Luther Strange in the Alabama special election for Deputy Dawg's senate seat. I know that there are Alabamians who think Strange was a strong supporter of PDT but purely as an outsider, you have to wonder about someone who not only got the endorsement of the entire GOP Establishment, but received upwards of $30 million dollars in funding from same. That's a huge red flag for me, as it was for the voters. Strange was crushed and McYertle and company got Ossified. With Obama Iran Sellout Deal confederate Bob Corker announcing he won't seek reelection, Jeff Flake potentially getting knocked out by Kelli Ward in Arizona and John McStain about to join the Choir Invisible, "Conservative, Inc." as the great Kurt Schlichter has coined it (see link below) is now in a fight for control of the GOP or perhaps its dissolution. The opening shot was PDT. And this war is just beginning.
In related news, the Graham-Cassidy kabu-kkake fakery went down in flames yesterday. While it was far from perfect and indeed had elements that were problematic to say the least, it was a step at at least trying to repeal Obamacare piecemeal. The thing is, as a great man once said, the closest thing to eternal life is a government program. The GOP is not interested in limited government; they just think they're better managers of our enslavement than the Democrats. So, they will not vote to denude their own power and control over us the same as the Dems. The other factor is just contempt for PDT and by extension all of us who voted for him. Perhaps with fresh blood in the form of Strange, Ward and others, G-d willing we'll have another crack at this.
Another story that could get lost in the sauce: first it was wedding stuff, pictures of the grandkids and yoga, now it's homework and family photos. Yup, the Dems are claiming the massive data stolen by the Awan's was just little Awan Jrs homework assignments (how to make a clock, right?) and family snapshots. It is to laugh, but with Deputy Dawg Sessions out by the fishing hole taking a snooze, it is the Deep State that is having the last laugh. So far.
From hither and yon, the great Walter Williams hits the nail on the head, as he always does, about why black America is where it is (hint: it's not slavery but because of a well-known political movement/party). If Colin Kaepernick would open his pea-brain and shut his cake-hole, maybe he might think differently. Meh, who am I kidding. There's also a piece over at the American Thinker about how, given his position with the fools and flunkies in the NFL and elsewhere, PDT is intentionally or not fighting and actually starting to win the culture wars (Schlicther's piece tangentially touches on this as well).
A couple of interesting pieces about independence movements in the Catalan region of Spain as well as the more geopolitically important area of Kurdistan. And finally, great news; Saudi women are now allowed to drive. Maybe in one hundred years they'll be allowed to show their ankles in public.
Anyway, links from around the world, across the nation and up your street. Have a better one and remain blessed.

Long Distance "Def" Dedication to Mitch McConnell and Tom Donohue"

posted by at
07:14 AM
|
Access Comments