« Destroying Cherished Knowledge [KT]
|
Main
|
Ace of Spades Pet Thread »
September 23, 2017
Saturday Gardening Thread: Fall has fallen! [KT]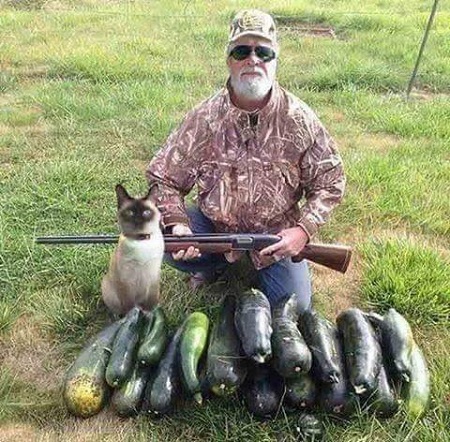 Is that cat a pointer?
According to Vermont Fish & Wildlife, August 3 was opening day of zucchini season. Anybody know how long the season lasts there? Guess it doesn't matter much if frost hits. From the Old Farmer's Almananc, average first and last frost dates across the country. You can look up local charts for more specific garden information. Today, we have content on garden bounty and on cutting flowers you can plant in the fall or spring - for fall/winter bloom in mild climates or spring bloom in cold-winter climates. Inspired by Illiniwek's wild-ish flower border. I think I can handle some of those flowers on a little smaller scale.
Zucchini and Tomato Recipes
Lawrence Larson sent in a couple of the recipes he mentioned last week for using his abundance of zucchini and tomatoes.
We wear out the zucchini and tomato casserole all summer long so we use different cheeses.
Bet this one is great with the fresh dill option:
Zucchini and Tomato Casserole
4 medium zucchini, cubed
3 tablespoons chopped fresh dill weed or 1.5 teaspoons dried dill
ground black pepper to taste
1 tablespoon margarine, melted
2 large tomatoes, sliced
1 tablespoon chopped fresh basil leaves
3/4 cup grated Romano cheese (feel free to substitute to your tastes)
1. Preheat oven to 350 degrees F (175 degrees C). Lightly grease a 2-quart casserole dish.
2. Place zucchini in a pot fitted with a steamer basket over boiling water. Steam 5 minutes, or until tender but firm. Transfer to the casserole dish. Mix the dill, pepper, and margarine, and stir into the casserole dish, evenly coating zucchini. Layer tomato slices over zucchini, and sprinkle with basil and Romano cheese.

3. Bake 30 minutes in the preheated oven, until bubbly and golden brown.
The Blueberry Zucchini bread never makes it out of our house alive because it's absolutely wonderful with coffee.
Blueberry Zucchini Bread
3 eggs lightly beaten
1 cup vegetable oil
3 teaspoons vanilla extract
2 1/4 cups white sugar
2 cups shredded zucchini
3 cups all-purpose flour
1 teaspoon salt
1 teaspoon baking powder
1/4 teaspoon baking soda
1 tablespoon ground cinnamon
1 pint fresh blueberries
1. Preheat oven to 350 degrees
2. Lightly grease 5 mini loaf pans
3. Beat together eggs, oil, vanilla and sugar
4. Fold in zucchini
5. Beat in flour, salt, baking soda, baking powder and cinnamon
6. Gently fold in blueberries
7. Fill mini loaf containers half full - place on cookie tray
8. Bake 50 minutes
9. Cool 20 minutes in pan and then transfer to wire rack
Thanks, Lawrence. The recipes sound wonderful. Wish I had some bigger tomatoes or some zucchini in the garden right now. Oh, well. Memories: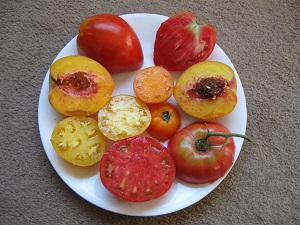 Don't forget to check for late comments on the Garden Thread
Speaking of bounty from gardens, here's a sample of the information you may have missed if you didn't check back on last week's thread on Saturday night and Sunday:
Pat* asked about spots on her Early Girl tomatoes that turn grey underneath. She provided some instructions for lining the bottom of a raised bed with hardware cloth to keep burrowing critters out and recommended "get tough" measures for parsley and chives. She also gave her typical comprehensive garden report.
Gordon responded with a nice recipe for Pobalo peppers baked with chicken, cheese and cream cheese. Mmmmm.
JQ gave us a garden report including details on various tomatoes and an update on her hop plants.
Shanks for the memory gave a jealousy-inducing garden summary, with details on veggies and his plans for a hillside filled with daffodils (and other yellow flowers). Then there was the food from the garden and nearby farms:
This evening I made black bean pork belly with a side dish of eggplant that I simmered in a garlicky sauce.

We cracked the first jar of homemade kimchi made with garlic scapes and Mu, a crisp white Korean daikon radish. I'm a fermenting fiend this year...I bought a set of inexpensive fermenting valve cap thingies that fit on mason jars. Makes a huge difference in quality/texture and no exploding lids or weeping jars.

Ha! i just ate a peach that was a dead ringer for the photo...stopped at a farm and got two punnets of the last of the year's peaches. They are either Fayette or Flamecrest...the lean-to stand wasn't staffed (they still use the honor system hereabouts on the backroads).

Belgian waffles and sliced peaches for brekkie tomorrow.
There's a recipe for the black bean pork belly dish at the link above. Scroll down to his comment.
Has anybody taken a photo of an eggplant you grew?
In the Labor Day Weekend Thread we saw the early stages of Illiniwek's flower border, grown from seed on newly-prepared ground. Ambitious. Some of us could grow some of the same flowers on a less-ambitious scale in our own yards. Two of the first that came up in his border are also noted as good cut flowers for fall. They are Cornflower (Bachelor Buttons) and Sulfur Coreopsis. Fast growers. Cornflower prefers cool weather. It comes in shades of blue, pink, rose and white.
Sulfur Coreopsis can take more heat, but starts to look weedy late in summer from spring sowing, so it can be re-planted for fall blossoms. It comes in yellow (as suggested by the name), gold, orange and orange-red shades. Wild sulfur coreopsis is up to 7 feet tall. The one in the photo is a tall garden type called 'Towering Orange' for cutting. There are many dwarf strains.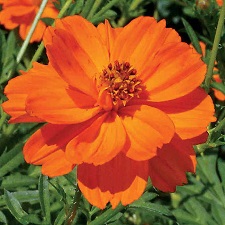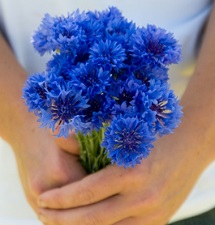 Bachelor Buttons got that name for lasting a long time in a buttonhole. Sulfur coreopsis should be picked soon after it opens and placed in deep, cool water before arranging in bouquets.
If you would like to grow a few flowers for cutting this fall or next spring, start preparing a little patch of soil, water and do some weed control, because more recommendations are coming. Those in the South might want to get a garden pot ready.
Finally, Hank Curmudgeon sent in the following inspiration for Morons who may need a little extra firepower for that important Fall Yard Cleanup.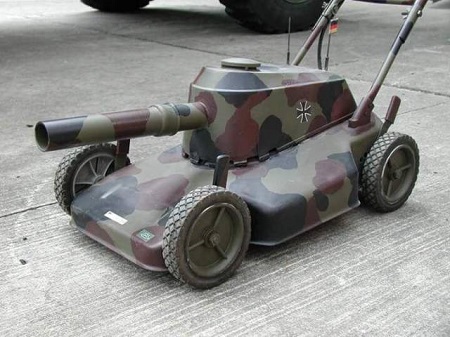 Gardens of The Horde
Yes, Shanks for the Memory, I am gearing up for winter gardening. Passing out some seeds to other people tonight, too. I'll probably do broccoli from plants, lettuce and arugula (not for me). Maybe some other veggies, too. And some flowers.
Anything going on in your garden?
If you would like to send information and/or photos for the Saturday Gardening Thread, the address is:
ktinthegarden
at g mail dot com
Include your nic unless you want to be a lurker.

posted by Open Blogger at
12:42 PM
|
Access Comments