« Saturday Gardening Thread: Fall has fallen! [KT]
|
Main
|
Saturday Afternoon Chess/Open Thread (Featuring Dress Pr0n) 09-23-2017 »
September 23, 2017
Ace of Spades Pet Thread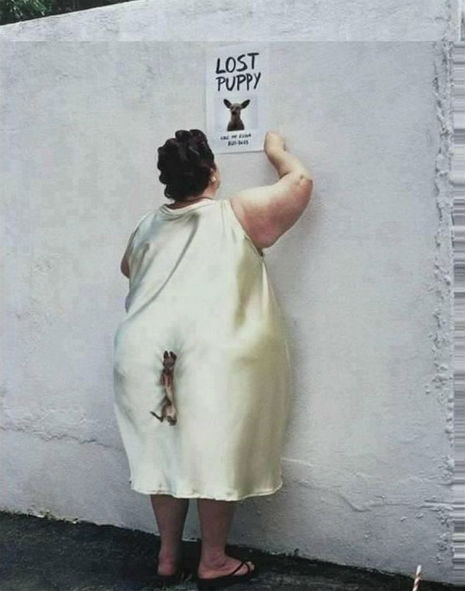 (It's funny)
***
Welcome to the almost world famous AoSHQ Pet Thread. Where pets are royalty. So enjoy this week's royalty. Grab a liquid refreshment and relax.

A Little of This. A Little of That.

It's a good thing there is not Sharia for kittehs. h/t shibumi

Popular cat passes on, the station won't be the same. h/t Hank Curmudgeon

Remember, people weren't the only ones hurt by the recent hurricanes.
There have been a large number of animals displaced by flooding by Hurricane Harvey. This remains an ongoing disaster, as the Brazos and San Bernard Rivers are still above flood stage.

My wife and I traveled to the Brazoria County Fairgrounds in Angleton, TX, where a refuge has been set up at the county fairgrounds. Dogs, cats, horses, cattle, goats and chickens are safe there from any further ravages of nature, but the sight is still heartbreaking and these four-footed friends will need ongoing help. Please consider making a contribution to the SPCA of Brazoria County (https://spcabc.wordpress.com) or the Houston SPCA (http://www.houstonspca.org) or your local shelter.

Thank you.

Hadrian the Seventh
Sorry for being late

The Cleveland Browns. They aren't so bad after all. h/t Mary
Hear warming story.Thanks Jane D'oh
***
Meet The PetMorons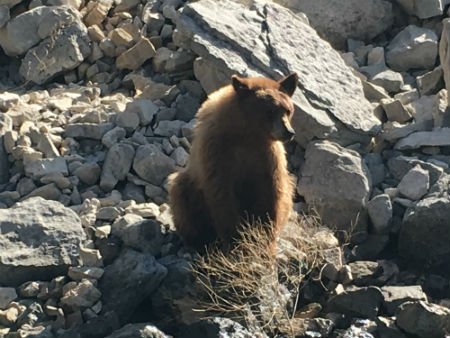 Hey guys,

Here is our cat Samantha. She is our Christmas cat having gotten her for our oldest son 8 years ago from the pound for a Christmas present.

She likes to lay around and recently achieved her life long goal of sleeping 36 hours in a 24 hour period. Way to go to Samantha.

She also loves to jump on our bed at night and purr and kneed the sheets. If I can just train her to massage my back, it'll be golden.

We just recently discovered that if you scratch just above the base of her tail she gets an uncontrollable urge to lick herself on the shoulder. My wife and kids think it's hilarious to no end but I feel sorry for her when she goes into the trance. -Ken
Thank you for sharing with us this afternoon Ken.
***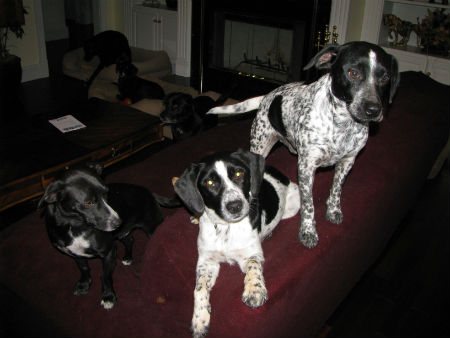 Long-time lurker. These are 6 of the 8 rescues in our pack of spoiled rotten doggehs, with Aubrey, Hannah and Riley front and center and with Bailey, Chelsea and Brody in the background. They're all mutts of unknown provenance nor of prior life circumstance. They eat, they sleep, they play hard, they eat some more, they sleep yet again and they don't do a lick of house work. A pack of 8 dogs does, however, make an excellent burglar alarm and we have multiple delivery personnel that approach our house with great trepidation. They are all adored and I can't imagine life without them. -Fred
I'm with you Fred. Can't imagine a life without pets. They are a nice looking crew. There is no mischief in any of those eyes.
***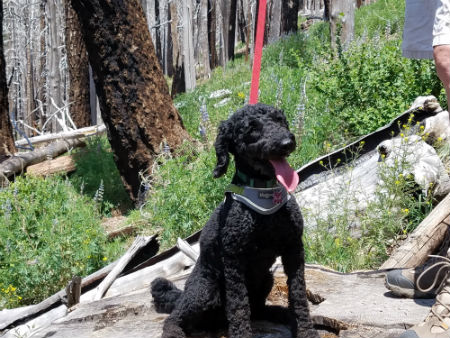 Since you asked:

Last October, we had to put down Charlie, the Sheltie whose photo you used last year; old age finally caught him. Around Christmas, I remembered our vet telling me how the holidays are when the most dogs are dumped/left/surrendered at this office so I asked him to let me know if a small dog good with traveling became available.

The next day, he called back to tell me he had a dog whose owners had to give him up due to family health problems. Thanks to them, we now have Jude, a black miniature poodle. He's five years old, loves hiking, accompanying me while geocaching, and jumping from the motor coach to see what's new at each stop. He's not much on obedience, but we're working on that. - wcgreen
So sorry to hear about your loss. But, so happy that you have a new dog in your life. Thanks for the submission.
***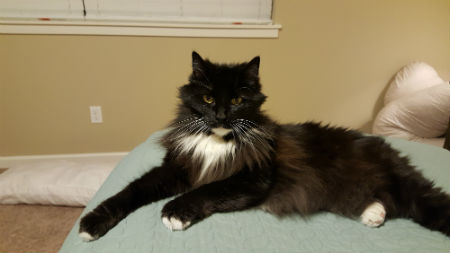 Hi guys,

Long time lurker and occasional commenter. Sidenote: I occasionally used the name 'MyGfHasBigBoobies' until the horde demanded pictures to prove it. Now it's 'MyWifeHasBigBoobies' booyah!

That is CJ, who was my wife's cat when we first started dating. She didn't like me in the beginning, as I came from a dog family and she totally ignored me. Now, almost six years later, I can't get her to leave my side and she has accepted me as family. Thanks for the blog, keeps me sane in an insane world. - Zach
Glad the cat has accepted you. Because we (husbands) all know if Momma aint happy, no one is happy. Regal looking kitteh.
***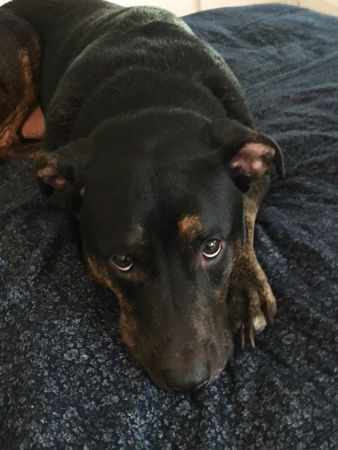 Long time lurker scmommy and this is our girl Darla. Our 3 year old rescued us 2 years ago. The police found her abandoned, the vet estimated she had been on the streets for about a month. Here she is hiding from the thunder raging outside, pretty sure my baby got caught up in some storms during her time on the streets. When the weather isn't so loud, she protects us from the evil squirrel population in the neighborhood.
Thanks scmommy. Your poor Darla looks just miserable with that storm at hand. Thanks for being a lurker and a submitter!
***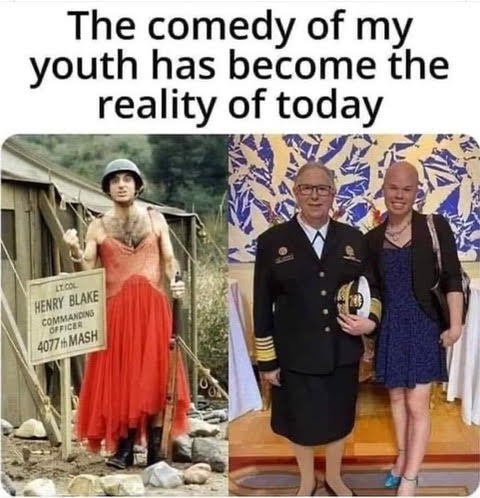 Hi -- I'm a lurker and sometime commenter 'Alix'

I just love Pet Thread and -- and so I thought I'd submit our two mini Aussie Shepherds for consideration. On the left is Noel (8 years old) and on the right is Rosie (just 5 months old). Rosie sure loves to play. Noel does too -- but sometimes she's too tired and gets slightly annoyed with Rosie. It's so much fun to watch them interact.

Thank you!
Alix
No need to thank us. We thank you. Just an adorable photo how did you manage to get them to sit still? Thanks again.
***
Thanks again you folks! What a wonderful group of pets and some very neat stories. Do you have something you wish to share? You can reach us at petmorons at g mail dot com.
Have a great week!!!!

posted by Misanthropic Humanitarian at
03:00 PM
|
Access Comments