« Thread before the Gardening Thread: Labors of Love [KT]
|
Main
|
Ace of Spades Pet Thread - Holiday Weekend Edition »
September 02, 2017
Saturday Gardening Thread: Labor Day Weekend Special [KT]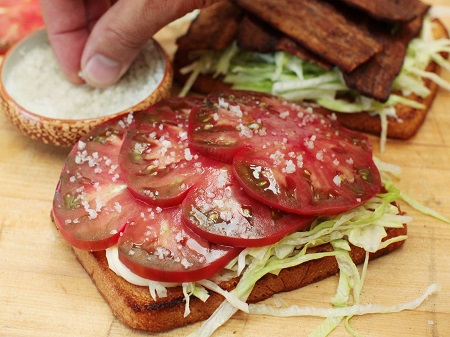 Hello, gardeners and those who wish this weekend that they knew a gardener.
Maters for a BLT
Above, one of the best uses for a big garden-fresh tomato. Say a Cherokee Purple, Stump of the World, Dr. Neal, Neves Azorean Red or J.D.'s Special C Tex. Do you have a favorite BLT tomato?
A BLT is not a well-dressed bacon sandwich. A BLT is a tomato sandwich, seasoned with bacon. From this basic premise, all else follows. Indeed, a better name for the BLT might well be the Tomato Club, for it is the perfect tomato, not the bacon, that is the rarest, the most ephemeral, the most singularly delicious ingredient. A BLT is not a democracy. It is not a committee meeting. It is a dictatorship, and the tomato is King, Queen, and Supreme Leader. In the BLT universe, the Prime Directive is that all other ingredients shall be at Her Majesty's service, their only role to prop her up and enhance her best qualities.
Taters for a Tater Salad
A couple of weeks ago, we posted a photo of Gordon's blossoming blue potatoes. Don't know if he has harvested any. Do you have a favorite potato for potato salad?
One of the signs of the Labor Day Weekend around here is when mayonnaise goes on sale. Many pros recommend russets for mayonnaise-based potato salad dressings. How about you? Any Yukon Gold fans out there?
Of course, fingerlings and other "waxy" potatoes are renowned for potato salad, but I wonder if they are better for the warm, German-style salads? Anybody got a favorite recipe?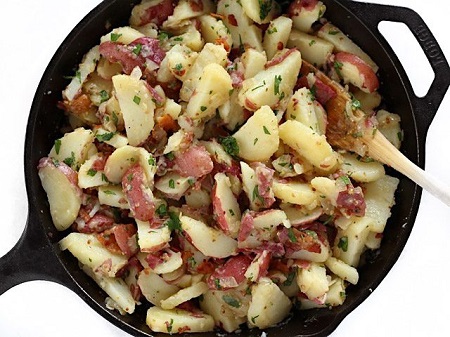 I like garden potatoes that are in the awkward stage between new and storage potatoes for vinaigrette-style potato salads. I like awkward-stage garden potatoes lightly mashed with garlic and butter, too.
The "labor" part of Illiniwek's flower border
Last week we saw photos of Illiniwek's bold, exuberant flower border, planted from seed. Dominant flowers at the time were two species of Cosmos. Not unexpected the first year for one of these mixtures, this time of year.
He has graciously sent in photos of some of the phases leading up to last week's photos:
Before and after tilling: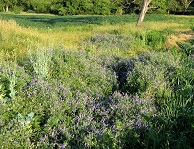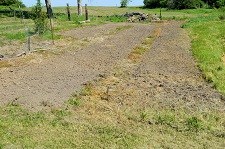 This is June 12 ... hairy vetch planted previous year helped my pond overflow, looks good. Some purple top turnip found its way in there as well ... Looks so easy when the tiller just went by ... ten minutes ... clean as can be ... but the weed seeds lurk. -- ha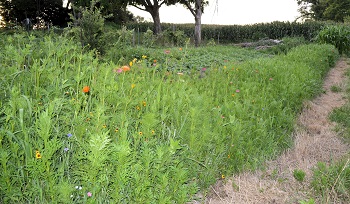 July 16th ... I did get rid of some of the grass as it rose above the flowers ... cotton glove soaked with glyphosate worked OK ... not complete, but I waited to see if it would work, and only spent fifteen minutes at it ... easier than bending over and pulling.

Cantaloupe and watermelon in the background, already fighting the grass.

I don't know the names ... you might be able to ID.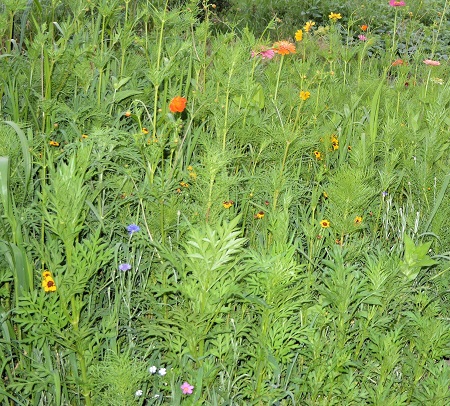 Closer look.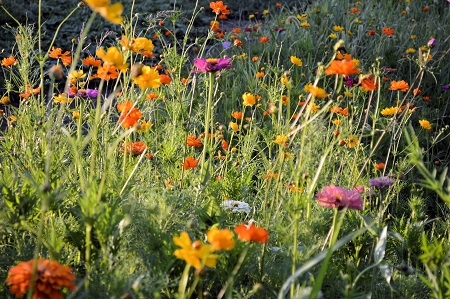 July 21
Anybody want to try a little flower I.D.?
Commercial Landscaping
This is a lodging establishment in Ogden Canyon, east of Ogden, Utah. I took the photo on my recent vacation because I thought it was a good example of "curb appeal". All these plants have to be deer-resistant. And moose, rabbit, beaver, etc. resistant. It can be done.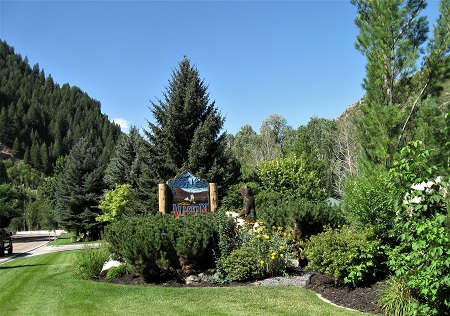 Here is a view from the bridge outside the back door to their office. Water is higher than usual for August. There are critters somewhere in this landscape: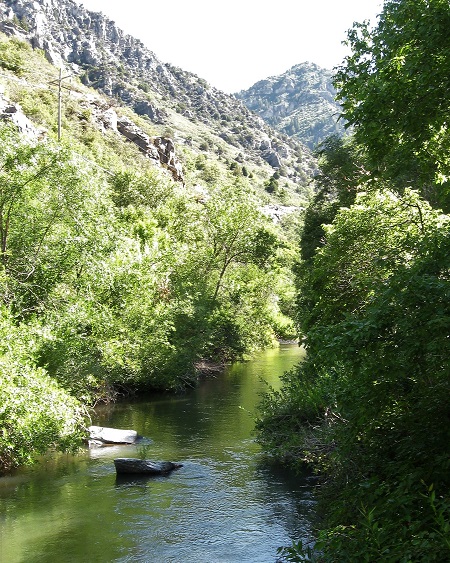 Gardens of The Horde
We got the following update regarding Cumberland Astro's new garden:
You posted some photos of my garden project a few weeks back. I'm starting to enjoy a very nice harvest of Tribute Strawberries. Every day there's enough of them to add to yogurt or make a nice stand alone dessert. I never had any success growing strawberries back in Central Texas so I am definitely enjoying the new gardening opportunities on Tennessee's Cumberland Plateau.
Harris calls Tribute the most popular of the eastern day-neutral strawberries. Day-neutral strawberries have a much longer season than "June-bearing" strawberries. Though the largest berries are usually among those with a concentrated harvest window. Day-neautral types are nice for hanging baskets, too.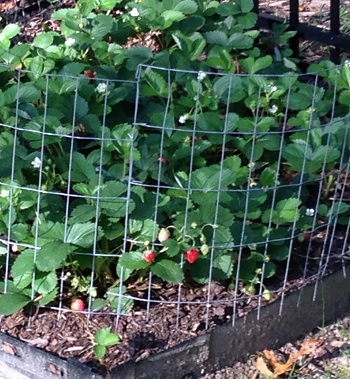 Illiniwek has sent in some garden and farm photos and notes from his grandparents' day. Sounds like an interesting topic for fall or maybe even winter if anyone else would like to send in some information or photos.
If you would like to send information and/or photos for the Saturday Gardening Thread, the address is:
ktinthegarden
at g mail dot com
Include your nic unless you want to be a lurker.


posted by Open Blogger at
12:44 PM
|
Access Comments