« Saturday Morning Weird News Dump Saturday Holiday Weekend
|
Main
|
Saturday Gardening Thread: Labor Day Weekend Special [KT] »
September 02, 2017
Thread before the Gardening Thread: Labors of Love [KT]
Serving your mid-day open thread needs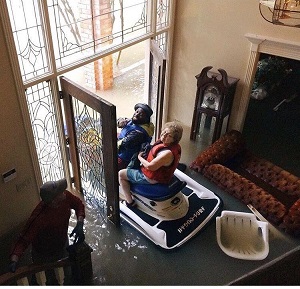 Happy Labor Day Weekend, Horde. I don't really feel like discussing the labor movement today, but I thought it might be interesting to discuss some kinds of labor that have recently been in the news.
First up, the rescue and relief work that people have been doing in response to Harvey. I had seen the image above passed around with catchy, or sometimes touching, subtitles. But it was a while until I learned that this was just an example of Chick-Fil-A's customer service:
Out of ideas and desperate to evacuate, J.C. Spencer called Chick-Fil-A, and ordered the usual...plus a boat.

And by golly, the owner of the Chick-Fil-A sent out her husband and a boat to go rescue the couple. By pure chance, the Spencers called in breakfast at the same time one of the managers was checking in on the closed restaurant. He recognized the number on the caller ID, and then set the wheels in motion for their rescue. The Spencers were able to save some of their possessions and evacuate to higher ground with the help of a boat and a pair of jet skis.
The word that comes to mind when I think about this, and about the chain's earlier reaction following the Florida nightclub shooting, is "confidence". When I see the photo above, I now I also have a picture in my mind of owners and employees working together behind the scenes to pull this off. Take that, Karl Marx.
For an example of effective relief work by an individual from among la bourgeoisie, it is hard to beat Mattress Mack from WeirdDave's ONT last night. Mack ain't no bureaucrat.
Of course, people don't have to be working for a commercial enterprise to come up with ways to help flood victims (or other rescuers). Is there a story that particularly struck you? Did you think of a way to help? Were you helped?
Now, for a completely different form of labor
Does this qualify as a hobby?
Every once in a while we divert from more serious engineering to some accomplished model-making, like the model airplane that took nine years to build out of manila folders. Now there's a life-size Lego Formula One Ferrari SF16-H built from 349,911 bricks. The video shows a time-lapse of the build of this massive model, which took 750 hours to put together and 844 hours to develop. This huge version isn't for sale as a kit, although ambitious Lego builders can now put together a new kit which is the largest set available for purchase, a $799.99, 7,541-piece Millennium Falcon.
Speaking of hobbies, I wonder if there is a trick now to learning to play the violin or piano, or becoming a fan of NPR's classical music, without putting one's academic reputation in peril for supporting the "malignant logic of hetero-patriarchal, class-based, white supremacy"? Is the left still allowed to live bourgeoise values as long as they don't advocate them?
Hope you have a great weekend. Doing any interesting labor?

posted by Open Blogger at
11:10 AM
|
Access Comments