« Thread before the Gardening Thread: Virtual Reality [KT]
|
Main
|
Ace of Spades Pet Thread »
August 26, 2017
Saturday Gardening Thread: Stylin' [KT]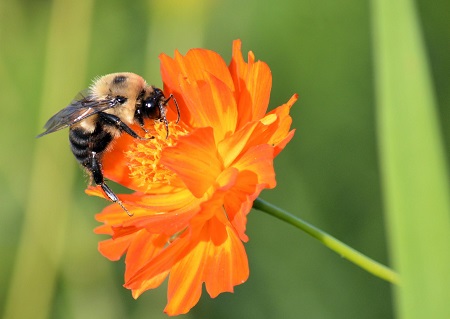 A bee (probably a bumblebee) enjoying Illiniwek's new flower border
Hello, gardeners and friends of gardeners! Special greetings to those currently battling flooding. We are thinking about you.
This week, I have also been thinking about the differences in the ways we approach gardening. Some of our veggie gardeners check in regularly with progress reports and sometimes recipes. Flower lovers send more photos. Illiniwek has planted a large border of annual and perennial flowers from seed. This seems awfully bold to me. More photos from his new border later.
Just below the fold, there are a couple of photos from a member of The Horde who specializes in a single genus of plants. I love this, too. It reminds me of an appreciation expressed by a junior high school history teacher for people who take it upon themselves, on an amateur basis, to become expert in some topic or area of interest. Examples might include an aspect of local or regional history, geology or botany. He thought these people made society better. I think he has a point. The photos below from today's featured specialist are fascinating. Today, I am focusing on three garden approaches for which I currently have photos:
Specializing in a Single Genus
My name is Moshe Ben Avram and I'm a longtime lurker who grows some very unusual plants. My specialty belongs to the genus Sarracenia and consist of the North American Pitcher Plants which are carnivorous. I grow the 9 species, their various varieties and hybrids between all those as well. Enclosed you will find pics of two of my favorites: Sarracenia Psitticina var. Okie Giant plant and Sarracenia Purpurea var. Venosa.

S. Psitticina comes from the Okeefenokee Swamp area of Southern Georgia and Northern Florida and S. Purpurea Venosa comes from the mid Atlantic states of North and South Carolina.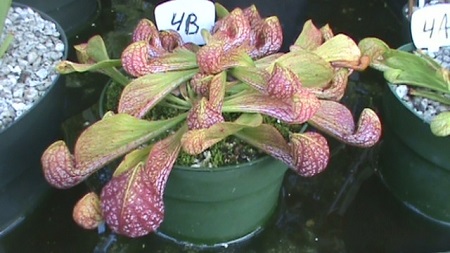 Sarracenia Psitticina var. 'Okeefenokee Giant'
The genus Sarracenia is found from Canada down the east coast into Florida and west to east Texas. They do eat insects, but they can get big enough to eat frogs, lizards and small rodents hence they are carnivorous rather then insectivorous. Most of the genus is now considered rare with several listed as threatened with extinction in the wild. They do live in bogs and wet places with the epicenter in southern Georgia and northern Florida. I though maybe your readers would like to see something different that other people grow. Thank you kindly for taking the time to view these.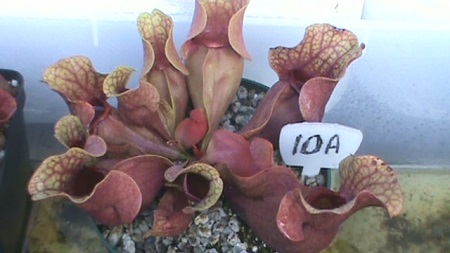 Sarracenia Purpurea var. 'Venosa'
Thanks so much for sending in the photos and information, Moshe. Feel free to send us an update and more photos at any time.
Going Bold
Back to Illiniwek's border:
My KT inspired long row of a mix, annual and perennial, turned out well, 4-5' tall now, lotsa blooms as some start to fade. Diligent weeding makes all the difference. . . . tiger swallowtail (I think) ... I saw some black (or maybe Bairds) swallowtails as well.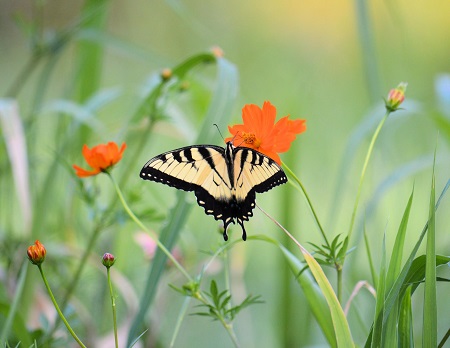 I just use the auto settings mostly, this one is in sun, more depth of field ... bumble bee snuck in the pic.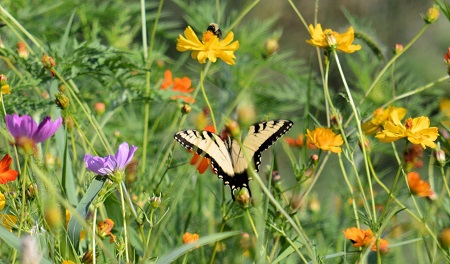 This is the best part of the 90' row ... but it all looks pretty good. peach, nectarine, peach trees in background. 100 year old "wash house" on the right.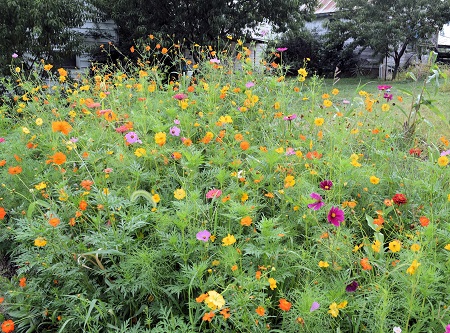 90 foot row. Diligent weeding.
Great Outdoor Containers
During my recent vacation, I was able to visit the garden of my bestie in Utah. Both she and her sister are experts at creating delightful scenes in garden borders. But this year, she did some really interesting things with outdoor containers. Here is one showing off a new-to-me kind of geranium (well, pelargonium). It is billed as a Martha Washington, but seems to me to have some significant differences from most of that type. It's nice to see a flower like this one in August.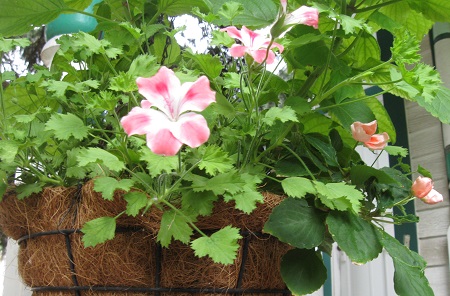 Can't grown anything under your pine tree? Try putting some plants in a container.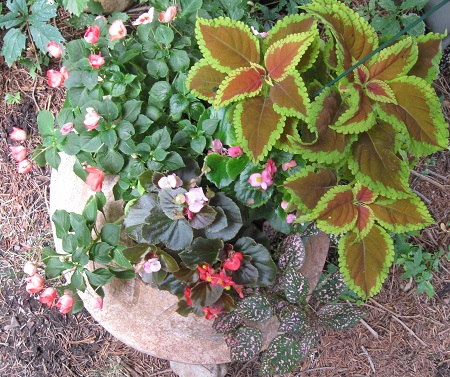 This one is especially striking against the house: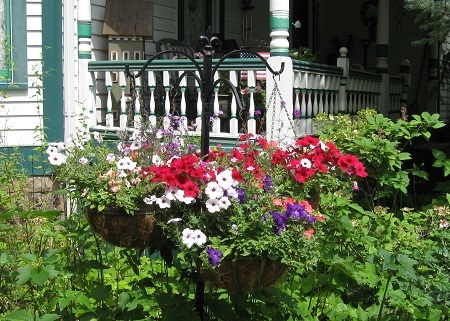 Continued from last week: A butterfly plant
Due to technical difficulties, I was unable last week to complete this segment on a caterpillar host plant for the Giant Swallowtail Butterfly. The common hoptree is a more attractive choice than most other hosts for those outside the citrus belt. It is rated for hardiness zones 4 - 9.
Is is a small-ish tree or shrub, often found in an understory situation. It will take considerable shade or full sun. It likes moist soil with good drainage, but will take drought and rocky soil once established. especially if descended from a southwestern population. Early Texas immigrants once used the seeds as hop substitutes to make beer.
The variety 'aurea' starts out bright yellow in spring, turns green in summer and yellow again in fall. 'Glauca' has bluish summer foliage.
In addition of the Giant Swallowtail, it is also a host to the Eastern Tiger Swallowtail. Nice little tree. Some people think the flowers are kind of stinky.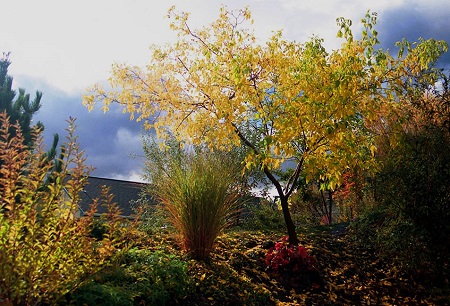 Ptelea trifoliata in fall
Gardens of The Horde
I bought some china pinks. Tough little flowers. Saw a toad on the porch. Not much else new going on.
Here's August To-Do List to inspire me, with links for high and low climate zones at the bottom of the page. Though it's probably best to look up a local one.
Anything going on in your garden?
If you would like to send information and/or photos for the Saturday Gardening Thread, the address is:
ktinthegarden
at g mail dot com
Include your nic unless you want to be a lurker.


posted by Open Blogger at
12:16 PM
|
Access Comments