« Saturday Morning Weird News Dump
|
Main
|
Saturday Gardening Thread: Stylin' [KT] »
August 26, 2017
Thread before the Gardening Thread: Virtual Reality [KT]
Serving your mid-day open thread needs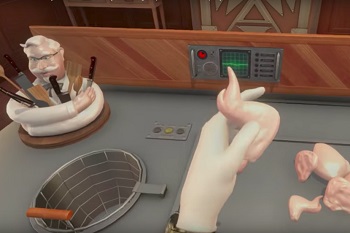 This can't be real.
Morning. Hoping everything is going OK for members of The Horde affected by the hurricane. And those helping with relief. Check in if you are able.
During the past couple of weeks, have you learned about a news event and then thought, "This can't be real"? Will turning to Virtual Reality make things seem more or less like, you know, reality? About the photo above:
In case being a fast-food employee wasn't hard enough, KFC is now putting its workers through a bizarre initiation rite: a creepy BioShock-esque virtual reality "escape room" replete with narration from an omnipresent, mildly demonic-sounding Colonel Sanders. Cool!
Have you run into any new uses of virtual reality lately?
Here's a piece about the use of virtual reality to treat PTSD.
Since she began using the program, she said representatives from Limbix have been receptive towards updating the applications as different situational needs arose, including adding medical scenario to the virtual reality experience.

"I recommended to the Limbix guys that let's do an MRI because I have a lot of patients that are fearful and become claustrophobic, so they can get that exposure before they go to the hospital," Jewell said. "I recommended that maybe we should do more medical and within two weeks they had the material available and I think that is a great technological advancement we have now."

Jewell said she can see the tools being expanded to include other forms of anxiety, including agoraphobia where someone can be put into a virtual crowd for short periods of time. Other patients the tool may help include those suffering from a fear of public speaking or those suffering from 'white coat syndrome,' a disorder where a patient's blood pressure rises above the normal range in a clinical setting.
Virtual reality is also being tested in serious mental illness, for example, to treat delusions of persecution.
If virtual reality can help people with real, serious delusions due to conditions such as schizophrenia, maybe there's hope for ordinary college students facing the trauma of microaggressions. Wouldn't it be great if people no longer had their lives devastated by seeing a white man in dreadlocks? Or by learning that one of their professors was somewhat open to "choice" in Halloween costumes? Maybe science and technology can help.
On the entertainment front, here's a revolutionary war story told partly through virtual reality. You might want to check it out before the revolutionary war is erased from history.
Hope your weekend turns out well. Doing anything interesting?

posted by Open Blogger at
11:11 AM
|
Access Comments