« Thread before the Gardening Thread: How to become a racist, sexist misogynist [KT]
|
Main
|
Ace of Spades Pet Thread »
July 15, 2017
Saturday Gardening Thread: [KT]
A while ago, Dr_No sent in a lovely photo that kind of fits my mood this week: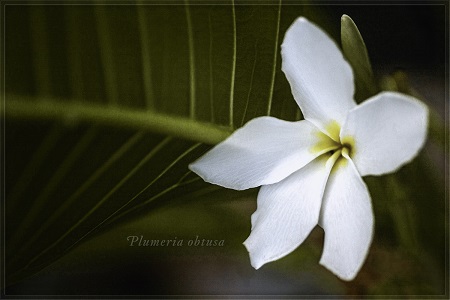 I always look forward to the Garden Thread even tho' I no longer actively garden since I rent instead of own these days. I'm a photographer and graphic designer, and since I can't grow my own plants in this gated community, I photograph those in my area (outside the central city zone of Memphis, TN). The image [above] is of the Plumeria obtusa, a/k/a the 'Singapore Graveyard Flower' and 'Hawaiian Lei Flower' (among other nics).

I find the floral goodness at a local nursery, and have lurked there taking photos of their stock ever since moving to the area after H. Katrina in '05. Memphis isn't too bad for a native N'Awlins boy - they're both river cities, right ...? Country Gardens Nursery's a great place for imaging flowers, and its staff always helps with the floral identification, so there's that, too. . .
Right now, this flower reminds me of my uncle, a WWII Veteran who died on the Fourth of July. He got to do one of those Honor Flights a couple of years ago. He loved parties and looked really natural in a Hawaiian shirt and a lei. Though he would probably have looked pretty natural visiting a graveyard in Singapore, too. He had some acquaintance with graveyards. Though probably not with vampiric ghosts. Thanks for the floral remembrance, Dr_No.
I had a Plumeria for a while in Southern California. Got a few blooms. Sometimes got fallen leaves when I didn't think I should get fallen leaves. Anyone out there grow Plumarias? They are members of the Dogbane family, related to milkweed and natal plum. They are most fragrant at night, tricking sphinx moths into pollinating them without offering nectar in return.
According to Sunset, those short cuttings you buy in Hawaii on vacation are not a very good bet for survival on the mainland. Might want to go with an established plant. Buy it in summer. If you want to try growing this tropical plant in a temperate climate, wintering it indoors, there are now several dwarf selections.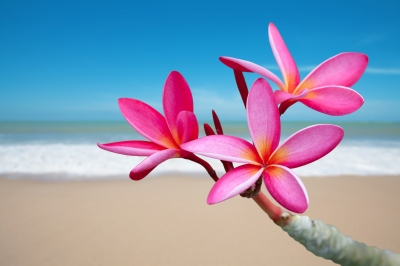 There are many species of Plumeria, all native to the tropical regions of the New World. Some are widely naturalized in Asia and Polynesia and have become part of the local cultures. The species in the photograph above is very tender. Plumeria rubra is hardy enough to grow in the low and intermediate desert with some protection.
Japanese Skinny House and Garden
This week, Ace posted a piece on the rather precipitous drop in the Japanese birthrate, partly because young people are abstaining from sex and avoiding romantic relationships. Whatever cultural forces are contributing to the reduction in family formation in Japan, the government does not seem to be helping with some of its public policies.
Even if there isn't much room for kids, Japanese people usually find a way to fit in some plants. One way the government discourages family formation:
Inheritance taxes on land in Japan means plots often get smaller as they are passed on. This "divide and sell" phenomenon in Tokyo translates into some very tiny home sites. When architects Masahiro and Mao Harada were tasked with creating a home on a lot only 2 meters (6.5 feet) wide at its narrowest point, they chose to interpret small as "near" and use the small scale to their advantage.
If you have height restrictions on your house, you can partially sink your lower level, so you can feel "like and insect" when you look out into the garden.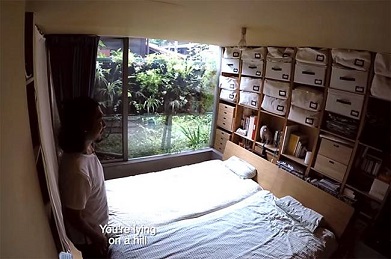 Sunken bedroom (to accommodate height restrictions)
In the widest part of the lot, a view of treetops really opens things up. This house was build without heavy equipment, with "impermanent" materials, partly because building codes change so fast that you never know when you will need to remodel.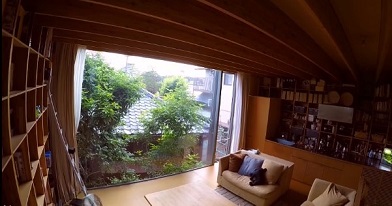 Living room/kitchen combo
Insect Corner
Japanese people sometimes keep crickets as pets, for good luck.
Mr. Bar-the-Door has asked for advice on getting rid of ants and checking for termites. Anything new out there?
Gardens of The Horde (and their neighbors)
Weather continues to be a big factor in the garden here in the San Joaquin Valley. It has been very hot. Keeping some plants alive. But to our southeast, this is what threatens the ranch of one of CaliGirl's friends. We are getting smoke from this and other fires. Last I read, there were 40 wildfires across the western USA and Canada. Might be more now: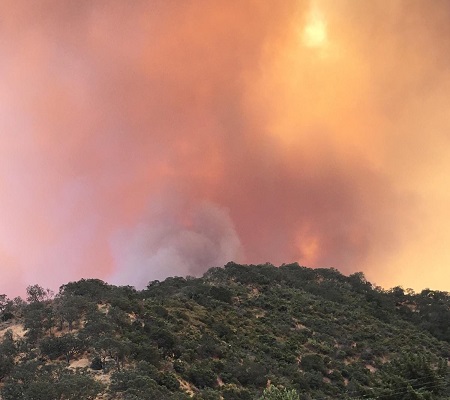 Meanwhile, a giant sinkhole has opened in a Florida neighborhood. It has swallowed two homes and gardens, and threatens more. And there seems to be a big storm system developing off the coast.
How's the weather treating you and your garden? You doing anything fun? Had a harvest?
If you would like to send information and/or photos for the Saturday Gardening Thread, the address is:
ktinthegarden
at g mail dot com
Include your nic unless you want to be a lurker.


posted by Open Blogger at
12:35 PM
|
Access Comments