« How Dumb Are The Democrats That They Make Megan McCain A Voice Of Reason?
|
Main
|
The Art of the Political Nickname (MJ) »
June 18, 2017
Food Thread: Blades...Sharp, Not-So-Sharp, And Duller Than Kamala Harris

This is the knife I use probably 90% of the time, for chopping and paring and mincing and trimming and even carving. Why not use specialty knives instead of a run-of-the-mill small chef's knife? Well, it fits my hand perfectly, is the perfect weight, and since I smoothed the back of it (at your urging) I don't even abrade my fingers! And it's really sharp. or was for a few years. But my daily steeling and monthly sharpening gradually dulled the knife. So slowly that I didn't notice.
But I finally realized that it was not cutting it (Damn...what a wit!) so I took it to a professional knife sharpener who returned it to its former glory, and even sharpened my pocket knife for free.
$5 and it's razor sharp. So sharp that if I use a bit too much force it cuts into the cutting board. I like that....
What's your favorite knife? And are you a talented enough sharpener that it is as sharp as when you bought it?
******
Here is far, far more than you would ever dream of knowing or would want to know...about soybeans,
A Giant-Sized History of Soybeans ( Vol.8 ) - The Complete History
******
From OregonMuse, a reminder that Hipsters are really, really, really bad for the world.
24 Of The Worst Things Hipsters Did To Food In 2016
Although this one gave me a chuckle.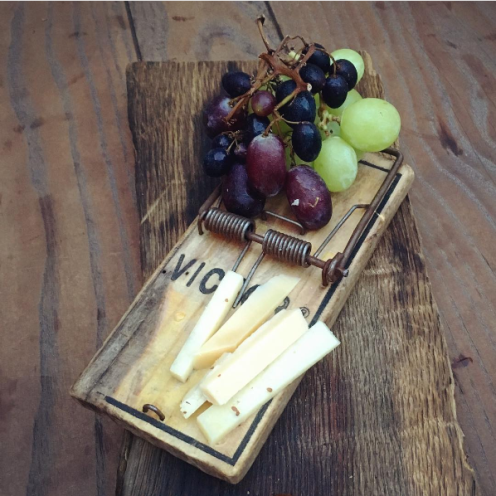 ******
Commenter "ETF3" gave me a heads-up about David Liebovitz's
My Paris Kitchen
that was on sale for the Kindle. As is sometimes the case, a simple note expanded into an interesting discussion.
Hope all is well. Quick heads up relative to the food thread. David Lebovitz's cookbook "My Paris Kitchen" is on sale at the moment for $2.99 for the kindle version at Amazon. I have it in hardcover as a cookbook should be. It's not essential but I enjoy it and view it as a nice part of my overall French cooking collection (I've certainly got worse, regrettably). I like his website and ignore his politics. It is one of those cookbooks that if you don't already have it, grab it for $3 on kindle and give it a test drive. Alert the moron horde if you see fit. We should let the other cooks know when we find such bargains. [ETF3]
That's an excellent point, and one that has kept me from building a large collection of electronic cookbooks. Cookbooks are not simply repositories of cooking instructions. They are mazes where the perfect dinner is just a turn of the page away. How does one browse a Kindle book?
As for the politics?

Liebovitz is a solid chef, and while his writing is pleasant, I can't seem to avoid irritation at his gratuitous mentions of his boyfriend or the silly political commentary. He thinks he is clever, but really, it's just obnoxious. [CBD]
Chefs are like actors; dancing monkeys with a particular skill-set. When I want to hear their political philosophy, I'll ask. In the meantime, just shut up and cook.
I entirely agree in regards to Liebovitz's irritating comments but I just tune it out to get the good stuff he has. That seems to be be life of a conservative in many respects.

I really only like hardcover cookbooks. I have a few softcover and they disappoint me, not necessarily for the recipes but for the wear and tear in use. I have a couple of kindle cookbooks but honestly no matter how good they are they get relegated to the forgotten. My favorite cookbooks are The Bread Bakers Apprentice and virtually anything by Julia Child. I've spoiled the kids and they now have a pronounced preference for home cooked bread and birthday cakes made by dad. Worse things have happened. [ETF3]
Oh...in addition to his children enjoying good food, they can shoot, as some of you may remember from
a Gun Thread late last year.
******
Artisanal'ette sent me this photo of her obviously successful attempt at
Silver Palate Molasses Cookies
.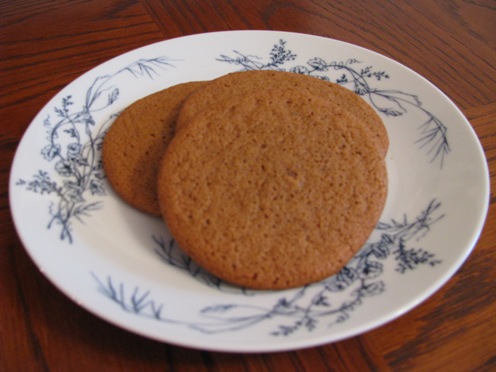 A good molasses cookie is a fine thing, but most of the ones I have had have been too sweet and too mild. I really like the pop of the spices and the tang of the molasses.
******
Weasel and Bluebell are spearheading the Moron Cookbook project, and they, and the other intrepid and deluded members of the team, deserve our thanks. It is a lot of work, especially since you Morons are...um...morons....and can't spell. Or write. By the way, in my submission I misspelled "CBD." Really.
And don't forget that you can submit your favorite recipes even if they are shamelessly and brazenly plagiarized from someone else: just tell them where you got the recipe and they can do the rest. Remember, originality is overrated. Head over to moroncookbook.com and submit!
This is an impressive project, and I would like to thank everyone involved. Even ignoring the the reality that getting The Horde to act in concert is like herding cats, it is a huge amount of work being done by people who have actual lives outside of AoSHQ.
PS. My only involvement is the easy part....mentioning it in the Food Thread. And misspelling my nic.
PPS. Weasel would like you to remember to ENABLE JAVASCRIPT when you submit recipes on the website.
PPPS. A special thanks to Bluebell....

******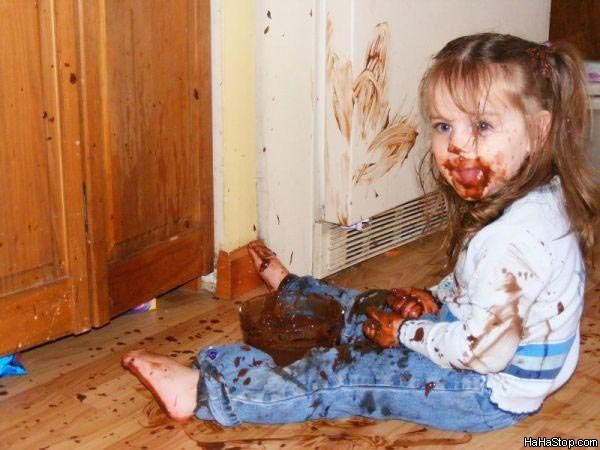 That's pretty much what I look like after I dip caramels into chocolate. Only taller. And older. And fatter. And maler.
I love the seemingly simple and straightforward process that this recipe describes. It sounds so easy!
CHOCOLATE COVERED CARAMELS
INGREDIENTS:
CARAMELS
1 cup butter
2 1/4 cups brown sugar
1 cup light corn syrup
1 (14 ounce) can sweetened condensed milk
1 teaspoon vanilla extract
CHOCOLATE
1 pound bittersweet chocolate
1 tablespoon butter
DIRECTIONS:
Grease an 8 x 8 inch square pan.
In a heavy 4 quart saucepan melt butter over medium heat; add brown sugar, corn syrup and milk. Stirring constantly, heat to 242° F, or until a small amount of syrup dropped into cold water forms a firm but pliable ball. Remove from heat and stir in vanilla extract. Pour into prepared pan.
When caramel has cooled and set, cut into ¾ inch squares. Chill in refrigerator until firm.
Melt chocolate with 1 tablespoon butter in the top of a double boiler or in a bowl in the microwave. Do not overheat. Stir until smooth.
Dip caramel squares in chocolate and place on wax paper to cool.

******
Food tips, extra Pappy van Winkle bourbon, fresh Morels and other goodies:
cbd dot aoshq at gmail dot com

posted by CBD at
04:00 PM
|
Access Comments