« Ace of Spades Pet Thread
|
Main
|
Saturday Evening Movie Thread 04-29-2017 [Hosted By: TheJamesMadison] »
April 29, 2017
Saturday Afternoon Chess/Open Thread 04-29-2017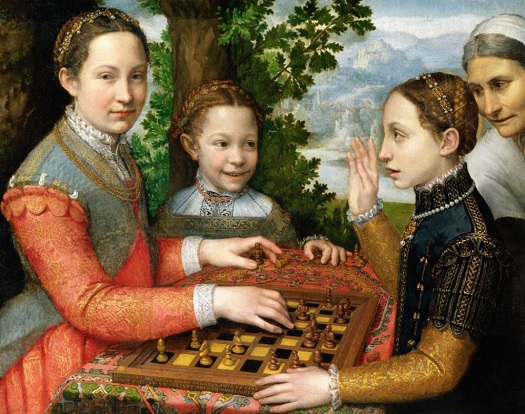 The Chess Game
Sofonisba Anguissola, 1555

Good afternoon morons and moronettes, and welcome to the Saturday Afternoon Chess/Open Thread, the only AoSHQ thread with content specifically for all of us chess nerds who pay homage in the temple of Caïssa, goddess of the chessboard. And, for those of you who aren't nerdly enough for chess, you can use this thread to talk about checkers, or other games, or politics, or whatever you wish, only please try to keep it civil. Nobody wants to get in the middle of a pie fight on a Saturday afternoon.
"The essence of Chess is thinking about what Chess is"
David Bronstein

Pic Note
According the wiki entry, depicted here are the artist's sisters. And no fair complaining about the chessboard being set up wrong. I don't think the "lower right corner square must be white" rule was in effect at this early date. Matter of fact, I don't think I've seen any instances of this rule prior to the 19th century.

Problem 1 - Black To Play (474)
Hint: Black wins material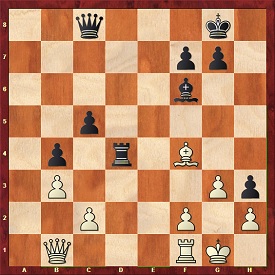 2q3k1/5pp1/5b2/2p5/1p1r1B2/1P4Pp/2P2P1P/1Q3RK1 b - - 0 1


Problem 2 - Black To Play (BWTC 207)
Hint: Black mates in 3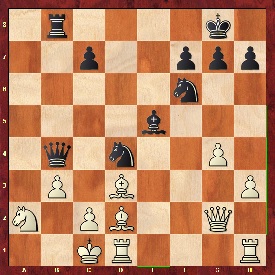 1r4k1/2p2ppp/5n2/4b3/1q1n2P1/1P1B3P/N1PB2Q1/2KR3R b - - 0 1



Outdoor Chess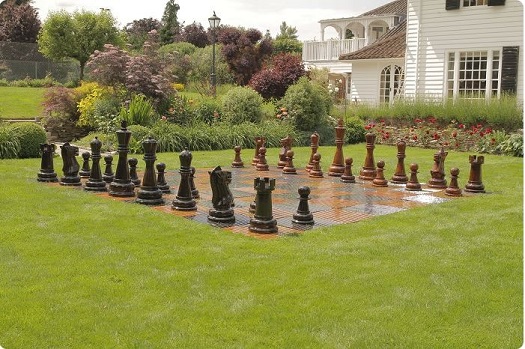 Most of the giant, oversized outdoor chess sets I've seen are made of cheap plastic and cost $250-$500. But the pieces in the pic are made of teak.
According to a British outdoor game site that sells them:
These magnificent Mega Chess Pieces are hand crafted in Indonesia - and made from prized sustainable teak. Individually carved and polished, the chess pieces together make an exquisitely presented chess set oozing elegance and sophistication.

The teak used to craft the Mega Chess Pieces is among the finest in the world. The long process of drying and curing this unrivalled wood ensures that it is exceptionally durable and water-resistant, suitable for year round outdoor use. The oily nature of the wood also ensures it maintains a constant sheen. Each piece is sculpted by the most talented artisans – providing you with a chess set of the highest quality.
The kings weigh approximately 40 lbs., and the knights, 30 lbs. Your arms might be aching at the end of the game. At least I know mine would be.
The listed price for the pieces and the playing surface is £4000. Not cheap.

Problem 3 - White To Play (473)
Black's kingside defenses are gone. How fast can you FINISH HIM?
Hint: White can mate Black in 5 moves at the latest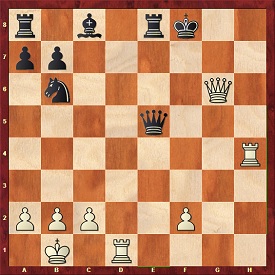 r1b1rk2/pp6/1n4Q1/4q3/7R/8/PPP2P2/1K1R4 w - - 0 1


Problem 4 - Black To Play (352)
Hint: Black mates in 6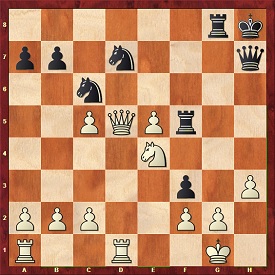 6rk/pp1n3q/2n5/2PQPr2/4N3/5p1P/PPP2PP1/R2R2K1 b - - 0 1



Endgame of the Week (451)
It's White's move. Can he do anything about that passed pawn on the h-file?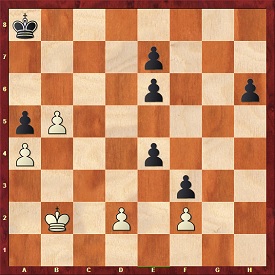 k7/4p3/4p2p/pP6/P3p3/5p2/1K1P1P2/8 w - - 0 1



___________
Solutions Update
Problem 1 - Black To Play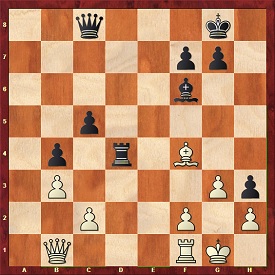 2q3k1/5pp1/5b2/2p5/1p1r1B2/1P4Pp/2P2P1P/1Q3RK1 b - - 0 1


1...Rxf4!
White's bishop really isn't protected by the pawn on g3. Because if 2.gxf4 then Qg4+ 3.Kh1 Qg2#
And if you saw this, consider the problem solved. Extra credit if you explored how Black could continue the attack. You might have seen that White is forced to do something like
2.f3
This clogs up the a8-h1 diagonal and protects g2, which, thanks to the pawn on h3, is a yuuge weakness for White. But even with this defense, White's game quickly falls apart. A typical continuation might be something like:
2...Bd4+
3.Kh1 Qc6
4.gxf4 Qg6
Threatening Qg2#. The rook sac on the previous move opened up the g-file to make this threat possible. But White can still fight.

5.Rg1 Bxg1
6.Qxg1 Qxc2
7.Qf1 Qg2+
8.Qxg2 hxg2+
9.Kxg2 c4
10.bxc4 b3
And the pawn cannot be stopped. But you didn't need to see all of this in order to solve the problem. If you saw that Black wins the bishop, that's good enough.
Problem 2 - Black To Play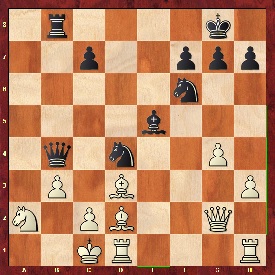 1r4k1/2p2ppp/5n2/4b3/1q1n2P1/1P1B3P/N1PB2Q1/2KR3R b - - 0 1


1...Nxb3+
2.cxb3
Or 2.Kb1 Nxd2+ 3.Kc1 Bb2#
2...Qa3+
3.Kc2 Qb2#
Or, this completely other line found by moron commenter rickl also works:
1...Ne2+ 2.Kb1
If 2.Qxe2 or 2.Bxe2 then 2...Qa3+ 3.Kb1 Qb2#
2...Qxb3+
3.cxb3 Rxb3+
4.Kc2 Rb2#

Problem 3- White To Play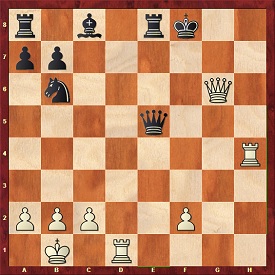 r1b1rk2/pp6/1n4Q1/4q3/7R/8/PPP2P2/1K1R4 w - - 0 1


1.Rh7!
Threatening Qf7#
1...Be6
Completely inadequate is 1...Qe6 2.Qg7#
1...Re7 is not much better: 2.Rd8+ Re8 3.Qf7#
2.Qh6+ Kg8
3.Rg1+ Qg3
4.Rxg3+ Bg4
5.Rxg4#
Or 5.Qg7# works just as well.

Problem 4 - Black To Play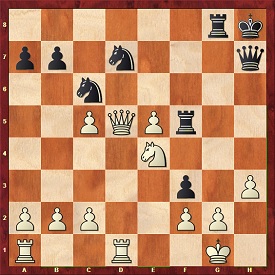 6rk/pp1n3q/2n5/2PQPr2/4N3/5p1P/PPP2PP1/R2R2K1 b - - 0 1


Sometimes, you just have to bust up the position. Like this:
1...Rxg2+!
To which White only has two responses.
2.Kf1
If 2.Kh1?? then Qxh3#
2...Rg1+
Not good enough is 2...Qxh3 3.Ke1 Qh1+ 4.Kd2 and White escapes.
3.Kxg1 Qxh3
And now the threat Qg2# is unstoppable. All White can do is throw nuisance checks, hoping he can make something happen. Sometimes this can work -- but not this time:

4.Qg8+ Kxg8
5.Nf6+ Rxf6
6.exf6 Qg2#

Endgame of the Week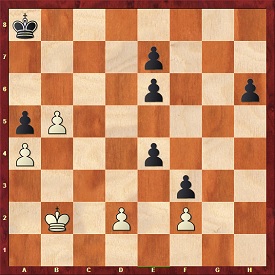 k7/4p3/4p2p/pP6/P3p3/5p2/1K1P1P2/8 w - - 0 1


1. Kc3 e5!
Black's pawn is not fast enough to escape: 1...h5 2.Kd4 h4 3.Kxe4 h3 4.Kxf3 h2 5.Kg2 and wins. So Black's move is an attempt to throw up an impassible obstacle.
2.Kc4 e6
3.Kc5 h5
4.Kd6 Kb7
Black's king was in danger of being trapped, i.e. 4...h4 5.Kc7 h3 6.b6 h2 7.b7+ Ka7
8.b8=Q+ Ka6 9.Qb6#
5.Kxe5 and wins
Be careful to take the right pawn. If 5.Kxe6 then h4 6.Kf5 h3 and Black's pawn can't be caught.
Hope to see you all next week!
___________
Note: that cryptic line of letters and numbers you see underneath each board diagram is a representation of the position in what is known as "Forsyth-Edwards Notation", or F.E.N. It's actually readable by humans. Most computer applications nowadays can read FEN, so those of you who may want to study the position, you can copy the line of FEN and paste into your chess app and it should automatically recreate the position on its display board. Or, Windows users can just "triple click" on it and the entire line will be highlighted so you can copy and past it into your chess app.
___________
So that about wraps it up for this week. Chess thread tips, suggestions, bribes, rumors, threats, and insults may be sent to my yahoo address: OregonMuse little-a-in-a-circle yahoo dott com.

posted by OregonMuse at
05:05 PM
|
Access Comments