Intermarkets' Privacy Policy
Support
Donate to Ace of Spades HQ!
Recent Entries
Absent Friends

westminsterdogshow 2023
Ann Wilson(Empire1) 2022
Dave In Texas 2022
Jesse in D.C. 2022
OregonMuse 2022
redc1c4 2021
Tami 2021
Chavez the Hugo 2020
Ibguy 2020
Rickl 2019
Joffen 2014
AoSHQ Writers Group

A site for members of the Horde to post their stories seeking beta readers, editing help, brainstorming, and story ideas. Also to share links to potential publishing outlets, writing help sites, and videos posting tips to get published.
Contact OrangeEnt for info
Cutting The Cord And Email Security

Moron Meet-Ups

« Two Progs Have Spat Over White Privilege and Hair-Shaming
|
Main
|
Movie Review: The Wrecking Crew [Warden] »
April 12, 2017
The Continuing Saga of the Crappy Airline and the Doctor Who Was a Jackass
You're all probably all pretty tired of the United story by now, but that's not going to stop me from doing another post on it.
#2 son worked for several years as a "ramp agent" at our local airport. Ramp agents are airline grunt workers. They check passengers in, check baggage, wave planes into the gate with flashlights, clean up the passenger areas of the plane between flights, etc.
Coincidentally, he worked for United.
I asked him for his take on the United brouhaha. This is what he said:
Let me preface this by saying that I think United is a pretty terrible airline, and that their customer service practices are lacking. That aside, let's take a look at the facts.

According to what I've read, United customer service went on the plane for an overbooked flight after it was completely boarded (minus four United crew members, who needed to be in Louisville to fly another flight.) The boarding agents offered a $400 ticket voucher to get volunteers to stay behind, and then raised the incentive to $800. Still no one came forward. Instead of raising the incentive further, they apparently made the decision to just remove people from the flight to make room ("involuntary denied boarding"). Three people left the plane calmly, and the fourth (Dr. David Dao, the subject of the video) refused profusely.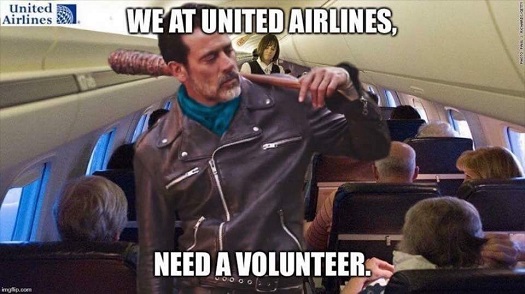 At this point I'd like to point out that United had done little to nothing wrong in terms of the law and their own Contract of Carriage (i.e. the contract you agree to when you purchase a ticket.) They're allowed to overbook their flights and they're also allowed to kick off pretty much whomever they want to make room. The law states that the airline must solicit volunteers to take another flight (which they did), after which they can start involuntarily denying boarding to passengers. It's also my understanding that "denied boarding" can even occur after the plane is physically boarded. The FAA itself uses the term interchangeably with "being denied a reserved seat", so the Internet commentator buffoons thinking he's somehow "safe" because he's already physically in his seat are pretty much wrong. Passengers get removed from flights after they are boarded all the time, and it's never a pleasant situation to deal with.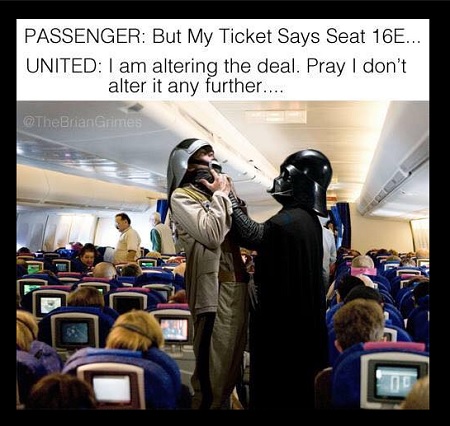 So, we are left with Dr. Dao sitting in his seat and refusing to move. According to the reports, the customer service agents again asked him multiple times to leave the plane. When he refused, they called airport security to remove him. The end result of this is what we see in the video.

Now, is United directly to blame for this? Let's take a look at what they did wrong.

First, they should have never boarded the plane completely if they knew the flight was overbooked in the first place. Solicitations for volunteers, and denial of boarding (if necessary) should have been completed prior.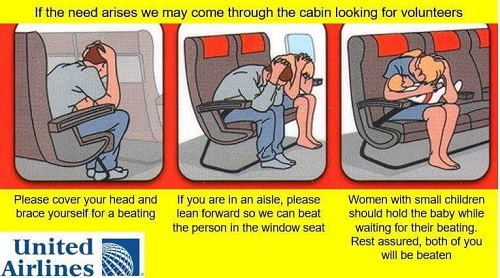 Secondly, if they failed to find volunteers at first, they should have increased the incentive to entice people further. I forget what the maximum they can offer is, but it's more than $800. Keep in mind that this is a ticket voucher, not cash. However, if you are denied boarding involuntarily, you are by law entitled to a cash payout based on a multiplier of your ticket price. So it's typically a lot cheaper for the airline to give travel credit versus paying cash.

My somewhat controversial opinion on this whole matter is that United has little to no legal or contractual responsibility for what happened to Dr. Dao. Instead, it is Dr. Dao's own fault for refusing to leave even when the airline had the every right to remove him, and the law enforcement/security officers should be under investigation for the level of force that was used.

Now, customer service-wise, United could have done much, much better. But saying that poor customer service is to blame for the result of someone refusing to comply with law enforcement is a jump I'm not willing to take. Did the officers use too much force? Probably, but we can be pretty sure that the United employees didn't say 'Hey, we've got a difficult passenger that needs to be taken off this flight. Can you go rough him up a bit?'

Then, of course, every insignificant detail becomes fuel for the fire that people are trying to burn United at the stake with. Apparently he claimed that he had to get home so he could see patients in the morning. Sorry, airlines don't take into account your personal life when they're bumping you off a flight. Now there are even allegations that he was chosen to be removed from the flight because he's Asian. Nonsense.

I don't particularly like the concept of overbooking, but it's not like the airlines try to keep it a secret. At the end of the day, it's the passenger's responsibility to read the contract they are agreeing to when they buy a ticket. People spend hundreds, thousands of dollars sometimes on tickets but apparently can't be bothered to read the fine print and understand what the airline can do.

And, if a law enforcement officer tells you to leave a plane, you should probably leave the plane.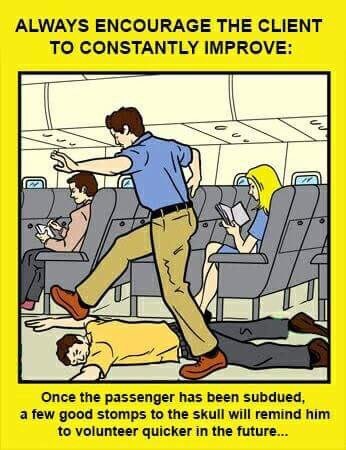 posted by OregonMuse at
07:55 PM
|
Access Comments
Recent Comments
Recent Entries
Search
Polls! Polls! Polls!
Frequently Asked Questions
The (Almost) Complete Paul Anka Integrity Kick
Top Top Tens
Greatest Hitjobs