« Thread below the Gardening Thread: Taxing [KT]
|
Main
|
Ace of Spades Pet Thread »
April 15, 2017
Saturday Gardening Thread: Easter Treats [KT]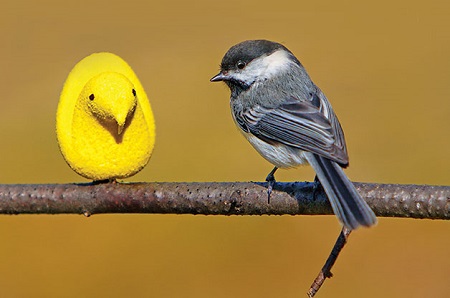 Caption Contest
Easter Garden Treats for Birds
Want some birds twittering in the yard on Easter? I don't think that Peeps are exactly the best treat for birds. But here is a list of Ten Weird Things to feed birds, with Road Kill at number 10. Grape jelly is in there, too.
Grape jelly is favored by woodpeckers, orioles, tanagers, and others. We usually offer a spoonful in a shallow dish or jar lid. The sugar content in the jelly makes it a high-energy food for feeder birds. Just don't overdo it.
Tip: Most grape jelly is not artificially colored. If yours is, buy a different brand, or grow some grapes and make your own. Trivia: Geese do not like artifical grape flavor.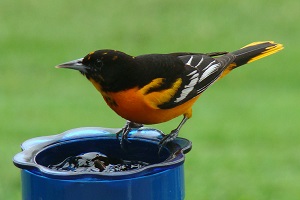 Baltimore Oriole eating grape jelly
Since you are feeding them, maybe you could train some of your feathered visitors to recognize human language. The bird knows a word.
Easter Garden Treats for People
When I was growing up, we often had peas and new potatoes for Easter dinner. Not necessarily from the garden. But often with fresh-shelled peas. Here's a recipe for peas with lemon, mint and scallions.
I didn't grow peas this year, but I love them raw from the garden. I prefer the long-podded varieties like Knight. Do you have a favorite variety of "English peas"?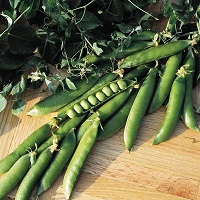 Knight
Are you serving anything from the garden on Easter? I'm thinking asparagus, leafy greens or strawberries, maybe.
Gardens of The Horde
Wisterias
Starting off the Gardens of the Horde segment today, we have a beautiful Wisteria photo. So this seems like a good time to discuss this plant genus.
California Girl (not CaliGirl) writes:
This is my wisteria that is blooming now in my backyard. I don't have a green thumb, but I truly enjoy the gardening thread. This wisteria will bloom multiple times this summer. I love watching the big, black carpenter bees come to visit it.

I have two plants. One is on an arbor; the other has grown around a post of our patio. We have to trim them back severely every season.
Looks to me like California Girl's thumb is plenty green enough to grow beautiful Wisterias.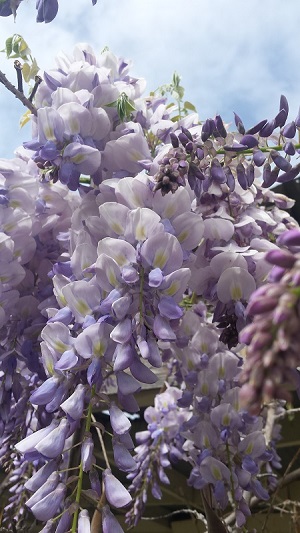 Thanks for the great close-up, California Girl. I have been thinking about wisteria lately because a gardening friend mentioned a huge wisteria covering an outdoor dining area at the Court of the Two Sisters in the French Quarter of New Orleans. It was not blooming when she visited before Mardi Gras, but she was still impressed.
More recently, two spectacular wisterias have bloomed in our town. One is a free-standing tree form specimen in front of a historic home, likely staked as a standard when it was young. It is about 10 feet tall. The other is running along the top rail of a low chain link fence in front of an ordinary tract home. It is in shade most of the year. Most species of Wisteria prefer full sun.
I like that California Girl gets repeat bloom on her Wisterias. I think they are Chinese Wisteria (Wisteria sinesis), like the ones in our town. Chinese wisteria starts blooming before it leafs out and it will take considerable shade. There are two common cultivars that provide some repeat bloom in summer. Prolific blooms young. Cooke's Special has longer racemes. Drought tolerant. Here it is covering an outdoor dining area. This cultivar was released years ago by L.E. Cooke Nursery, not far from where we live.
Japanese Wisteria (W. floribunda) comes in a wider color range. Most cultivars have long flower clusters (up to a meter in one) that begin blooming at the top, with lower blossoms opening to prolong the bloom. Cultivars come in shades of pink, violet and white. Japanese Wisteria looks great on an overhead structure. No repeat bloom, generally. I like the pink sky in this photo.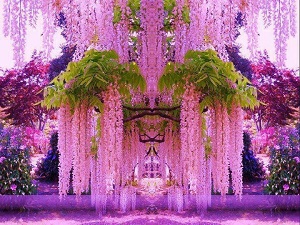 Silky Wisteria (W. brachybotrys or W. venusta) has shorter flower clusters (on most cultivars) and is very fragrant. Older plants bloom profusely, all at once. It is spectacular against a wall or as a standard. Its primary color is white, but cultivars and hybrids also come in pink and purple shades.
It pays to do your homework before planting Wisteria. Seedlings may not bloom for 10 to 20 years, and you won't know what the bloom will look like. You need to plan for the size and aggressiveness of your plant.
Here is a guide to choosing the right Wisteria. Cultivars with the strongest fragrances are listed. Look in the sidebar for topics like Wisteria for small gardens, for dramatic flower clusters, for attractive fall foliage, for pergolas, for walls, etc. Sunset has a less complex rundown, with tips on care and pruning.
Southern Living includes cultivars of two less-aggressive American species. These cultivars are new to me. But Japanese and Chinese Wisteria (and their hybrids) are invasive in parts of the country. They can ramble over, and strangle, a lot of other plants. One Chinese Wisteria in Sierra Madre, CA has a stem length of over 450 feet . Wisteria City. There are days when you can walk under the big one.
I guess the more mannerly American species are not real striking in the wild because the blooms are often hidden by leaves. But some of the garden cultivars look pretty nice to me. They bloom only on new wood, so prune after bloom. Some may bloom the first year after planting. Southern Living calls them "not destructive".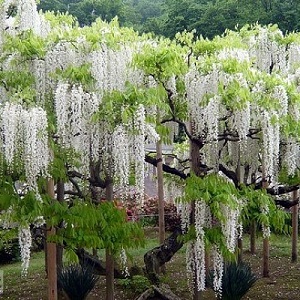 Kentucky Wisteria 'Clara Mack'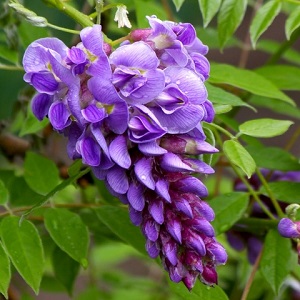 American Wisteria 'Amethyst Falls'
Wisteria is a larval host for several butterflies. Do you have experience growing a Wisteria?
Plants for Ponds
Illiniwek would like some ideas for plants around his pond. He is interested in plants that are deer-resistant and low-maintenance. He would also like to add some winter interest. I think he lives in Hardiness Zone 6a. You can see the pond below as it looked a couple of weeks ago, along with some cheerful blossoms from spring bulbs that wild critters did not eat.
About 20 orange day lilies are in the deadish area across the pond. I tried some aspens over there that got chomped too many times to survive.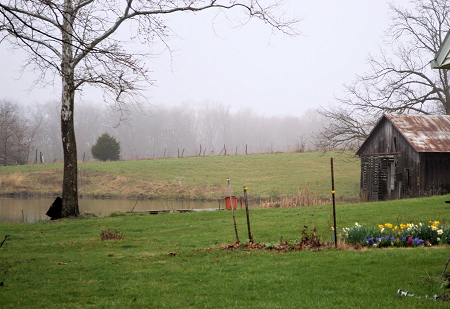 Flowers in the Mist
I am preparing to go off on a tangent concerning a "mystery plant" by Illiniwek's pond. There is not enough room for the tangent in today's thread. So how about we concentrate on the "deadish area" where orange daylilies will be coming up later?
Maybe I'm wrong, but I suspect that those are running rather than clumping daylilies. The running kind tend to crowd out things planted between them, so neighbors to the daylilies should probably be tough. How about a nice hardy hibiscus like bright red Robert Fleming? (Nice profile of the Nebraskan breeders at the link). This cultivar needs moist soil. Maybe it could go in front of Blue River II. For members of The Horde without a pond, Robert Fleming is said to be the best of the hardy hibiscus for containers. Maybe a self-watering container.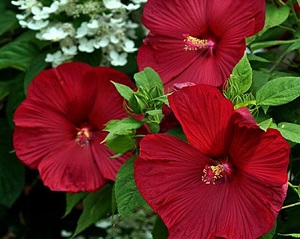 Closer to the water by Illiniwek's pond, Asclepias incarnata 'Ice Ballet', a white version of Swamp Milkweed, could attract butterflies. Flowers are described as good for cutting, smelling like vanilla. You may need to flame the ends of the stems to keep the latex from leaking out. This species doesn't send out runners like the aggressive common milkweed.
And then there are the water irises - Japanese, Siberian, various American natives, etc.
Does anyone else have an idea for the edge of that pond?
Wild Iris
The Iris below, photographed by Kindltot, is not a Water Iris for a pond. But I really like it.
This one is called Oregon Iris, Iris tenax. It doesn't have a beard like the domestic iris. It is also quite short, usually they are at best ankle-high.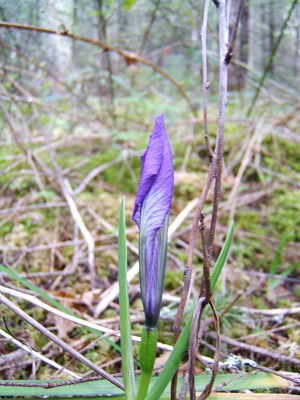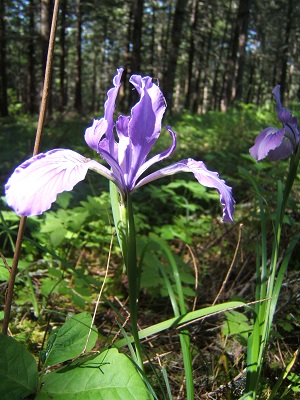 They are pretty flowers and found in open ground and in the woods. You will notice that the one that is open is snuggled up with a very young poison oak seedling.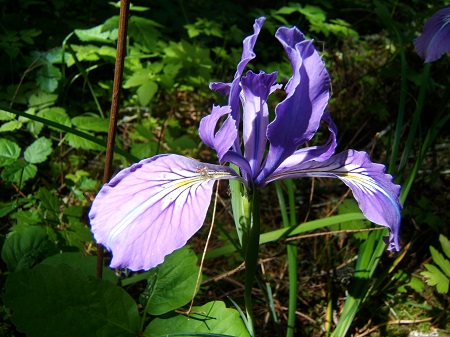 'Tenax' means "tough" or "tenaceous". The leaves can be used for cordage. Beautiful and tough, too. I'm glad you know what poison oak seedlings look like, Kindltot.
Garden Updates
Here in the San Joaquin Valley, our English Roses are looking good. It has been cool, with a little rain. We are still busy with weed control. Our neighbor (from Texas) did not plant blackeyed peas or cream peas on Good Friday according to her standard practice. But she's 97 now. Maybe I need to plant some for her. Anything new going on in your garden? Planting? Harvesting?
Have a great week. A bunny showed up in the comments a while ago. Expecting a bunny in your garden soon? Happy Easter.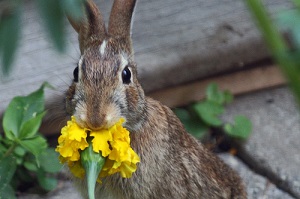 If you would like to send information and/or photos for the Saturday Gardening Thread, the address is:
ktinthegarden
at g mail dot com
Include your nic unless you want to be a lurker.

posted by Open Blogger at
12:03 PM
|
Access Comments