« Food Thread: Martinis: Are They Like Sex? Is A Bad Martini Better Than No Martini At All?
|
Main
|
2020: The Race for the White House (MJ) »
April 02, 2017
Guest Post: A Ham Radio Primer (Hogmartin)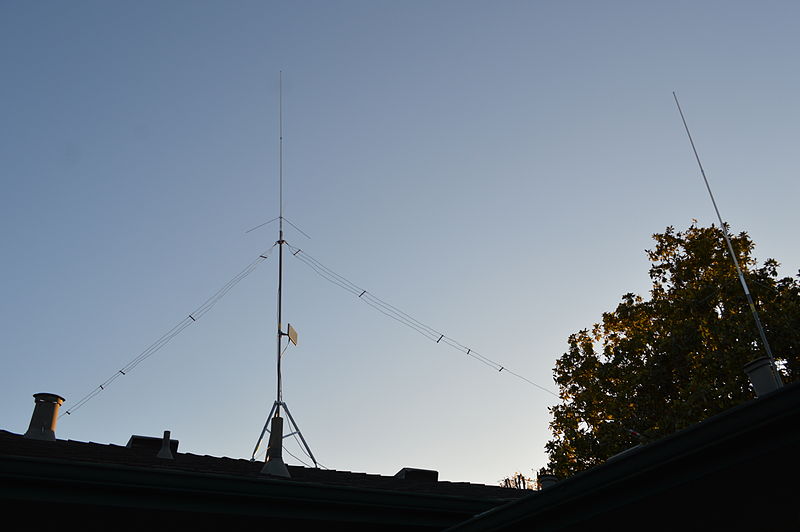 If you can pick up your phone and speak or text with anyone in the world, or Facebook or tweet or - dare I say - chat with your imaginary friends in little gray boxes - why would you get into amateur radio? Isn't that something that 1960s-era Boy Scouts and old men who smell like sardines and stale milk do?
Well, yes, under federal law, all 1960s-era Boy Scouts and old guys who wear meshback baseball caps and photographers' vests are required to be licensed hams. BUT! That's no reason not to check it out. It's absolutely fun on a bun, the equipment cost and knowledge needed to get started are probably less than you think, and it can come in handy when the phone lines and cable get knocked out by a disaster.
WHAT DO I DO WITH IT?
Local chat There are tons of VHF/UHF repeaters all over the US. There might be a morning coffee commute net that you can BS with on your way to work. There's probably a local ARRL radiogram net where you can copy relayed messages and deliver "HELLO IT'S UR BURFDAY" notes or whatever, and practice copying radiograms in case there's ever a natural disaster. There's a Ladies' Teatime net here that allows guys to check in and say hi, but goes ladies-only for a round-robin discussion on Tuesday nights.
Tuning and contacting distant stations I've sat in my bathrobe in Michigan with two feet of snow outside, sharing coffee with a guy in Puerto Rico in mixed Spanish and English. This is my favorite part of ham radio - yes, I could have just picked up the phone called some random guy in Puerto Rico, but there's nothing like broadcasting and hearing a reply from hundreds of miles away. I could visit the website or tweet to the Mighty Eighth museum in Savannah GA, but talking over the air to WWII veterans in the B-17 City of Savannah (station WW2COS) on the 20 meter band on June 6 is a lot more likely to get me to make little fists with my toes and do the Snoopy dance.
Disaster relief You can practice copying radiograms on the local net, and choose to volunteer if there's a natural disaster. When there's a flood or tornado and the power goes out, cell phone towers go out too. Volunteer hams with ARES, RACES, and SATERN keep communication going for relief agencies, and volunteers also help at events like marathons. When the April 2015 earthquake hit Nepal, hams from India went to assist and help survivors communicate with the outside world.
Everything else You can bounce signals off the moon or even meteor showers(!), talk to the ISS, broadcast images, use digital modes (IRC chat via radio), or just string up an antenna while you're camping in the Rockies and talk with someone across a continent.
LICENSING
You don't need to know Morse code. Lots of people still learn it, and it's still used today, but it hasn't been required for a license in years in the US.
There are 3 license levels:
Technician Limits you to mostly VHF/UHF bands, with some HF (long distance) privileges. A good place to get your feet wet and learn the courtesies and etiquette of discussing your diabetes and hip surgery with total strangers within FCC rules.
General Broadens up your HF privileges a lot, lets you make some more distant contacts. Not much harder than the Technician exam.
Amateur Extra Gives you access to any band, mode, and power level the FCC grants. The exam is harder than the others.
If you know basic electronics and can do some arithmetic, the first two aren't that hard. If you don't, they're easy enough to study for. You only need to score 70% on a multiple-choice exam. I waited until I could consistently get a 95% on a practice exam, which was probably overkill. The exams are conducted by volunteer examiners who are also hams. You can find out when and where right here.
Two resources I found helpful were these practice exams and the Gordon West books. It's usually $15 to sit the exam, but if you pass Technician, you can take General and Extra in the same session, no extra fee. It's not at all uncommon for someone to knock them all out in one session before lunch.
Once you've passed your exam, the examiners will file it off to the FCC, then you wait (usually about two weeks) until your name shows up in the FCC online database. Congratulations! You now have a call sign! Get on the air!
GEAR
This is a pretty cool time to be hamming. Starter kit is cheap, and high-end stuff is only getting better. There are three basic types of radio, excluding monstrous commercial stuff and the QRP Altoids-tin radios that run off a coin battery; if you decide to get into either, you'll know it.
HTs These are basically like the handheld police radios. They have short rubber duck antennas and transmit at low power, but if you're just getting started, that's not a problem. A lot of beginners have Technician licenses, so you're kind of limited to VHF/UHF anyway. That's fine! The US is dotted with repeaters. My HT doesn't have the range and power to reach my buddy's house, but there's a hospital nearby that we can both reach, and a ham club or relief organization has put a repeater there. If I can hit the repeater, it will blast out my puny signal; likewise, if he is in range, he can hear it and reply through it. You'll learn more about repeaters if you decide to study for your exam.
One thing about HTs: I'd rather have a crap radio with a good antenna than a high-end radio with a crap antenna. An HT with a magmount antenna (like the old car cell phone antennas) sitting on a windowsill, maybe with a trucker-type handheld microphone, is a pretty good home VHF/UHF station.
Mobiles Usually stuck under your car seat with the faceplate remote mounted to your dashboard. More power than an HT, and with the antenna outside the car, better range.
Base stations Anything from a tube-fired boat anchor from a garage sale or hamfest to a modern mobile that sits nicely on your desk to a $2000 monster. Usually about 20x more power than an HT with easier controls, but also requires an external antenna to get it on the air. You might also need things like an antenna tuner as well. This is one of those hobbies where you can get by with a piece of speaker wire across the yard or just go nuts and sink some concrete to put up a tower.
Cheap Chinese radios are becoming popular lately, mostly the Baofeng brand. They're not that great, generally, but overall, I tend to think that a $40 HT that gets someone's foot in the door to give them an idea if it's a hobby that they want to continue with and what they want when they move up to a better radio isn't all bad.

posted by CBD at
06:30 PM
|
Access Comments