« Intersectionality At Its Best (Or Worst): Angela Davis Speech Is sponsored By "Students For Justice In Palestine," "The GW Black Student Union," And "The GW Feminist Student Union"
|
Main
|
Guest Post: A Ham Radio Primer (Hogmartin) »
April 02, 2017
Food Thread: Martinis: Are They Like Sex? Is A Bad Martini Better Than No Martini At All?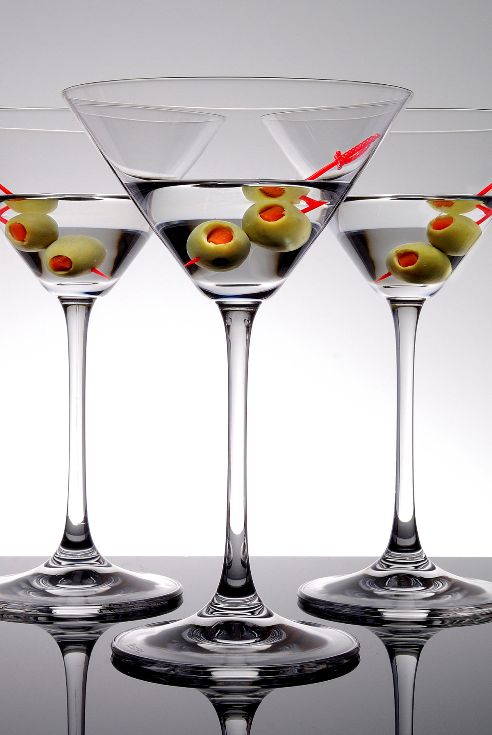 I had a bad martini last evening. How does that happen? Gin, a splash of vermouth, a clean shaker, some clean ice, and a twist of lemon peel. Shake, pour, serve. Does that sound like a complicated recipe? Maybe there was some detergent left over in the glass? Maybe the bartendress used Bombay Sapphire instead of regular old Bombay?
Awful, but I didn't feel comfortable returning it, since I was at a birthday gathering for a friend. I struggled through the drink, but it was difficult. Yeah, I know, life is tough sometimes.
******
Today is the inaugural edition of:
"Liquor Cabinets: A Study By And Of Morons."
Send me photos of your liquor storage system, and I'll post the good ones, and the really awful ones....
Today's entry is concrete girl's rather nice and compact cabinet. Extra credit to the Moron who recognizes the photo on top!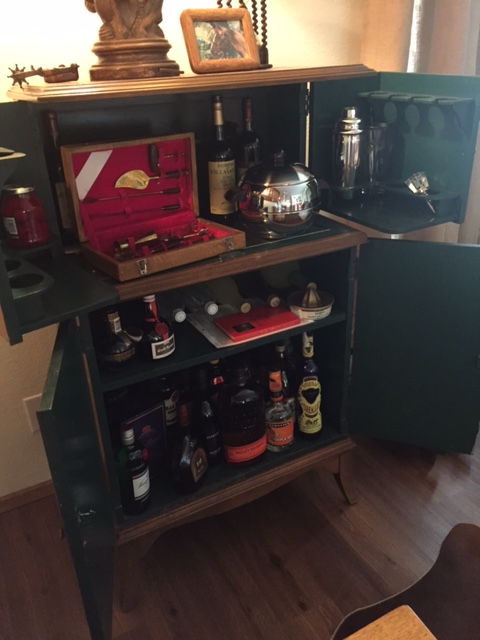 ******
Well, we might as well stick with the topic and hand -- booze -- and allow me a rant about some of the most egregious, heavy-handed, anti-competitive, cronyist behavior that government exhibits: the huge scam that is alcohol licensing and restrictions.
I'm not talking about minimum age requirements; I am referring to the hodgepodge of state and local restrictions on restaurants and bars: hours of operation, number of licenses, who can serve, and a host of other anti-competitive regulations that are designed not for the protection of the consumer, but for the protection of the existing business, and for the deep pocket companies that can afford $1,00,000 liquor licenses.
If Applebees (or any large restaurant) wants to get a liquor license, they can. The parent corporation has enough cash that an insane cost like a liquor license is just the cost of doing business. But if mom and pop want to open a restaurant, they can't possibly afford the additional cost of that license, so they make do with other ways of making a profit. However, food and liquor go hand in hand, and any restaurant without the ability to serve alcohol is starting in a deep hole.
Applebees makes tons of money on their booze. That 12 ounce Budweiser draft costs them about $1...maybe...and that includes the labor and overhead. They get 160 servings from each keg, and I doubt they are paying more than $80. That's a nice markup! And that's how they can charge less for their food.
Oh....do the math on mixed drinks, and some of them have even higher margins. A $10 bottle of vodka, a splash of tonic out of the gun, an eighth of a lime and six ice cubes, and you have a $7 drink that costs them that same $1
After prohibition the states went absolutely bug-fvck crazy with alcohol restrictions, in part in service to deep pockets, in part to cater to those who disagreed with the 21st Amendment. The three-tiered distribution system is patently insane when viewed from an economic perspective, but it sure lined the pockets of the big distributors.
And let's face it, if people want to drink, they will drink. There are countless stories of Russian soldiers drinking perfume, and ask any of our Navy veterans about torpedo fuel. People will make it (bootleggers), drive hundreds of miles for it (yours truly), hoard it, steal it, and however else the ingenuity of Man can create to get booze.
I have never felt particularly constrained by the lack of a bar on every corner and a wine list in every restaurant, but it certainly does constrain commerce. I definitely do not go out to eat as much because of it. There are only a handful of places in my little town that have licenses, but dozens of restaurants, most of which do not get my business because I like to have a cocktail or a beer or a glass of wine with my meal, and I really hate having to bring it from home.
People will always do their drinking somewhere, so we might as well make it a part of a growing economy, and not place ridiculous restrictions in restraint of trade.

******
I made a big batch of pizza dough a few weeks ago, and the last portion (about 10-11 ounces) was getting a bit long in the tooth, so I took it out of the refrigerator a few hours before dinner, split it in half, formed the halves into balls, and covered them in hopes of some residual yeast activity. I didn't get much, but I baked them anyway, on the pizza stone at 450 degrees for about 8-10 minutes. They turned out great, with a mild yeasty aroma, great crust, and a delicate and tender interior.
I was chastised (by a Moronette who will remain nameless) for using butter instead of olive oil, and calling it bread instead of focaccia. But it was extremely satisfying nonetheless, in spite of it being an invalid meal.

******
And here's the pizza dough recipe I used. I have modified it slightly from the original, which is lost in the sands of time (Yeah...I forgot),
Pizza Dough


1½ teaspoons active dry yeast

1 tablespoon extra virgin olive oil, more for coating dough

1½ tablespoons salt

1 tablespoon sugar

5 cups bread flour.

1¾ cups 110 degree water
Add yeast to bowl of stand mixer with dough hook attachment.
Add warm water and whisk until the yeast has dissolved completely.
Whisk in sugar, then salt, then a splash of olive oil.
With the mixer on low speed, add flour just slowly enough not to make a mess. When all of the flour has been added, knead just until the dough comes together. Add more water if necessary, but in very small portions.
Cover with a towel and allow to rise for 20 minutes.
Knead for a few minutes on medium-low speed until the dough is a bit smooth and glossy.
Portion into four balls, rolling and kneading them in your hands until they are tight.
Oil the dough lightly and place into plastic containers that are large enough to accommodate a doubling in size.
Refrigerate overnight and allow four hours at room temperature before using. Or just allow to rise for several hours and use the same day.

******
Email cbd dot aoshq at gmail dot com with food tips, extra antelope steaks, and unused single malt scotch.

posted by CBD at
04:00 PM
|
Access Comments