« Thread below the Gardening Thread: April 1, 2017 [KT]
|
Main
|
Ace of Spades Pet Thread »
April 01, 2017
Saturday Gardening Thread: Wild Genes [KT]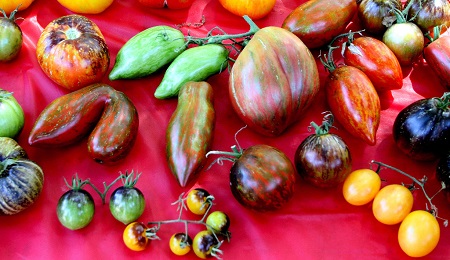 Challenges in bringing great tomatoes to market
Spring has started, and bees are spreading pollen. So I thought this would be a good time to talk about genes.
Earlier in the week, CBD wrote a post on Norman Borlag, an American hero. Remember not to comment on old AoSHQ threads, no matter how interesting they are. Norman Borlag favored what we call "modern genetic engineering".
Brad Gates of Wild Boar Farms (breeder of the tomatoes in the photo above) does not use modern genetic engineering. He often looks for genetic mutations and chance crosses in his tomato fields, in addition to conventional breeding work. He produces tomatoes with interesting flavors and colors. As noted at the link under the photo, he faces several challenges from the natural world in getting a crop to market. Gardeners face similar challenges at home, particularly with heirloom and other open-pollinated tomatoes.
Supermarket tomatoes are generally hybrids with greater resistance to disease and weather variability. But their flavor and texture are unsatisfactory. So how did supermarket tomatoes get to be nothing much more than a color, and what are the challenges to improving them?
This post and the video it includes explain some of the reasons that supermarket tomatoes are tasteless and rubbery. As noted in the video, even though scientist now know in many cases exactly what went wrong, they are using old-fashioned methods to correct the problems. Because people are afraid of "genetic engineering". And note the importance of "tomato puberty".
There is a germplasm collection at UC Davis that includes 9 wild tomato species and a bunch of other interesting tomato genetic material. Might come in handy to scientists using old-fashioned methods to improve new tomatoes. Researchers at Oregon State University and in Israel have already grown blue tomatoes by cross-breeding wild tomatoes with domestic tomatoes. Work continues to produce a tomato with blue stripes I have grown a "blue" cherry tomato. Not my favorite. Have you tried one of the "blue" tomatoes?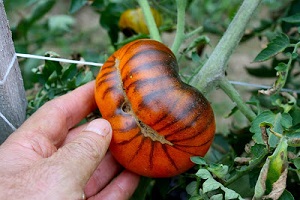 Work is ongoing in the UK to produce a GMO blue tomato that's blue all the way through. There are some other interesting GMO organisms out there, too.
Photos from The Horde that trigger random content
Here's more on Oregon wildflowers from Kindltot:
One of the later lilies is the Cat's Ear, or Mariposa Lily, Calochortus subalpinus. My books tell me this is only found on the Cascade side of the valley, but they are found up around Dallas, there is an old cemetery that has a mowed bank where they grow.
Random content: I had no idea that there was a Dallas, Oregon. It is in Polk County, so the city was named after Polk's Vice President, apparently. The main city park there includes the Delbert Hunter Arboretum and Botanic Garden, dedicated to the wild plants of Oregon. There is a creek running through the arboretum that floods sometimes. And they also have fires. Might not be a good idea to try this at home. Even if your yard is "natural".
Controlled Burn at the Arboretum
Dallas was the childhood home of Johnnie Ray. I did not know who he was before this week. But some people did.
Johnnie Ray was completely different from anything that went before him. . . . I consider Johnnie Ray to be the father of rock and roll.--Tony Bennett
He reportedly enjoyed hiking around Dallas with his sister when he was growing up. He became partially deaf at 13 as the result of an accident at a Boy Scout event.
In the early 1950s, Johnnie Ray was arguably the biggest musical star in the world. His emotional singing and sexually suggestive performances earned him the titles "The Prince of Wails," "The Cry Guy," and "The Million Dollar Teardrop," and put him at the top of the music charts. From Sydney to Chicago to London, teenage riots erupted wherever Ray went.
He lost popularity in the USA with the assent of Rock and Roll, but had a successful performing career in the UK and even Australia as he grew older. What does this say about the legendary stiff British upper lip? Here he is singing with The Four Lads about a little white cloud that cried. Those little clouds try so hard.
Back to Kindltot:
I have found Cat's Ears on sunny banks and on road cuts. Apparently they are edible also, but they are not numerous. These and the trilliums were my Mom's special delights.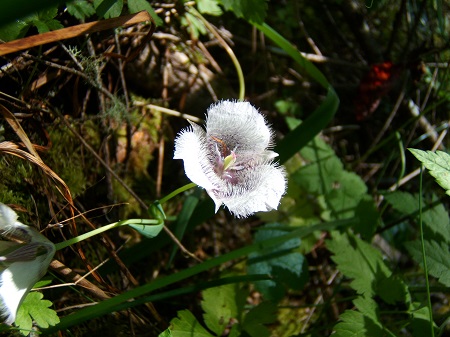 Cat's Ear
I think that flower is utterly charming. Random content: It looks like a hairy Sego Lily, the State Flower of Utah. Early Pioneers ate Sego Lily bulbs when cricket decimated their crops. The California Seagull is the State Bird of Utah because the bird ate crickets. A brand of evaporated milk was named after sego lilies.

You can see the resemblance between Sego Lilies at Arches National Monument and Kindltot's photo. Genetics: "Yucca and aloe used to be in this family. The family is extremely complex. Some ornamentals and medicinally useful plants are in this family, but a few species are poisonous."
There are many species of Calochortus native to the Western United States. The Pacific Bulb Society has photos and/or descriptions for 68 species. Plus growing tips.
The diversity of Calochortus species is reflected in the wide range of English common names applied to the flowers. Unfortunately, the common names do not align cleanly with the scientific subsections above. But here is a quick guide:

Mariposa Tulips are large, upright, bowl-shaped flowers, often with intricate color markings and sometimes hairs. Calochortus venustus is an example.

Pussy Ears or Cat's Ears are small, upright flowers with very hairy tepals. Calochortus tolmiei is an example.

Globe Tulips or Fairy Lanterns are nodding, roughly spherical flowers. Calochortus amabilis is an example.

Star Tulips are small, upright flowers that resemble miniature Mariposas, although they usually have fewer markings. Calochortus uniflorus is an example.
I recommend looking around their site if you like photos of unusually marked flowers close up. There are other sources of information on this genus, too.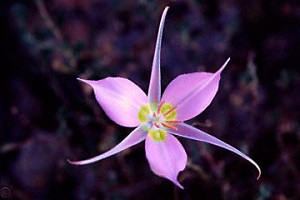 Sagebrush Mariposa Lily
Back to Kindltot again:
This lily is the False Solomon Seal, Smilacina racemosa. They grow in large batches if they can. They are fairly large plants as they can come up to mid thigh. It is not terribly pretty in the Spring outside of the froth of white flowers, but in the Fall the leaves turn golden and are very lovely. In one spot I found a patch that flanked a deer path and I would walk right through it.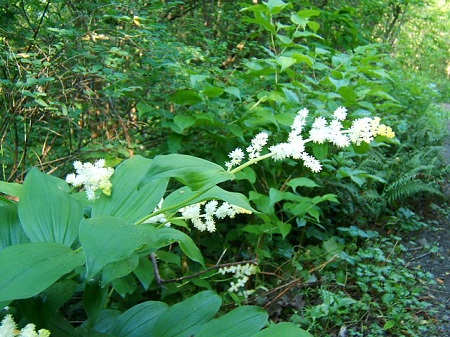 False Solomon's Seal
Kindltot's description makes me want to visit Oregon in the fall.
Genetic science complicates things again. My 2007 edition of the Sunset Western Garden book alerts us to a change in botanical nomenclature of this plant to the genus Maianthemum:
Botanists have recently brought two familiar Western natives together under this single genus name. Both are woodland plants that need loose, rich, slightly acidic soil to look their best.
The genus has also been placed in the asparagus family. The other garden plant in this genus is "False Lily of the Valley", M. Dilatatum, which is hardy into Alaska. Its flowers look a a lot like those of False Solomon's Seal but the plant only grows 6 to 8 inches high. Real Solomon's Seal and Lily of the Valley both have dangling flowers rather than frothy flowers.
Gardens of The Horde
I haven't forgotten Illiniwek's request for deer-resistant plants that could provide some winter interest. Not evergreens. Russian Olive is very tough, Maybe too tough in some places. It is banned in some states. It could attract birds in winter. It can be pruned to show off its picturesque bark in winter. Its non-thorny native counterpart, which is shorter, is E. commutata, or Silverberry. There is a selected form (that may not be quite as hardy) called 'Coral Silver' for the color of its fall berries, and a hybrid with Russian Olive called Quicksilver. We'll keep looking for deer-resistant trees and other plants.
A deer-resistant shrub with winter interest is Kerria Japonica. Flowers retain their color best in part shade. I like the single-flowered ones. There is a large-flowered one called 'Golden Guinea'. The green branches are used in winter arrangements in Japan. Prune heavily after bloom. A new variegated form may be more tolerant to both heat and cold. Check at the bottom of the page at the link for other selections, including one with pale yellow stems striped green in winter.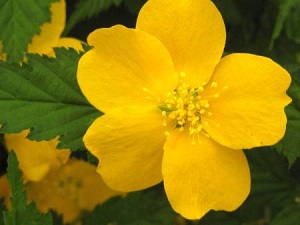 Golden Guinea
It's weed control season here in the San Joaquin Valley. Especially in the outskirts of towns. Tractors are in evidence, disking up vacant lots before The Authorities act. Cotton planting has started out in the fields. Our rosemary is still blooming and still attracting bees.
Anything going on in your garden?
Hope you have a great week.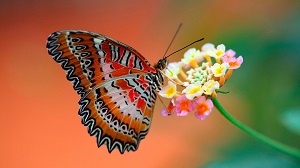 Mariposa on a flower

p.s. If you would like to send information and/or photos for the Saturday Gardening Thread, the address is:
ktinthegarden
at g mail dot com

posted by Open Blogger at
12:13 PM
|
Access Comments