« Mid-Morning Open Thread
|
Main
|
Reuters Reports That Terrorist Who Murdered Russian Ambassador Was An Off-Duty Police Officer »
December 19, 2016
So, This Just Happened
Russia's ambassador to Turkey has been shot. Anyone remember what happened the last time the representative of a major world power got shot in a (more or less) Balkan country? It was good, right?
No further news is available yet. Article 5 is unavailable for comment at this time.
ETA From the AP:
The ambassador, Andrei Karlov, was several minutes into a speech at the embassy-sponsored exhibition in the capital, Ankara, when a man wearing a suit and tie shouted "Allahu Akbar" and fired at least eight shots, according to an AP photographer in the audience.
ETA 2 It is now reported that Karlov has died from his wounds. Picture of the assassin, who is reported to have yelled "We die in Aleppo, now you die here". Assassin killed at the scene by security forces.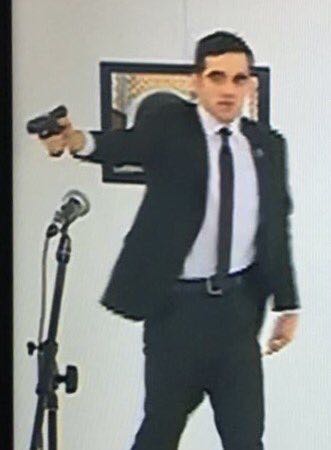 ETA 3 Video of the assassination below the cut. Graphic but not gory

posted by WeirdDave at
11:43 AM
|
Access Comments