« Saturday Morning Weird News Dump
|
Main
|
Thread below the Gardening Thread: Duck Edition [KT] »
December 17, 2016
Check Your Privilege When You Buy A NYT: Bias Is Everywhere, And YOU Are The Culprit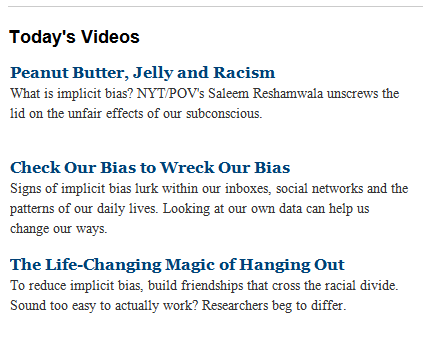 These videos are usually timely, often political, but this is the first trifecta of offensive SJW nagging I have seen (Don't worry, it's a screen grab from one of their morning e-mails. They don't deserve a click). They cannot resist preaching to us how disappointed they are that we, their lowly subjects customers are so...undeveloped...that we need the NYT to teach us how to recognize the evil in our thoughts and behavior.
The last one is particularly delightful. Choose a friend based not on the obvious reasons, but because of his skin color.
Are they so tone-deaf that they cannot see the implicit racism and bigotry of that suggestion?
Yes...of course they are.

posted by CBD at
11:00 AM
|
Access Comments