« Ace of Spades Pet Thread
|
Main
|
Some Links And An Open Thread »
December 10, 2016
Saturday Afternoon Chess/Open Thread 12-10-2016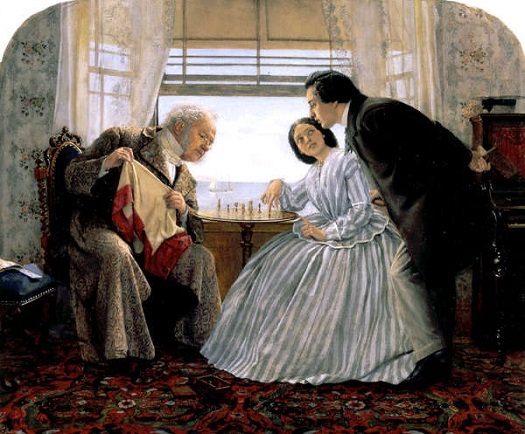 The Chess Players
Joseph Clark, 1860
This is great. From the expression on her face, the young woman does not much appreciate her (brother? fiancé?) leaning over her shoulder into her personal space. Perhaps he's kibitzed her games before and there's some history here. I can just see her hand over the chessboard slowly curling into a fist. Keep it up, bonehead, you're asking for a bop on the beak.

Good afternoon morons and moronettes, and welcome to the Saturday Afternoon Chess/Open Thread, the only AoSHQ thread with content specifically for all of us chess nerds who pay homage in the temple of Caïssa, goddess of the chessboard. And, for those of you who aren't nerdly enough for chess, you can use this thread to talk about checkers, or other games, or politics, or whatever you wish, only please try to keep it civil. Nobody wants to get into a food fight on a Saturday afternoon. Unless you're hungry.

Problem 1 - Black To Play (343)
What's the best thing for Black to do here?
Hint: Black can win a piece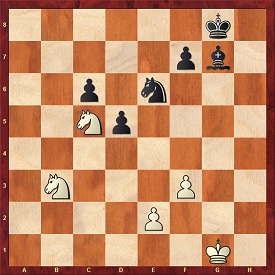 6k1/5pb1/2p1n3/2Np4/8/1N3P2/4P3/6K1 b - - 0 1


Problem 2 - Black To Play (344)
Hint: Black mates in 3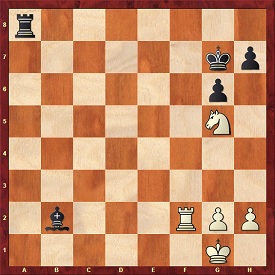 r7/6kp/6p1/6N1/8/8/1b3RPP/6K1 b - - 0 1



Chess By A Bunch of Morons
This is a ten minute clip, but the chess game only takes up the first 5. Mel Brooks shows us how the decadent French aristocrats played the royal game.

Problem 3 - White To Play (341)
Hint: White mates in 4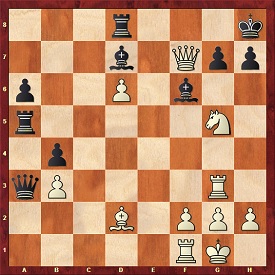 3r3k/3b1Qpp/p2P1b2/r5N1/1p6/qP4R1/3B1PPP/5RK1 w - - 0 1



Chess, Like Life
From Warden's 'confession' thread on Wednesday:
Yeah, in retrospect I wish I had joined the debate team in high school. Supposedly they do make you argue both sides of an issue. I can see how that ability would be useful in life.

Posted by: rickl - THE MEDIA IS LYING TO YOU at December 07, 2016 09:14 PM (sdi6R)
Of course, that's what you do in chess.
There are two kinds of chess enthusiasts: Chess players and chess students. I know guys who like to play chess and they don't think about it all outside of when they're actually playing. But I daresay that most, if not all of us who hang out on the chess threads, we're actually students of the game. We analyze our games and try to understand where we screwed up. We study games of the great masters. We may even buy books on chess theory. To us, chess isn't just a game, it's more like Art. Or, perhaps Science. Chess actually has features of both.
So rickl is right that "looking at both sides" is a useful life skill. But as students of chess, this something we have to do all the time. In order to solve these chess puzzles you have to look for what you think is the correct first move for White, and then you have to look to see if Black can trash it. You do this by turning the board around (either literally or figuratively, in your head) and finding the best possible response by Black. And it does you no good to make sub-standard moves. Anybody can win if the other guy is making lousy moves. So chess forces you to be brutally objective, to argue both sides of the issue, as it were. Without this, you will constantly be blindsided by stuff you didn't anticipate and didn't see.

Problem 4 - White To Play (108)
Hint: White mates in 5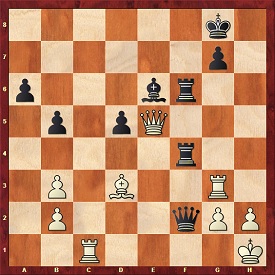 6k1/6p1/p3br2/1p1pQ3/5r2/1P1B2R1/1P3qPP/2R4K w - - 0 1



___________
Solutions Update

Problem 1 - Black To Play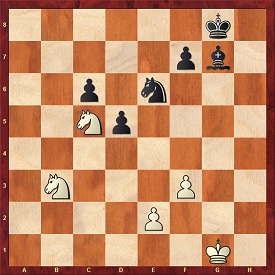 6k1/5pb1/2p1n3/2Np4/8/1N3P2/4P3/6K1 b - - 0 1


Black wins a piece with:
1...Nxc5
2.Nxc5 Bd4+
And that should be enough for him to win the game.

Problem 2 - Black To Play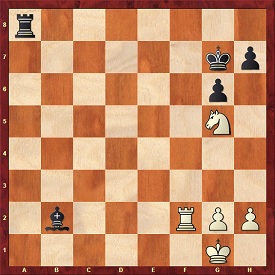 r7/6kp/6p1/6N1/8/8/1b3RPP/6K1 b - - 0 1


1...Ra1+!
You might have been tempted to play 1...Bd4 to pin the rook with the intention of following it up with 2...Ra1+, but that fails because of 2.Ne6+. This is actually a good illustration of one of an important strategic rules, which is: move order is important.
So Ra1+ comes first, *then* the pin.
2.Rf1 Bd4+
3.Kh1 Rxf1#

Problem 3 - White To Play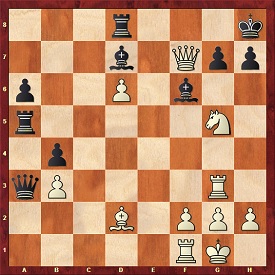 3r3k/3b1Qpp/p2P1b2/r5N1/1p6/qP4R1/3B1PPP/5RK1 w - - 0 1


The key first move is:
1. Qxf6!
Black has 4 responses:
1...gxf6 immediately fails to 2.Nf7#
Or 1...Rxg5 2.Qxd8+ Be8 3.Qxe8#
That rook on d8 is very unprotected. But 1...Rg8 results in 2.Nf7#
So we're basically down to 2 lines, either of which mates in 4:
1...Be8
2.Qxd8 Qxb3
3.Qxe8+ Qg8
4.Nf7#
-or-
1...Qxb3
2.Qxd8+ Be8
3.Qxe8+ Qg8
4.Nf7#
Problem 4 - White To Play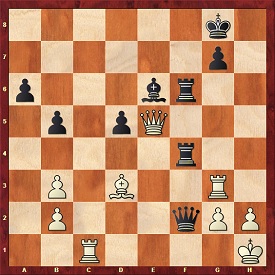 6k1/6p1/p3br2/1p1pQ3/5r2/1P1B2R1/1P3qPP/2R4K w - - 0 1


White better get off of his fat duff and do something here, because Black is about to unleash his triple battery on the 'f' file. Fortunately for White, he has resources, and Black will never get the chance to get his own attack going:
1.Rc8+ Bxc8
2.Qe8+ Rf8
3.Rxg7+ Kh8
If 3...Kxg7, 4.Qg6+ Kh8 5.Qh7#
4.Rh7+ Kg8
5.Qg6#
Or, alternately, 4.Qh5+ Kxg7 5.Qg6+ Kh8 6.Qh7# mates one move later.
Hope to see you all next week!
___________
Note: that cryptic line of letters and numbers you see underneath each board diagram is a representation of the position in what is known as "Forsyth-Edwards Notation", or F.E.N. It's actually readable by humans. Most computer applications nowadays can read FEN, so those of you who may want to study the position, you can copy the line of FEN and paste into your chess app and it should automatically recreate the position on its display board. Or, Windows users can just "triple click" on it and the entire line will be highlighted so you can copy and past it into your chess app.
___________
So that about wraps it up for this week. Chess thread tips, suggestions, bribes, rumors, threats, and insults may be sent to my yahoo address: OregonMuse little-a-in-a-circle yahoo dott com.

posted by OregonMuse at
04:48 PM
|
Access Comments