« AoSHQ Postal Match Part I: Results, Report, Scores & More
|
Main
|
AoSHQ Postal Match: Part II--Honorable And Special Mentions (and full results) »
October 30, 2016
Food Thread: Where Does That Beer Can Go Again? [CBD]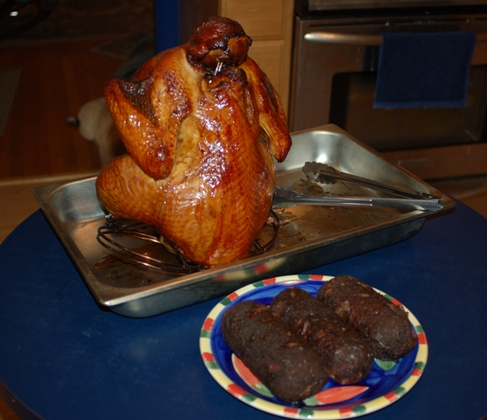 Courtesy of commenter redc1c4 we have a beer can turkey that looks pretty damned good. He used a conventional upright smoker, and as an elegant touch used Foster's!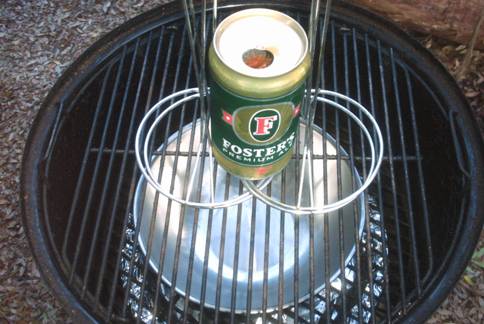 Looks good and juicy, and the skin has a nice golden color. But what really intrigues me is the Log 'O Meat that Red calls "fatties," which:
can be something as simple, in this case, as Jimmy Dean (or equivalent) sausage rolls, rolled in BBQ rub/spices, then smoked, or, it you're high maintenance, you can make an interior mix of whatever, then surround it with another mixture, then smoke it. the sky is the limit.

what they do when I'm cooking a bird is baste it all the way through the cook, with the left over drippings being caught in the pan, should you wish to make gravy with them.

after all, you ain't cookin' if yer lookin.
That explains the juicy look of that bird!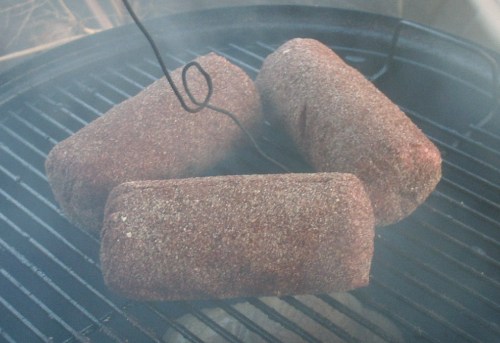 ******
MisHum sent me this link, and while the food pictured is all pretty disgusting,
See The 21 Best Junk Food Recipes (With Pics)
there are only three out of the 21 that I wouldn't try and probably enjoy. Anything with bananas is off my list, because they are vile. And raw apples? No thanks, I prefer them cooked in a tarte tatin. Mint-chocolate-chip....anything...bores me. The mint overwhelms my palate and it's just silly.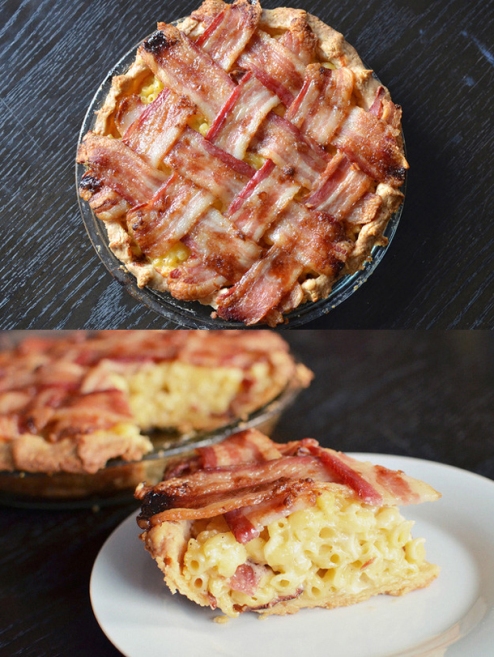 ******
Artisanal'ette sent me a photo of a broth she made from, among other things, kale. I think she mentioned it in the comments, but it is deserving of a closer look. My first thought when she told me about it was, "Oh God! She's a hipster freak and I was just too dense to see it!" But on further inspection and pondering I realized that there are many delightful soups and broths made from kale and spinach and escarole, etc.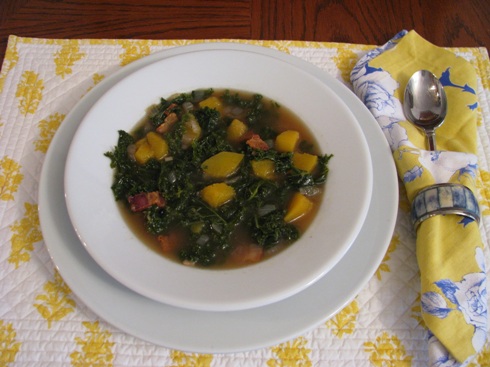 Looks pretty damned good.
It was really delicious. Acorn Squash, thick-cut bacon, white onion, garlic, 1 bunch of kale, allspice+nutmeg+cinnamon spices that were not overly done. Chicken broth. Depending on how much kale you actually have in "one" bunch, you might need to add more broth (I did, about a cup more). Very simple recipe. No immersion blender or stationary jar blender needed.

Roast squash cubes covered in olive oil and salt/pepper
Crisp the bacon, put aside to drain
Saute onion & garlic with the spices in bacon grease + olive oil
Add the kale and roasted cubes of squash, cook a few then add and simmer in broth
Stir in bacon bits, season with salt/pepper.

Very nice. Soothing recipe.

Only pain was cutting away the kale ribs off of each leaf, and of course, cutting, scooping and peeling the acorn squash (I cut in half and scoop out the seeds, then I cut directly at the ribs which makes it pretty easy to peel - this one I had was pretty deeply ribbed). Always something to consume the time when cooking though. Otherwise, it was a pretty fast recipe all in all.

I had a bowl for breakfast directly after making it this morning.

******
The Bramble Jello Shot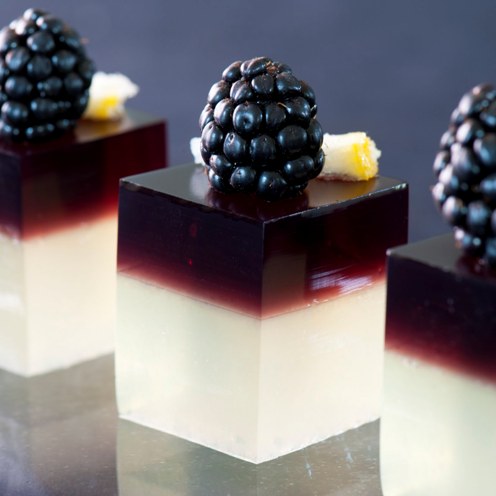 What's that? Yup! You're damned straight I'm going to make this. Maybe for Thanksgiving. You snooty yuppies should climb down off your high horses and try real food for a change.
******
It seems busy, but I might give this a shot, simply because the chef is very, very good. One quibble: why use breakfast sausage and then add fennel seeds? Why not just use sweet Italian sausage, which has fennel seeds in it?
Sausage Stuffing With Caramelized Onions
Adapted from Tom Colicchio of Gramercy Tavern and Craft
2 10-ounce packages breakfast sausage

1 fennel bulb, trimmed and in 1/2-inch dice (1 cup)

1 carrot in 1/4-inch dice ( 1/2 cup)

1 celery stalk in 1/4-inch dice ( 1/2 cup)

1 leek, white part only, washed and finely chopped ( 1/2 cup)

1 small onion, minced ( 1/2 cup)

2 cloves garlic, minced (2 teaspoons)

Salt and freshly ground black pepper

2 tablespoons fennel seeds

6 large eggs, lightly beaten

2 to 3 cups chicken broth

2 pounds crusty French bread, cubed and dried overnight

1 cup golden raisins, soaked in hot water and drained

1 tablespoon chopped thyme

1 tablespoon chopped sage.
1. Place sausage in a large skillet over medium heat and cook until browned, turning frequently, 10 minutes. Remove pan from heat and transfer sausage to paper-towel-lined plate. Reserve fat in pan. Cool sausage, then chop. Return pan to stove. Add fennel, carrot, celery, leek, onion and garlic, sprinkle with salt and pepper. Sauté over medium heat, stirring frequently, until vegetables are lightly caramelized, about 10 minutes.
2. Heat oven to 350 degrees. Place fennel seeds in a small skillet and toast over medium heat, tossing frequently, until fragrant and lightly colored, about 10 minutes. Remove from heat and set aside.
3. In a large mixing bowl, whisk eggs and 2 cups chicken broth together. Add bread and stir until coated evenly. Add sausage, sautéed vegetables, raisins, thyme, sage and fennel seeds. If bread cubes seem dry, add additional chicken broth. Add salt and pepper to taste. Turn into a 3-quart gratin dish and cover with foil. Bake 30 minutes. Remove foil and bake until stuffing is brown, about 10 minutes more.
&topic=world_news">

posted by Open Blogger at
04:00 PM
|
Access Comments