« Because There Is More To Life Than Politics...[CBD]
|
Main
|
Food Thread: Where Does That Beer Can Go Again? [CBD] »
October 30, 2016
AoSHQ Postal Match Part I: Results, Report, Scores & More
The results are in, they're real, and they're (some of them) spectacular!
First though, I'd like to thank Ace himself, for affording us the space, place and bandwidth for our indulgences here at Ace of Spades, and also, CBD for his gracious support in helping see to it that Teh Horde had the opportunity to step up and put action to words. Special mention, too, to Yankeefifth, for his vital help with the Excel score-keeping spreadsheet, and to Steck, who helped audit the results.
Now, in the lead up and introduction to this here Postal Match, there were some concerns [x] Noted., that the B-27 target was just too whoppin' big and easy. Well, it wasn't.
There were only five perfect scores logged into the match, and one of those*, was not even an official entry. *details on that with scores.
Also, some thought that it would be best to separate the .22 shooters from the rest of the thundering herd. Turned out, not so much. The average .22 score was no better, and no worse, than those turned in by the centerfire gang. Now, granted, up at the NRA Bullseye Expert Match level, the .22 shooter has myriad advantages. Not so much in the land of the common .22 autochucker and occasional old school K-17 wheelgun.
Likewise, the 'ettes that stepped up, shot as well as the guys, often better. Shooting is one of the few sports where the playing field can be entirely level, and in the case of this match, it would seem that it was.
In all though, the Horde acquitted itself rather well at the range, and extraordinarily well in its correspondence and interactions with your Match Official (me). In some cases, I had to ask for clarifications of info, or better photos, etc. In every case, I was met with courtesy, enthusiasm, honesty, respect and a great willingness to help make this event the success that it so clearly is.
It's true. An armed Moronosphere is a Polite Moronoshpere!
Thank you, each and every one, both those who shot and sent entries and those who just sent a good word. I'm proud to be counted amongst you all.
So, with no further ado, here are the results!

THE WINNER
and
OTHER PERFECT SCORES
This was a tougher challenge than many appreciated when it was first announced, but a select few rose to the occasion and really put their marksmanship on full display.
In all, there were four perfect scores in the match itself, and one additional perfect score, fired by your humble and gracious match official, as an exhibition target, only.
So, without further ado, let's all doff our caps, hoist our mugs, flagons, chalices, glasses, steins and grog-filled skullcaps, in proper praise and salutation of the winner of the very first Ace of Spades Handgun Postal Match.
Perfect WINNING! score by Moron "Smokestack."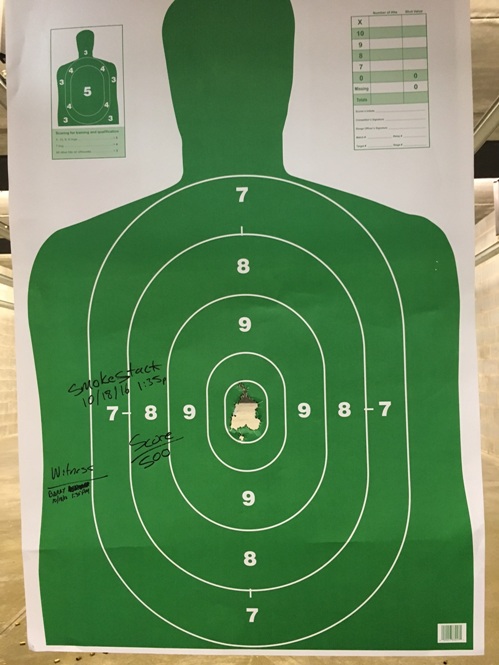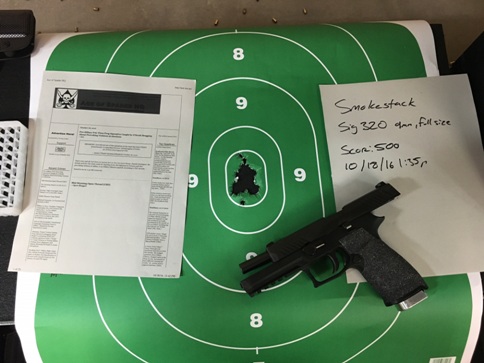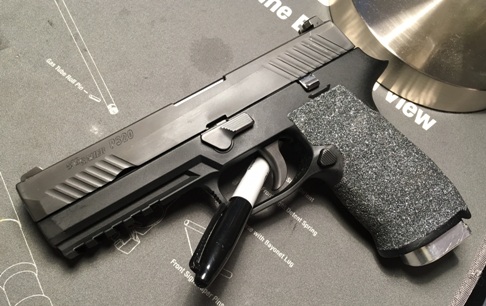 This was fired with a SIG 320, 9mm full-size platform. And that is one hell of a tight group, with only two rounds barely out of the primary group, and all 50 rounds landing neatly within the "X" ring, with nary a margin-call or quibble. This folks, is what a winning target is supposed to look like!
Bravo Zulu, Smokestack, and thanks for showing us how it's supposed to be done!
CBD will see to it that you get your Platinum Membership, Ampersands and that deuce of Barrel Bail Bonds, stat!
And in descending order, here are the other perfect scores, displayed in order of increasing group-size as seen in the photos.
2nd Place, fired by celebrity shooter Joe Huffman, widely renowned as the host of the annual Boomershoot in the great state of Idaho. If you've ever wanted to take a shot at something and watch it make a very large and loud explosion, well, Joe's your man. I hope one day to be able to make it to a Boomershoot, and then I hope when there, not to make a complete embarrassment of myself from the rifle bench.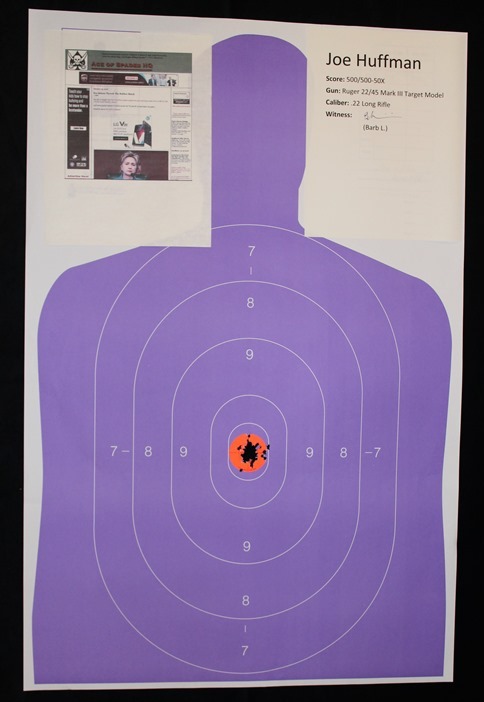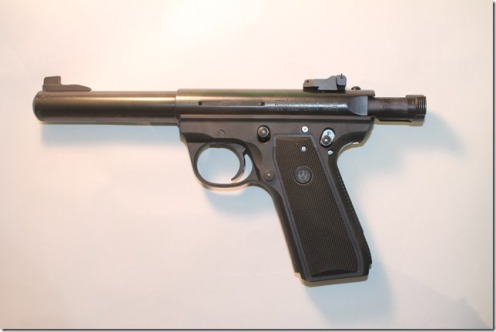 A mere one round(!) kissed that line between the "X" and the "10." And while still an "X," it's that difference between 1st and 2nd, here. Still, damn well done, Mr. Huffman!
CBD will mail you your AoS Premium membership, Ampersand privilege and one Get Outta Barrel Card. In roughly, oh... #twoweeks?
Our next perfect score is from Moron Chappyman, who used a gorgeous and utterly classic Hi-Standard .22 Model D Military pistol.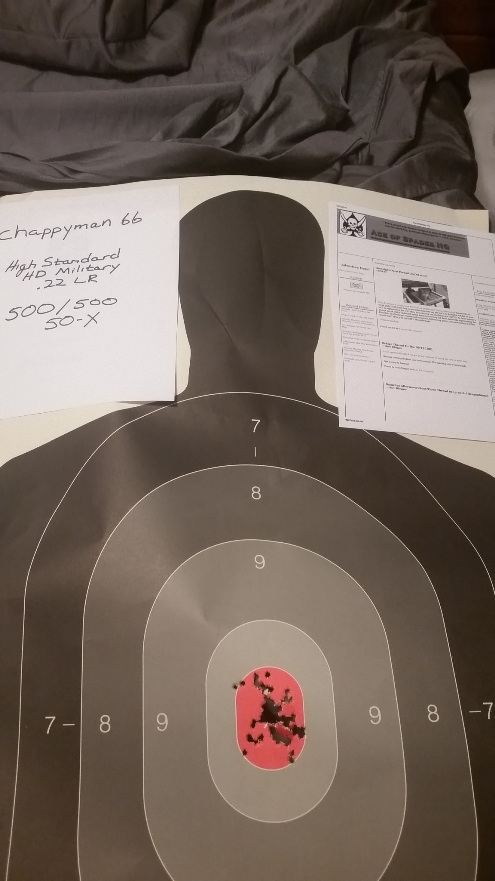 A couple rounds kissed the line between the "X" and the "10," but those are still "X," per this year's rules. Well done, Chappyman!
The fourth perfect score was from Moron "The Osprey," who used a Glock 17 in 9mm to fire this nice grouping.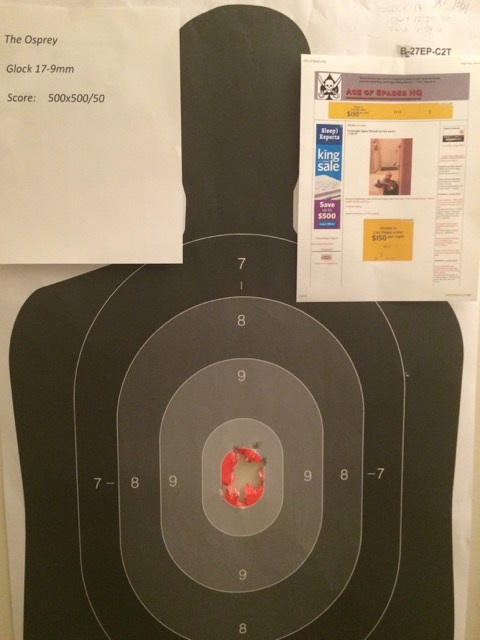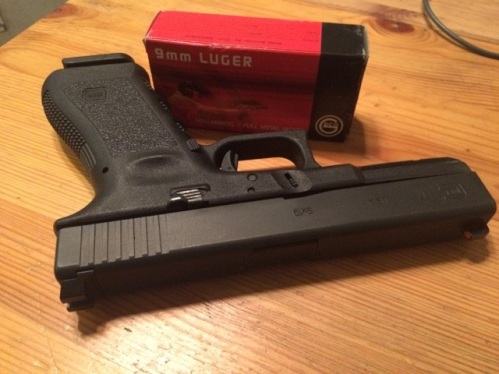 That one round at the 1 o'clock position was this >II< to having missed that line between the "X" and "10," but his rangemaster scored it an "X," it looks like an "X" on my screen, so "X" it is.
Still though, that's some damn good shooting. Anyone should be proud of those perfect scores, anytime, any range, any place. Good job, Osprey!
The lesson to us all there, though? 0.10 of a mm can make the difference between win, place and show. And all of us, each and every one, always has room for improvement. Always.
Finally now, your host's target. Frankly, I'd leave it to Teh Horde to make the comparison between my effort and Smokestack's (deservedly!) winning score. They have different patterns, but both are very tight, very within the boundaries and both are worthy examples of what motivated Morons can do when the pressure is on. No winner here, I'm not in the match, but I thought I'd lump it in with the perfect scores, because, well...it was!
Fired double-action, with S&W Model 28-2 Highway Patrolman, 4" bbl, using .38 Special W-W 148 gr. full wadcutter rounds.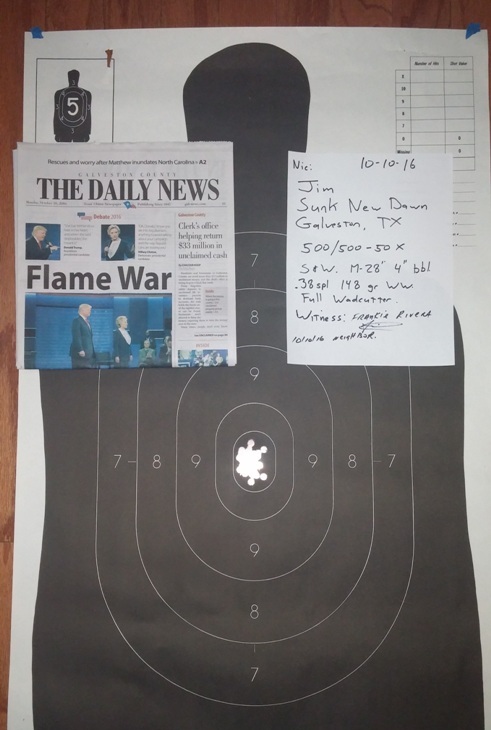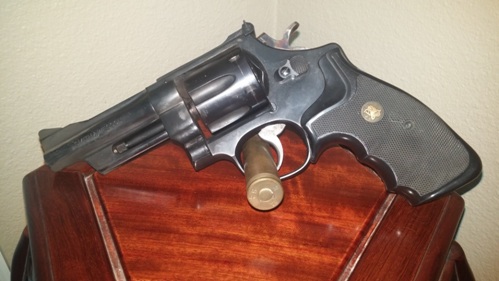 And those, esteemed Morons & Ettes, are your perfect scores for the match.
AoSHQ Postal Match Full Results (October, 2016)
Part II, Honorable & Special Mentions will be posted at 6:00pm

posted by Open Blogger at
02:00 PM
|
Access Comments