« Thread below the Gardening Thread
|
Main
|
Ace of Spades Pet Thread [Mis. Hum.] »
October 15, 2016
Saturday Gardening Thread: Are we out of our gourds? [KT]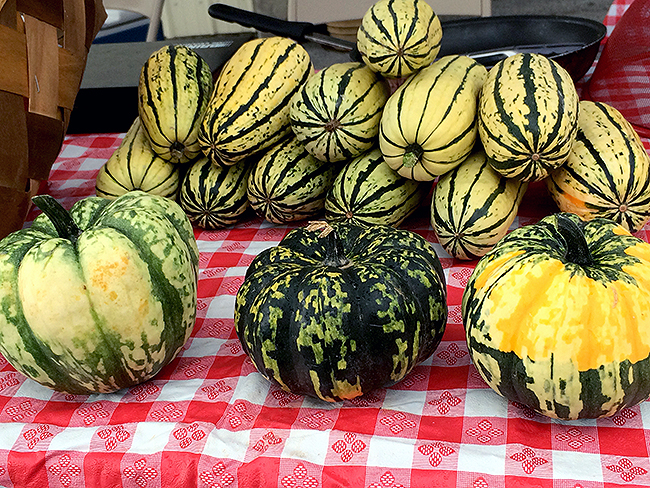 Not Gourds: Carnival and Delicata Squash
Whilst shopping this week, I saw displays of decorative small to medium-sized gourds, squashes and pumpkins in grocery aisles. I suspected that some of the squashes were good to eat, but they were not clearly identified as suitable for the kitchen.
What to do? Maybe grow your own?
I don't have anything against strictly ornamental gourds. I have grown
Tennessee Dancing Gourds. Anybody else grow ornamental gourds? They can be fun for kids.
But really, I prefer to grow decorative squashes that are also edible. Pumpkins are really squashes, but I am not going to tackle that topic today. I don't particularly want to say anything about the newly-discovered racial exclusivity of pumpkins. . You can if you want.
Seed-shopping season is coming up. I thought that maybe it would be useful to review some typical small winter squashes that can be used for decorative purposes, then eaten.
Sandhill Preservation has a nice selection of open-pollinated squashes, helpfully separated by type. I generally start there when looking for types of squash to plant. Glenn Drowns includes regional recommendations. Where powdery mildew or other diseases are a problem, or if you want compact plants, you might look for hybrids in other catalogs.
Delicata Squashes
This squash has many devotees for its ease of preparation and creamy texture. Honeyboat Delicata, with slightly darker skin than those above, is reportedly more refined and sweeter. It is carried by Sand Hill and others.
Dumpling and Carnival Squashes
Sweet Dumpling is a one or two serving squash, smaller than Carnival (pictured above). It has stripes like Delicata, but is shaped sort of like a teacup. Dang cute. Anybody have a favorite way to cook them?
Carnival is larger. It is more variable in color even though it is a hybrid. Unusual. See the three squashes in front in the photo above. Color varies with growing conditions. Carnival looks like a cross between a dumpling and an acorn squash to me.
Here's a recipe for baked Carnival squash with smoked bacon. Excuse for eating bacon?
Acorn Squashes
Acorn squashes are very cute, and they come in a variety of colors including dark green, white, striped and yellow. There is one yellow one that people also use as summer squash, but I don't remember the name right now.
Glenn Drowns at Sandhill loves little Gill's Golden Pippin:
Excellent growth and productivity. Flesh is unbelievably superb for an acorn type. I typically don't like acorn squash because they are too blah. Gill's has a sweet (almost nutty) flavor that makes you go, "Yum!!!" It was prominently featured in Gill Bros. 1960 catalog and justly deserves the honor that it received at that time. I do not understand why it ever dropped out of large scale, commercial production.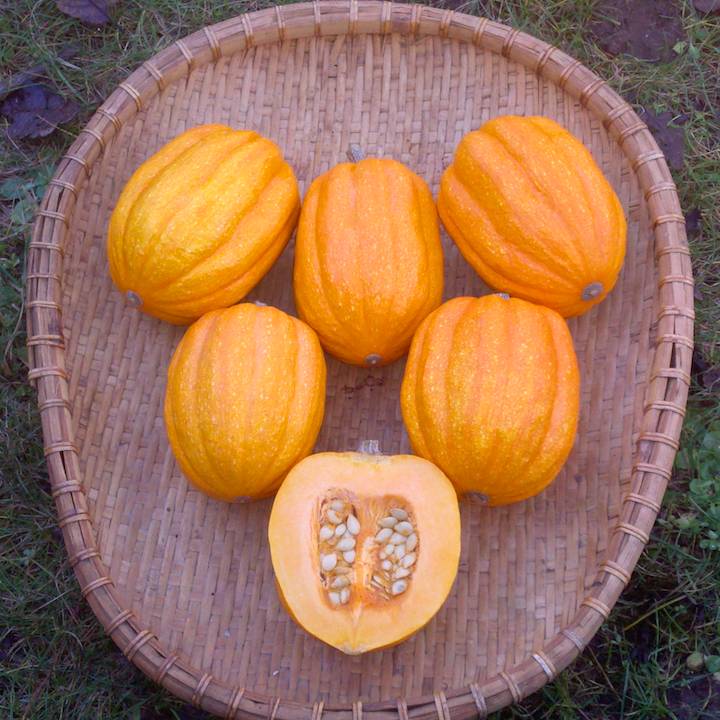 Gill's Golden Acorn
Drowns also likes striped Scarchuk's Supreme:
Developed by Dr. Scarchuk at University of Connecticut, Delicata color pattern (cream striped with green). This variety is superior. Each year reminds me of what Dr. Scarchuk was working on, vine borer resistance. It does much better than most Acorn types.
Acorn squashes generally have hard rinds, and they are kind of unwieldy to open. How to cut an acorn squash in half. Do you have another favorite method?
Spaghetti Squashes
I don't think that most normal-sized spaghetti squashes are particularly decorative, except for maybe some of the yellow or orange "high-beta" types. But there are a couple of cute, small hybrids called Unique and Small Wonder.
I generally prefer spaghetti squash before it is fully ripe, when it tasted more like some sort of unidentified Asian noodle and less like winter squash.
All the squashes above are from the species Cucurbita pepo, like zucchinis, most other summer squashes and some pumpkins. Now you know why squashes from volunteer seeds sometimes turn out so weird.
Kabocha, Kuri, Turban and Buttercup Squashes
These squashes are all C. maxima. Some have superb quality. As suggested by the species name, they are related to some really big squashes and pumpkins. Most of these smaller ones are flattened in shape. Many have a "button" on the bottom. But Red Kuri looks kind of like a miniature Hubbard.
And yes, the dramatic Turban Squash is edible. It is often stuffed.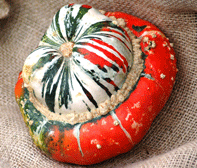 Small Butternuts
Butternuts are from the species C. moschata. Does anybody know of a small-fruited one better than Burpee's Butterbush?
C. moschata squashes seem to do better around here than other winter squashes. A friend who moved recently decided not to plant a summer veggie garden, but she got two volunteer butternut squash plants and decided to let them grow. She and her husband, and neighbors, harvested over 100 squashes. They are medium-sized rather than small. I just got one. I am going to make butternut, pear and bacon soup. Mary Jenny's recipe, without the herbs de Provence and substituting heavy cream fort half and half. Maybe with some finely grated ginger. You can find other recipes for this soup if you want to use roasted squash. Then you could substitute other winter squashes. Probably not spaghetti squash, though.
Bartlett Pears
I love Bartlett pears. Anybody have a Bartlett Pear tree? How are you using your harvest? There's a link for 20 ways to Bartlett pears under the recipe above.
If you are thinking about planting one, let me know in the comments.
Gardens of The Horde
In case you have been following the saga of Grammie Winger and the Geranium, my cousin recently announced that she was putting her 20 potted geraniums indoors for the winter. She puts them in a west window in the basement, where they continue to bloom some. In spring, she either re-plants them deeper in a larger pot or takes cuttings. Some plants she has kept going for 10 years.
Here in the Central Valley, big rain was forecast for this weekend, but it went elsewhere. Drat! Typical this year, though.
Anything going on in your garden?
Have a great week!
Update: Final Quiz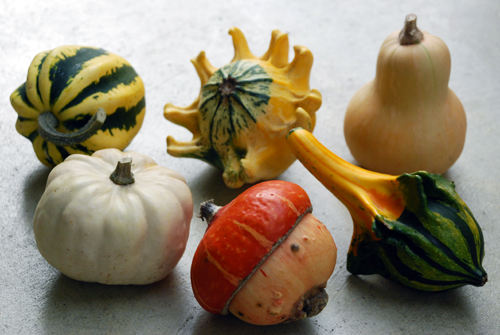 Which of these "gourds" are squashes?

posted by Open Blogger at
12:48 PM
|
Access Comments