« Monday Moron Medical Monitoring
|
Main
|
Overnight Open Thread (10-03-2016) »
October 03, 2016
Hurricane Matthew (tmi3rd)
Hi, folks. tmi3rd here, and I'm poking my head up because it now appears that Hurricane Matthew has a reasonable shot not only at hitting the continental United States, but may also be the first major landfalling hurricane in almost a decade for the United States.

More below the fold...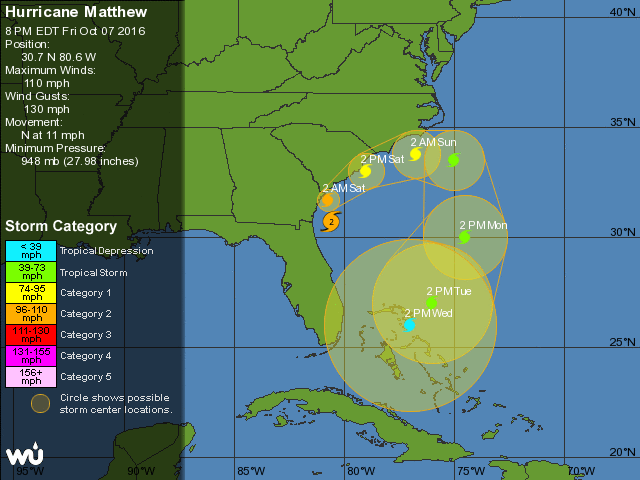 As of the 8 PM EDT advisory, Matthew weighs in as an impressive Category 4 hurricane, with sustained winds as high as 140 mph, and gusts up to 165 mph. It is going to encounter some resistance as it crosses the Bahamas, and is also forecast (as you can see above) to track back to the northwest.

If you are along the East Coast from the tip of Florida north to the Outer Banks of North Carolina, you need to begin preparations NOW for hurricane-generated surf and probably tropical storm-force winds as Matthew makes its way along the coast. This, of course, also means you if you're in coastal South Carolina or Georgia.

Current thinking- which can and will change over the next few days- has a projected landfall of somewhere near Wilmington, NC Saturday evening. Given its current projected path, the thinking is that its interaction with land should slow its winds down to Category 2 (less than 110 mph sustained winds), but it'll still be pushing a storm surge of Category 4 size.

After landfall, the current thinking is that it'll interact with a cold front and push out to sea, so the danger to the northeastern states is diminishing some. That said, our naval friends at Norfolk are probably going to want to put to sea and head north in the near future.

I'm not going to pretend to guess where Matthew will make that turn eastbound, but plan for intense rain, at least tropical storm-force winds, and the usual accoutrements that come with any hurricane. I'll have more as we get closer.

In the meantime, if you need to get a hold of me, you can always tweet me. I'll get back to you as quickly as possible.

Stay safe!


posted by Open Blogger at
10:10 PM
|
Access Comments